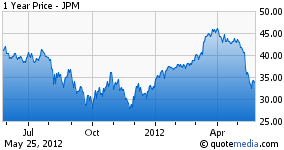 While digesting the dismal JPMorgan (NYSE:JPM) news last week I was reminded of why, as a value investor, I do not buy bank stocks.
Despite the attitude of the Occupy Movement, banks are not evil companies. They provide a crucial role in allocating capital -- in fact, one could make the case that without behemoth investment banks we would not have the market efficiency and wealth creation the stock market makes possible. The main purpose of an investment bank is assisting corporations in raising capital by underwriting and/or acting as the client's agent in the issuance of securities. Most banks do this well. It is when they get involved in trading derivatives, commodities and equities that things can go sour. One trading unit, one trader, or sometimes even one trade can bring a well-respected age-old entity to its knees. For example:
Lehman Brothers (OTC:LEHMQ): Largest Chapter 11 bankruptcy filing in U.S. history in 2008 following the massive exodus of most of its clients, drastic losses in its stock, and devaluation of its assets by credit rating agencies.
Bear Stearns: Despite an emergency loan provided by the Federal Reserve Bank of New York to avert a sudden collapse of the company, Bear Stearns could not be saved and was sold to JPMorgan Chase for $10 per share, a price far below its 52-week high of $133.20 per share.
Société Générale (SCGLY.PK): In 2007 and 2008 lost the equivalent of $7.2 billion U.S. on the actions of one trader (largest such loss in history).
JPMorgan: Lost $2 billion under the oversight of Irvin Goldman, who was fired by another Wall Street firm in 2007 for money-losing bets that prompted a regulatory sanction at the firm.
These are some of the largest and most recent examples of how quickly things can turn for a bank. If we were to continue this path to consumer banks we could talk about the hundreds that have been forcibly closed by the U.S. government since 2008.
This is not meant to scare investors from investing in financial companies, but to highlight the risk of doing so. I chose not to invest in banks because it is difficult, if not impossible, to quantify this risk. 99.9% of a bank's operations could be a shining beacon of responsibility and yet the actions of one trader can send the share price into a tailspin.
What I like about Value Investing is the conservative nature of accepting risk yet still receiving a fine reward. By removing human emotion and demanding consistent historical results Value Investing provides a predictable return. I avoid banks at the beginning of my investment search; my first-layer criteria for a stock screener is exclude financial companies. I chose not to run banks through my formulas as I have yet to find a formula in any investing strategy that can account for the multi-layers of bank assets nor place a discount on the share price for the ability of one trade to wreck the company. If there was such a method all banks would already have it in place as a control and we would not have events such as JPMorgan's current situation.
I like companies that have tangible, physical assets, such as machinery, mining, energy, etc. They may be slower-moving (in an investment sense) but I see this as an inherent control. I highly doubt one rogue employee at Cummins (NYSE:CMI) could secretly sell off 75% of the company's machinery without someone noticing.
If you are a Value Investor and you do invest in banks, please review your approach. Has it been successful?
Disclosure: I have no positions in any stocks mentioned, and no plans to initiate any positions within the next 72 hours.