Facebook
Ticker: FB
Share Price 5/24/2012: $33.03
Shares Outstanding: 2,138,085,037
Market Cap: $70.6B
Website: facebook.com
Company Overview:
Facebook, Inc. (NASDAQ:FB) is a global networking company that enables users to connect with each other. The company generates revenue by enabling advertisers to engage its active users.
Stats: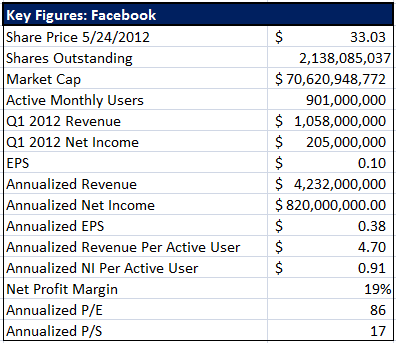 Problems with the IPO:
Facebook's IPO has been a disaster, which will only get worse for investors. Just days before the IPO Facebook increased the offering size by 25% by adding an additional 83.8mm shares. Additionally, the offer price of shares was increased from the proposed $28-$35 per share to $38. Increasing both the offerings size and price shortly before the IPO makes it incredibly difficult to have a successful IPO as measured by share price performance. Retail participation was a large part of the IPO, but the availability of shares to retail investors in almost unlimited quantity was a red flag. Historically, the most profitable IPOs are difficult to receive an allocation for, since most of the shares are allocated to large investment companies who are the best clients of the underwriters.
The Golden Rule of IPO Trading:
If you can get all the shares you want, you probably don't want any.
Broader Market Implications:
Retail participation has disappeared from the market ever since the financial crisis of 2008. The one day retail investors came back into the market they lost big. Investors are justifiably skeptical of the market. With large losses on the first major deal retail participated in, combined with the poorly handled delay in the IPO on the Nasdaq, it is unlikely retail will come back anytime soon.
What is Facebook Worth Under A Best Case Scenario: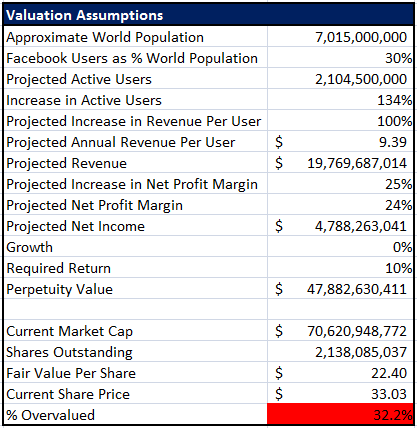 Even assuming Facebook was immediately able to dramatically increase its active users, revenue per user, and net profit margin, while maintain these earnings in perpetuity, Facebook is still overvalued by 32.2%.
Facebook vs. Google
Facebook cannot compete with Google's (NASDAQ:GOOG) IPO on most metrics.
Much richer IPO valuation of 17x sales vs. Google at 5x.
Slower revenue growth. Google had more than 100% quarterly revenue growth vs. the same quarter in the previous year when it went public.
Facebook faces a much smaller addressable market than Google.
Facebook does not drive sales for most retailers, Google does.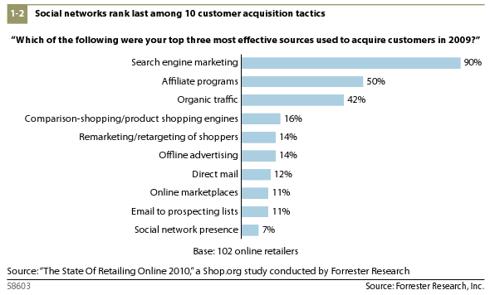 Investment Thesis:
Overvalued by 32.2% using unrealistically optimistic assumptions.
The increased offering size and share price of the IPO will continue to weigh heavily on the stock.
The end of Facebook's lock-up period will add additional downward pressure on the stock.
Growth is slowing.
Mobile users are difficult to market to, and a growing number of users are accessing Facebook on their mobile devices.
Facebook is being sued for failure to disclose crucial information, including reduced revenue forecasts by underwriters that were not disclosed to investors.
Facebook's large market cap will make it difficult for the shares to rise significantly, and decrease the risk to short sellers.
Facebook has had difficulty monetizing its user base.
People don't want to look at ads when they are communicating to each other.
Recent poor share price performance.
Market cap is too big for underwriters to support.
Facebook shares have become cheap to short, as more lendable shares than expected recently became available.
Retail investors have been burned again, which will make it difficult for the broad markets to have a significant rally.
The Nasdaq delay in the IPO is a black eye for the market that shakes investor confidence and perception.
The markets are vulnerable, and under constant threat from the European sovereign debt crisis.
Commentary:
Stocks with a strong general public following like Facebook, and Chipotle (NYSE:CMG) - a company I recently posted a short investment thesis on (here) - are prone to irrational exuberance. Given the problems Facebook has already experienced in its first week, there is an opportunity to short Facebook, as investors quickly realize the large disparity between its price and value.
Disclosure: I am short CMG.