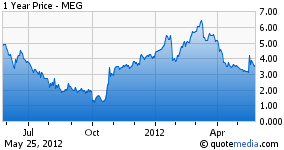 Last week Media General (NYSE:MEG) came up with a very favorable announcement whereby it reached an agreement to sell its newspaper division, excluding the Tampa Tribune, to Warren Buffett's BH Media Group for $142MM. In addition, Buffett would also provide MEG with a new Term Loan and revolver in exchange for roughly 20% of additional equity. This is great news for MEG, hitting on a number of points I touched on in my "gamechanger" post a few months ago.
Management's string of value destruction maneuvers in recent years led to an expected dose of investor skepticism. When shares reached $6 in early March, MEG management did what it always does - give the shaft to shareholders - with a pathetically worded announcement that it could give no assurances of reaching an agreement to refinance with its lenders. Just one week later management wanted to let investors know it was back on track but by then the damage was done as shares continue to be pressured to $3.
However, last week shareholders experienced a shock ... for once management's action did not make things worse. In what I see as an extremely fortunate event, BH Media acquired the entire portfolio of MEG's newspaper divisions except for the Tampa Tribune for $142MM. This is an acceptable multiple and the overall cash used to reduce debt is worth a great deal to MEG investors.
In addition, BH Finance is providing a market rate Term Loan (market rate for MEG's credit quality and where high yield bonds were trading). The Term Loan carries an interest rate of 10.5% but will be priced at a discount of 11.5%. In addition Buffett gets a 20% stake in MEG. The stock reaction from last week suggests that investors may have thought this was great deal as it means MEG will not be saddled with the operational drag of the newspaper division but then after a few days may have believed that the overall terms were not that appealing.
The reality is that the refinancing and sale combination is phenomenal in terms of cleaning up the company's operations and balance sheet in an expeditious manner. When factoring in the warrants' dilutive impact and discounted term loan, this is still a good deal for MEG. In addition, in some respects it is actually much better than what a potential financing deal would have entailed. There are a few positives to discuss with regard to BH Finance's deal as opposed to what a typical arrangement could have yielded.
1) MEG is in the Term Loan B market - institutional investors which include hedge funds. In a typical syndication a number of investors – some passive and others with a more aggressive stance – would hold the debt. In instances where there is some sort of credit issue, the more aggressive holders can force conditions that may be pernicious to shareholders. The BH Media deal looks appealing in that Buffett looks to be taking down the entire deal. MEG essentially has "one bank" as a result with that same creditor now also being a significant equity investor.
2) The terms of the new financing do away with the leverage step-downs that Bank of America's (NYSE:BAC) prior deal had as well as what a new deal would have probably included. Investors will recall that BAC's initial deal had a leverage schedule which fluctuated based on the political cycle. The new deal does not have this covenant and keeps it simple enough even for the company's sorry management team at the helm. Pricing came come down significantly from 10.5% when leverage is above 3.5x EBITDA to 9.0% under this level. As with the prior financing, BH Finance gets first dibs on any asset sales.
These are two better qualities of the Berkshire deal relative to what JPMorgan (NYSE:JPM) would have achieved heading out to other institutional investors on MEG's behalf. The batch sale of MEG's newspaper division was also a big positive. Heading into MEG's deadline for refinancing, there was a possibility that MEG had to refinance while still maintaining its newspaper segment which had become an operational drag since 2008. A combined newspaper and television operation would have probably resulted in a more difficult refinancing with respect to the overall terms. The ability to sell off pretty much the entire division for an acceptable valuation is another great result because in one fell swoop – all due to Buffett – MEG was able to streamline operations and secure very acceptable financing.
So how much is MEG now worth? I'd say a hell of a lot more than the $3.50 or so where it currently is valued. I think MEG will pursue selling off the Tampa Tribune and it may in fact get a halfway decent price for it. Table I presents my estimate of how MEG's capital structure will look following the closing of its newspaper sale and refinancing with BH Media and BH Finance, respectively. As per MEG's press release, the company will retain $25MM on its book and then use the balance to redeem some of its 2017 high yield bonds. I also expect about $20MM in various cash fees/expenses that MEG will pay out from the newspaper proceeds and further estimate that the company currently has about $10MM of cash on its books through Q2 2012. Q1 had a cash balance of $12MM which was largely after the banks raided the company for management's mistakes requiring covenant waivers and refinancing efforts. I think between an additional $2MM off the books and then deducting another $20MM from the newspaper proceeds that I am being quite conservative in where MEG's cash balance will be.
TABLE I: MEG CAPITAL STRUCTURE POST CLOSING ($MM)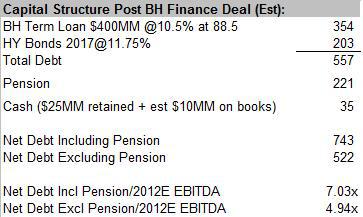 MEG retained the pension from the newspaper sale which is consistent with what the New York Times Company (NYSE:NYT) did when disposing of the Regional Media Group. When excluding the pension, MEG's debt is quite manageable based on my estimate for 2012 EBITDA. I would also argue that peers such as Gray Television (NYSE:GTN) and LIN TV (TVL) which also have defined benefit plans that require funding are not valued based on these obligations. Even CBS Corp (NYSE:CBS) maintains a benefit obligation liability of $1.8B which would increase its total leverage by 31% if it was included in its enterprise value but for the most part it's only until a company is facing issues where the pension issue arises.
This makes sense from the perspective that if a company is forced into restructuring, pension beneficiaries are claimants so their "weight" from the perspective of further reducing the equity value of a currently distressed company's equity valuation would be more acute. However, I would argue that when a company is in a better financial position, the overall pension shortfall may not warrant as much consideration, particularly given the long tail aspect of the plans and how the values can shift through various actuarial assumptions.
I also believe that MEG's overall pension liability may have a true eventual "cash" cost below what is recognized on its books. In 2010 and 2011, MEG recognized experience losses or actuarial losses of $19MM and $42MM, respectively. These two factors boosted the overall benefit obligation to $451MM. However these actuarial gains and losses can fluctuate considerably due to the return on plan assets, expected versus actual healthcare costs, discount rate changes, etc. The main point is that these adjustments can be volatile and lumpy but over time, if the actuaries are relatively accurate and the plan utilizes conservative estimates, then these significant adjustments will be smoothed over time. For example in 2008 and 2007, MEG recognized very large actuarial gains ($50MM in total over those two years) while the actuarial loss in 2009 was rather insignificant. It would not be inconceivable to recognize large actuarial gains which could reduce the pension obligation in the future.
In addition, MEG's plan in the past two years has not performed well. However, the plan has a 66% allocation to equities and while there may be more immediate issues regarding today's equity markets, market historians would probably expect that the secular equity bear market may end in the next 2-5 years which would get toward the length of the longer secular bear markets (14-18 years). This would mean that MEG's retirement plan could be in a position to perform well and MEG's overall plan obligations may be smaller than what the books currently recognize.
In any event, with the company's financing issues resolved, MEG should start to be valued closer toward pure play broadcast companies. Table II provides a breakdown of how I calculate MEG's 2012 EBITDA.
TABLE II: MEG 2012 ESTIMATE ($MM)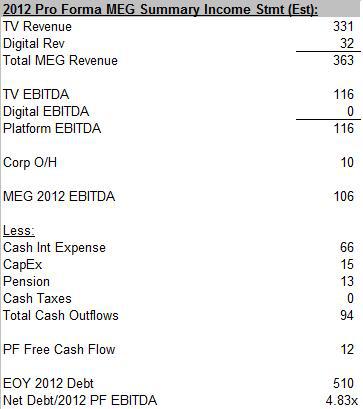 In 2012, I assume MEG's television division brings in about $331MM in revenue while its failed DealTaker and other Internet businesses generate about $32MM in revenue. I assume MEG can generate ~34% EBITDA margins for its broadcast division while the digital segment breaks even on an EBITDA basis. If management can make sure about one thing, it's that they get paid no matter what so I assume a $10MM corporate overhead – consistent with what MEG projected in a recent 8-K when showing how the business would look without a newspaper segment.
On this basis, MEG would generate about $106MM in EBITDA in 2012 and crank out about $12MM in free cash flow. Recall that I have already deducted $20MM from the total proceeds from the newspaper sale for various fees related to these transactions so the pro forma free cash flow may actually be close to total cash flow for 2012 if the estimates are correct.
At $3.50, MEG has a market capitalization of about $95MM assuming full dilution and an Enterprise Value of what could be estimated to be $617MM based on the figures in Table I. This means MEG is valued at about 5.8x EV/2012E EBITDA. However, the EV incorporates the Tampa Tribune or lack of a sale in terms of further debt reduction while the EBITDA figure gives no credit to it. Given that the Republican National Convention will be held in Tampa, FL, and the importance of Florida as a battleground state I think that Tampa Tribune may do better than what investors may expect.
In Q1 2012, MEG's FL division generated $32MM in revenue and $2MM in EBITDA. This represents a 7% EBITDA margin and compares to the -$2MM EBITDA and $34MM in revenue MEG's FL division generated in Q1 2011. So the improvement in generating cash from the struggling segment is a good sign but more importantly the margins compare somewhat favorably against Q1 2010, the last time there was a strong political component. In Q1 2010, MEG's FL division generated $38MM in revenue and $3MM in EBITDA which translates into an 8% EBITDA margin. More importantly, on the Q1 2012 conference call management mentioned a $1MM one-time charge in FL associated with consolidating a packaging and distribution center. Excluding this one-time charge would boost FL's Q1 2010 EBITDA to $3MM on $32MM of revenue, which would represent about a 10% EBITDA margin.
This is very good news because FL has been a massive drag on the company. While revenue degradation can still occur I would expect a trend similar to 2010 for the FL division. Like 2012, Q1 2010 experienced a sharp decline in sales against Q1 2009 (-9+%) but was flat by Q2 2010 and notched slight gains against each subsequent comparable quarter in 2010. What this means is that Q2 2012 should be close to matching Q2 2011 in terms of revenue, perhaps even higher in preparation for the Republican National Convention, and H2 2012 could potentially be a bit higher (+2%) relative to H2 2011. In summary the FL segment could generate revenues equal to or slightly higher than the $133MM generated in 2011.
The difference will be that the EBITDA margins should be much higher. In 2011 FL notched -$0.33MM EBITDA. MEG should be able to generate EBITDA margins comparable to 2010 given the evidence in Q1 2012. This means EBITDA ranging from $15MM-$20MM from FL should be very possible with most of the EBITDA generated in H2, particularly Q4 as television ads will drive operating leverage. The challenge is determining how much of this will be from the Tampa Tribune operation.
The Tampa Tribune is a significant part of MEG's newspaper division. The FL segment as a whole represents 22% of MEG's revenue but the company does not break out the contribution from broadcast and newspapers at the geographic level. More importantly, Tampa was the initial focus of management's failed convergence strategy which interwove MEG's broadcast, online and newspaper presences in the Tampa market. Assuming about 22% of MEG's 2011 newspaper segment would suggest a topline of $66MM. This seems possible based on circulation figures. MEG has just one broadcast affiliate in FL which is the 14th ranked designated market area ("DMA") in the U.S. and MEG's highest DMA station so it can generate significant revenue. Another factor to consider is how much TBO.com generates in topline and EBITDA and whether it falls under the newspaper or broadcast segment.
For simplicity, let's assume the Tampa Tribune generates revenues of $60MM. If the changes management implemented stick, perhaps the newspaper can realize EBITDA margins of 10%. This would be below comparable peers but would still bring in another $6MM of EBITDA. This would boost MEG's total EBITDA for 2012 to $112MM, implying a valuation of 5.6x EV/2012E EBITDA. More importantly it would boost overall free cash flow by that same amount.
TABLE III: MEG 2012 PRO FORMA ESTIMATE INCLUDE TAMPA TRIBUNE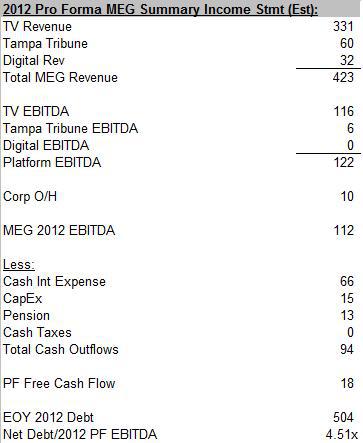 MEG has historically traded around 6.8x EV/EBITDA but this valuation was tethered to a company with a significant newspaper and broadcast operation. With most of the newspaper operations sold and the prospect that the Tampa Tribune could be sold, MEG should command a higher multiple. In addition, as the year progresses, MEG's capitalization should continue to improve as it should be able to reduce its debt load by about $10-$20MM (depending on the Tampa Tribune). This means by year-end MEG will have about $500-$510MM in net debt against $106-$112MM in EBITDA, which would put the company at or below 5.0x leverage with no prospect of as intense a decline in 2013 that it had when it still owned all of the newspapers. While broadcast revenues will decline in 2013, margins in off years are still very strong (30+%).
A 6.8x multiple would imply a valuation of about $8.50/share when using my estimates for how MEG's capitalization will look post the BH Media transaction and accounting for BH Media's warrants. By year-end, it is possible that another $10-20MM in debt is reduced which would bring share value up close to $1. The reason the jump is so significant is because each dollar of cash flow erases some very expensive debt. In addition, pure-play broadcasters are valued from 6-9x EV/EBITDA and one could argue that MEG deserves a valuation closer toward the mid point or higher for its peers when factoring the disposal of newspapers and accounting for the high quality locations of its key stations.
Another potential value creation avenue is the sale of the Tampa Tribune. Owning just one newspaper operation is probably not very efficient and given the actions to sell off all of the other newspapers, the Tampa Tribune could be fixed up for sale. Once again, if the newspaper can generate EBITDA margins of 10%, then a valuation of $20-30MM could be possible. Any valuation above $25MM, achievable if operations can be further improved, starts to become a value creation event for MEG.
Lastly, as I've repeated in each prior post, another potential value creation event would be selling off the entire company. BH Media will now occupy a Board seat and I don't expect the blind subservience other Board members have. Management has demonstrated a clear lack of competence in every facet of managing MEG. The only thing they have done thus far is get lucky in terms of finding a buyer for their assets and providing them financing. As an owner of MEG, BH Media will get an up close look at the type of management this team brings and I suspect will compare the value management adds or detracts. To any sane observer, management is just pitiful and MEG's value suffers for it.
Just three weeks ago, TVL paid $342MM to acquire New Vision. New Vision was reportedly valued at just under 10.0x EBITDA but TVL believes its acquisition multiple is closer to 4.5x EBITDA. This is consistent with what Sinclair Broadcasting (NASDAQ:SBGI) recognized when acquiring Freedom Communications in November 2011 where it paid about 9.0x EBITDA as far as the seller was concerned but was paying closer to 6.0x when factoring in synergies and tax benefits. MEG's stations are in the same valuation range implying a $950MM valuation based on an average EBITDA of $95MM when accounting for political and non-political years. Add on the Tampa Tribune for $30MM and an investor would walk away with $8-9 after retiring corporate and pension debt.
Overall the BH Media deal is a major win for MEG investors. The high yield bonds, which traded at roughly $95 before the announcement are now around $104, a very strong move. This move is not just a reflection of better credit quality but also a move toward the pricing of pure-play television broadcasters in the high-yield space.
There are a number of positives ahead for MEG this year given the Summer Olympics, both Democratic and Republican National Conventions in key MEG regions, and the forthcoming ad spending set to ramp up as the General Election gets in gear. More importantly the overhang of refinancing risk is now removed as is the overall operational drag as the bulk of newspapers have now been sold. Prior to these actions, the combination of horrid management, bad assets and high leverage warranted the heavy short interest in the stock. At this point the company has a cleaner balance sheet, the ability to generate cash flow, sell off additional asset sales to deleverage, and does not have a segment with the prospect of becoming a massive operational drag in 2013.
Nonetheless, the stock's valuation is actually a bit cheaper from a valuation perspective despite all of the positive benefits stemming from the BH Media transaction. I expect that the valuation multiple should improve as investors begin to understand this inefficiency.
Disclosure: Author manages a hedge fund and managed accounts long MEG.