Earlier this month, Bank of America (NYSE:BAC) announced that it was buying troubled Countrywide Financial (CFC) for $4 billion in stock. There are several theories regarding the reason why Bank of America's CEO, Ken Lewis, would even strike a deal with Countrywide. One theory includes Countrywide fitting nicely into Bank of America's acquisition strategy focused on dominating markets outside deposits, as evidenced by its acquisition of MBNA back in 2005.
According to Inside Mortgage Finance, a combined Bank of America and Countrywide will account for 24.5% of the market share for top mortgage lenders based upon data from the first nine months of 2007. But how much of a power play does the absorption of Countrywide represent for Bank of America in the online mortgage world? During November 2007, Bank of America only accounted for 3% market share of online applications and leads, and was in 9th place. Surprisingly, despite its recent troubles, Countrywide still accounted for 13% market share during the same period.
A leapfrog move from 3% to 16% market share for Bank of America post-Countrywide acquisition dramatically shifts players in the online mortgage world as Bank of America will just trail LowerMyBills while Lending Tree/GetSmart remains the #1 online market share leader with a whopping 37% market share. Excluding these two mortgage aggregators (which have a fundamentally different business model of turning around and selling leads to lenders to the direct lending model of Bank of America and Countrywide), the newly combined Bank of America and Countrywide will be the #1 online mortgage lender (as measured by submitted applications and leads). The next closest direct mortgage lenders would be Quicken Loans with 6.6% and then Wells Fargo (NYSE:WFC) with 3.4% market share.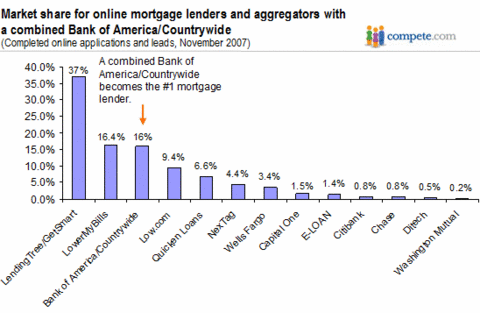 Beyond consolidating the online mortgage market, another growth opportunity for Bank of America is to cross-sell its financial products to Countrywide's sizable customer base. This strategy is articulated in Bank of America's recent press release in which Lewis is quoted as saying, "Countrywide customers will gain access to a broad set of consumer products including credit cards and deposit services."
So how much of a cross-sell opportunity will Bank of America have with Countrywide's customer base? Countrywide had approximately 2.4 million online accounts in December 2007, which will represent approximately 11% of Bank of America's total online banking base when the deal is finalized later this year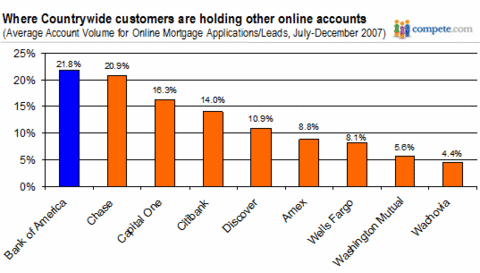 Only 21.8% of Countrywide's customers also managed an account at Bank of America between July and December 2007, while the remaining appear to be online bankers at the following institutions: Chase (NYSE:JPM) (20.9%), CapitalOne (NYSE:COF) (16.3%), and Citibank (NYSE:C) (14%). Given that 78% of Countrywide's customers do not bank online with Bank of America currently, this appears to point out a significant opportunity for Bank of America to cross-sell to those who might want to consolidate their credit card or deposits accounts with a single financial institution. The bottom line: If you are a Countrywide customer, be prepared to receive a ton of offers in your mailbox.