The cyclical steel industry is considered as one of the best barometers of manufacturing activity and the health of the overall economy. Recently, strong demand has been reported for the U.S. steel industry, which has seen its shipments rise by 13% in the first quarter of 2012 from the same quarter a year earlier. That robust demand is a result of stronger-than-expected automotive sales and a firm demand for farm equipment and oil and gas drilling equipment. In line with the improvement, some U.S. steelmakers have increased steel prices. Still, despite the better demand and pricing in the U.S., stocks of steelmakers have been crushed since early February (see chart below). This is so because the U.S. sales account for only 6.2% of the global annual market for steel. The rest of the world, especially Europe and China, are getting weaker.
At a recent Ira W. Sohn Investment Research Conference, billionaire David Einhorn warned that the broad economic slowdown in China, including a softening in steel demand, could have a significant negative impact on U.S. Steel (NYSE:X). He recommended shorting the U.S. steel producer. Given that China accounts for 45% of the global demand for steel, any marked slowdown in its consumption would have a negative impact on the global steel demand and steelmakers. Now, due to a softer outlook for steel in China, the World Steel Association has trimmed its China and world growth forecast for steel in 2012.
Therefore, despite the improvement in the U.S., global trends will continue to suppress market performance of steelmakers. Even at the new reduced prices, stocks of many steelmakers remain pricey relative to the industry (see chart below). Given the dicey market conditions and fluctuating earnings performance, the stocks of most steelmakers should not appeal to prudent income investors, notwithstanding attractive dividend yields that some steelmakers boast.
Click to enlarge all images.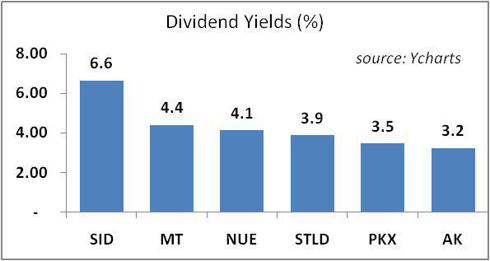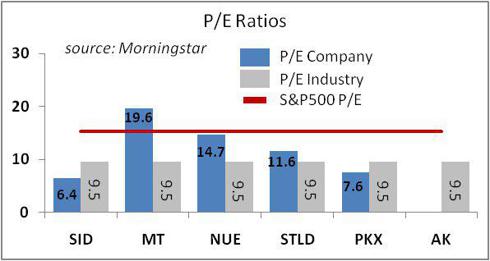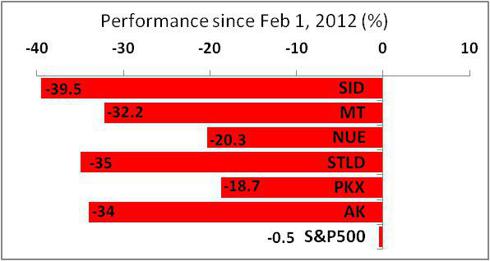 Companhia Siderurgica Nacional (NYSE:SID) is Brazil's second largest integrated steel producer. The company has a market capitalization of some $9.5 billion. This steelmaker pays a dividend yielding an attractive 6.6% on a payout ratio of 65%. One would assume that the company has a relative favorable outlook for demand compared to other regions, especially Europe, given that Brazil needs to build new stadiums and transport infrastructure for the upcoming 2014 Soccer World Cup and 2016 Summer Olympics. However, the company has been struggling with free cash flow. Its dividend has been on a roller coaster depending on the cash flow situation. Earning dividends from this investment, investors are exposed to foreign exchange risk, given that original payments are made in real. Although the overall global market outlook is dim, the company is getting attractive on valuation. It's forward P/E is now only 3.2. Ken Fisher sold out his stake in the company last year.
ArcelorMittal (NYSE:MT) is the world's largest steel producer with operations around the globe. The company has market capitalization of some $22.3 billion. It sports a dividend yield of 4.4% on a payout ratio of 53% of its 2011 earnings. The company has kept the dividend at $0.64 a share per year after cutting it from $1.39 a share in 2008. Citing weak demand, the company recently scrapped plans to expand production in Brazil. While it is expensive based on its trailing earnings, ArcelorMittal is getting more attractive based on forward valuations, as its forward P/E has dropped to 4.6. Ken Fisher and George Soros both closed their positions in the company last year.
Nucor Corp. (NYSE:NUE) is an $11.3 billion company and one of the largest U.S. steel producers and recyclers. The company pays a dividend yielding 4.1% on a payout of 60%. Nucor has paid dividend for the past 39 years. The company consistently generates strong free cash flow. More than 55% of the company's steel production is contracted on a long-term basis, which helps sustain its revenue streams and profitability. The company has been growing through acquisitions. Nucor has just announced that it will acquire Skyline Steel LLC from ArcelorMittal for $605 million. Analysts expect the company to grow its EPS by an average of 8.7% a year over the next five years. Ray Dalio and Joel Greenblatt purchased small stakes in the company in the first quarter of 2012.
Steel Dynamics (NASDAQ:STLD) is a $2.3 billion company and the fifth largest market of carbon steel products in the United States. The company pays a dividend yielding 3.9% on a payout ratio of 42%. In the first quarter 2012, Steel Dynamics reported earnings that beat analyst estimates by 2 cents at $0.23 a share. Going forward, earnings per share are still expected to decline 7.3% this year. Steel Dynamics has become popular with Joel Greenblatt, who has acquired a small stake in the company. George Soros sold out his stake in the first quarter of 2012.
POSCO (NYSE:PKX), formerly known as Pohang Iron & Steel, is a $26.2 billion steel producer based in South Korea. It is one of Asia's most profitable steel manufacturers. The company pays a dividend with a yield of 3.5% on a payout ratio of 17%. The steelmaker has seen strong demand at home due to improving auto production and shipbuilding. These two sectors absorbed about 31% of the steelmaker's annual output. However, POSCO is getting more concerned about a slowdown in China's construction market, which is the largest export market for POSCO's products. The company appears to be getting more attractive on valuation. It's forward P/E is only 6.8. Ken Fisher added to his position in the company in the first quarter of 2012.
AK Steel (NYSE:AKS) is a $708 million steelmaker in the United States producing flat-roll carbon steel, stainless steel, and electrical steel products. It pays a dividend yielding 3.2%. The company has been reporting negative earnings since 2009. It has also been deep in the red in free cash flow. Although the company has been paying a flat quarterly dividend of $0.05 since 2008, the payout does not seem sustainable, given the company's earnings, free cash flow, and the new market outlook. John Burbank of Passport Capital sold out his stake in the company in the first quarter of 2012.
Disclosure: I have no positions in any stocks mentioned, and no plans to initiate any positions within the next 72 hours.