There has been little pleasure watching things unfold in Europe. With capital markets increasingly unsure of what lies ahead - there continues to be re-pricing of risk for both disruptions in Europe and lower growth expectations for China.
The challenge for investors is how to manage a diversified portfolio with defined asset allocations when part of the investment portfolio is doing well and other parts look down-right sickly. Lessons from capital market traders can be helpful for even long-term investors who are interested in wealth protection along with wealth management. The following block quote is from the bookends of this brief note from the Trader Habits blog:
It is easy to get caught up in the emotions of the market. It is easy to take it personal. It is easy to think that the market has it out for you. …The market is not your friend, it is here to run a business. It makes business decisions. Act accordingly.
The key for long-term investors with portfolios based on asset allocations is to stick with the process knowing that the investment process is not designed to always have winning investments but to rather provide balanced long-term gains with lowered volatility. Another recent trading-related post from Peter Brandt reinforces the point:
Many novice pedestrian traders focus on the next position. Consistently successful traders focus on the process and care little about the outcome of the next trade. The distinction is enormous.
To be clear - the goal is to increase wealth and letting emotions get caught up in a particular trade often leads to bad investment decisions and poor investment performance. For maintaining diversified portfolios - it is about sticking with an investment process knowing that the process overtime works. Ignoring sections of the market because of previous negative investment results is not prudent. One never knows when those same asset classes could be the best performing parts of the portfolio in the future.
The international sector clearly is a case in point. One of my favorites to invest in the area is PowerShares International Dividends Achiever (NASDAQ:PID). While its dividend focus helps with volatility, it has suffered in May with the other international indices. For those using a monthly timing system - the downturn in the first days of May could not have been worse.
Figure 1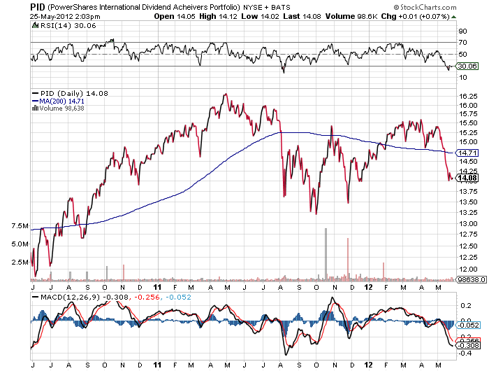 (Click to enlarge)
While I expect to realize disappointing returns from the International sector for May - the challenge is to not sour on the sector from the asset allocation process given that one could miss future potential returns.
For example, a recent review of the Shiller CAPE (Cyclically Adjusted Price-to-Earnings) for many countries shows that the lowest valuations (no surprise) were in Europe. Italy's cyclically adjusted PE is 7.3X. While I am not making an argument today to purchase an index tied to Italy (e.g. iShares MSCI Italy (NYSEARCA:EWI)) - clearly these valuations indicate that the potential for significant future returns have improved.
If Europe's leaders can establish fiscal unity within the monetary union - one could see a resurgence in earnings growth and a multiple expansion in the equity market. Clearly investment allocations to the International sector in 2003 through 2007 paid off - who knows when the next positive regime will begin.
Figure 2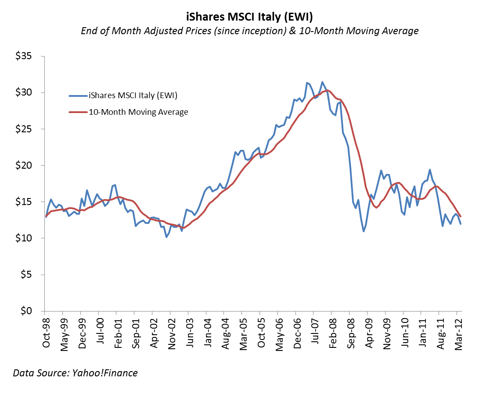 (Click to enlarge)
The key in my opinion is to keep the asset allocation process intact and continue to commit capital to a diversified portfolio. I favor a process that allows the system to throttle between fully invested and fully in cash while maintaining capital committed to the predefined asset class buckets.
The following two figures are based on a model portfolio I track using a simple timing model based on end-of-month prices and the 10-month moving average. Each stratification represents the capital committed to each asset allocation, whether it is invested or earmarked for investment but temporarily held in cash.
Figure 3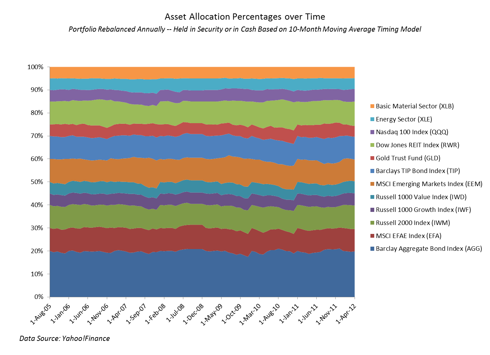 (Click to enlarge)
Figure 4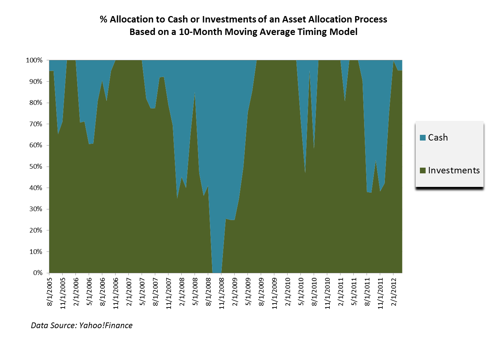 (Click to enlarge)
As you can see maintaining the asset allocation strategy does not preclude investors from actively managing the portfolio for risk. However, it does allow for capital to remain available to all predetermined asset classes.
Conclusion
While the recent downturn in the markets based on the possible exit of Greece from the European Monetary Union or a harder landing in China have caused pain in many portfolios, it shouldn't keep investors from maintaining a commitment of capital to depressed sectors even if it is held idle in cash or cash-equivalent.
New positive trends will be established at some point and even Europe will most likely reignite its economic engine and the capital markets in Europe will likely respond. Treating the investment allocation process like a business decision, based on a predetermined process, takes the emotional element out of the equation, and should improve investors' returns.
Disclosure: I am long PID.