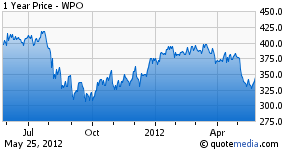 In the past, The Washington Post (WPO) presented investors with a compelling opportunity for above average gains. Warren Buffett saw this potential as WPO is the 13th largest holding in the Berkshire Hathaway (NYSE:BRK.A) (NYSE:BRK.B) portfolio.
The company name could almost be "Washington Post University" as it is primarily an education and training based business. WPO, through its subsidiaries under the Kaplan name, offers a variety of educational services such as certificate, diploma and degree programs through its campus and online. The revenue breakdown for WPO is as follows: 58% education, 18% cable television, 15% newspaper publishing, 8% television broadcasting and 1% other businesses.
The Washington Post typically raises the dividend every year. However, the payout has remained stagnant in certain years. The longest stretch without an increase was from 1991 to 1994. On a positive note, the payout was never decreased year to year. The current yield is 2.9%.
The company does have some challenges to overcome. Total operating revenue decreased 10% from 2010 to 2011. Income from operations also decreased 47% for the same period. Earnings per share suffered a 53% drop.
It looks like losses in Q1 are still tied to the education part of the business, Kaplan. Kaplan revenue decreased 11% in Q1 2012 as compared to Q1 2011. This needs to turn around for WPO as education comprised 58% of total revenue.
The newspaper division revenue decreased 8% for Q1 2012. Cable One experienced no percentage change in revenue, but it had a 13% decrease in operating income for Q1 2012.
This is troubling since the three largest sources of revenue for the company struggle to grow. With the Kaplan division, students enrolled in large numbers two, three and four years ago. However, these large numbers are beginning to graduate. So, Kaplan needs to find a way to increase new enrollments. This is no easy task with education costs rising 5.9% per year.
WPO is undervalued as it trades right around its book value per share. Few stocks can make this claim. However, the ones that do typically have experienced underlying issues that need to be resolved. In WPO's case, this is declining revenue for its largest business.
(Click to enlarge)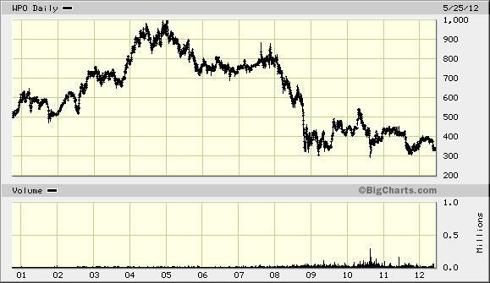 WPO has beat earnings estimates in three of the last four quarters. However, earnings are expected to decrease 16% this year and 7.6% next year. Potential investors may want to wait for a turnaround in the business before investing. This is the type of company that should be able to rebound for the long-term. A wait and see approach might be the best strategy.
Disclosure: I have no positions in any stocks mentioned, and no plans to initiate any positions within the next 72 hours.