When comparing Kinross Gold Corp (NYSE:KGC) to its peers in the senior gold miner group Barrick (NYSE:ABX), IAMGOLD (NYSE:IAG), Agnico-Eagle (NYSE:AEM), and Goldcorp (NYSE:GG), it's prudent for the analysis to begin with the main reason why KGC's price has deviated so much from that of its peers. That reason would be the Tasiast gold mine in the Mauritanian desert. Generally speaking, KGC is a decent senior gold mining company, but after taking a $2.49-billion writedown in February for the Tasiast mine, it has been nothing but a prime example of an overreaction, and a potential buying opportunity.
This type of scenario, reminds me of the soybean fiasco experienced by American Express (NYSE:AXP), in which Warren Buffett took advantage of a temporary problem with AXP. The reasoning behind this statement, is that the price of gold, is so much higher in comparison to KGC's past stock price when the price of gold was much lower. Furthermore, just like Warren Buffett, if you believe that the Tasiast issues will be overcome in time (within your desired holding period) then there could be an opportunity to be had here.
There is a silver lining (or gold lining in this case) to the Tasiast mine issue. The reserves in Tasiast have been confirmed to be 20 million ounces, compared to the 8 million thought at the time of the Tasiast acquisition. To put that into perspective, KGC is taking a writedown of $2.49 billion on a mine that was thought to have less than half the actual gold reserves. Obviously there are other negative reasons for the writedown, otherwise this would be the buying opportunity of the century.
The major reason for the negativity is that the gold rich core is surrounded by a low-grade envelope. Surely, overtime this issue will be overcome, and KGC will be able to get at the 20 million ounces of gold. Other factors are increased costs across the board, such as labor and equipment. Even though shareholders may have been upset with the original purchase price of Tasiast, the subsequent writedown, and rising costs, the bright side is that there be double the gold in dem mines!
KGC Breakdown
The fundamentals for KGC: P/B 0.8, Debt to Capital 11.4, P/E -, Yield 1.93%
Click to enlarge

KGC Chart 50/200 WMA with RSI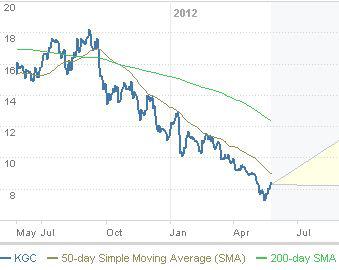 Other highlights, KGC seems to be raising dividends, and was on a positive growth trend sans the Tasiast mine issue.
ABX Breakdown
The fundamentals for ABX: P/B 1.6, Debt to Capital 33.6 P/E 8.8, Yield 2%
ABX Chart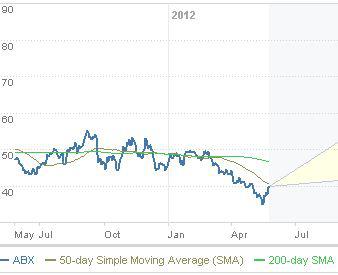 IAG Breakdown
The fundamentals of IAG: P/B 1.1, Debt to Capital 0, P/E 10.7, Yield 2.3%

IAG Chart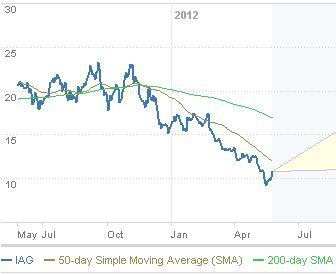 The fundamentals of AEM: P/B 2.1, Debt to Capital 20.6, P/E -, Yield 2%

AEM Chart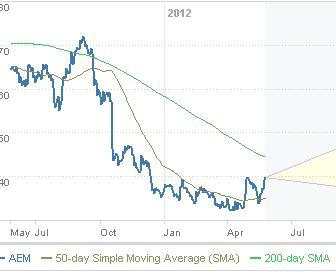 The fundamentals of GG: P/B 1.4, Debt to Capital 3.2, P/E 19.8, Yield 1.43%

GG Chart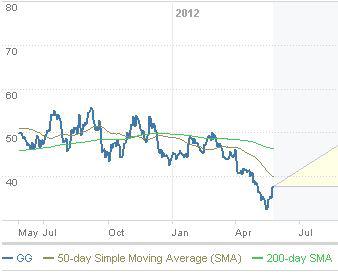 In comparison to its peers, KGC has the lowest P/B ratio, and one of the lowest debt to capital. The reader will notice a continuing trend in dividend growth with the senior gold miners (sans AEM). This may present an opportunity for dividend growth investors. There also may be some future consolidation in the industry with seniors acquiring juniors. This is mainly due to the fact that dirt is currently more expensive than some juniors.
Most of these seniors look good in general (except for AEM). I also personally like IAG. However, the main point of the article is that many of the very best investment opportunities are found by locating the companies that are undergoing fixable difficulties, and have fallen out of favor. KGC has strayed the most from the mean of its peers. As a result, KGC could constitute as the equity with the largest possible upside potential. Eventually those 20 million ounces of gold in the Tasiast mine will be in demand, and KGC will make money by supplying the demand. Having the security of knowing that gold reserves are in the books, is a lot different than betting on a recovery of a technology company in my opinion.
If investors believe that gold will stay above $1000 USD an ounce, and furthermore that governments will be forced to print additional money in the future, then investing in an undervalued gold company isn't such a bad consideration.
Charts courtesy of RBC direct investing
Disclosure: I am long KGC.
Additional disclosure: I may initiate a long position in IAG.