Dividend investors demand safety, income, and absolute returns from their income portfolio. Investors can become "do it yourself" investors and build a portfolio which meets their risk profile and their expected return profile. I would suggest focusing upon the "risk profile" as the number one priority.
Time Intensive Research
I personally know dozens of investors who spend 8 hours a day researching, reading, and investigating dividend stocks. 40 hours of work, per week, is a full time job. If this effort is ongoing, make sure to put common sense and what rings true in your portfolio. A portfolio should be able to provide 8% per year.
Major Stock Market Risk
The Great Recession of 2008 taught us balance sheets are the primary backbone of a solid investment. As Europe implodes, capital may be tight to come by here in the U.S. You want stocks with a solid balance sheet and access to capital.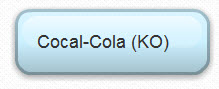 Coca Cola (NYSE:KO) does one thing better than anyone. They sell sugar water, water, and beverages to the world. The company does not have a snack division, like Pepsi (NYSE:PEP), to deal with during their daily marketing process.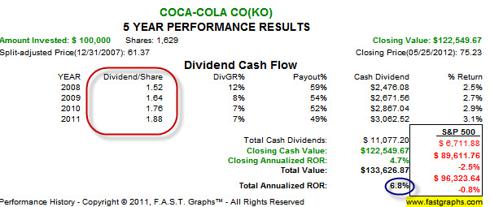 Carl Icahn has established a sizable position. Warren Buffett for many years has maintained a 200 million share position. Per the above table, investors can note decreased payout percentage and the 7% dividend growth.
Action
I recommend Coca Cola shares become a staple within an income investor's portfolio. Coca Cola has the number 1 rated product, best shelf space, and an incredible track record for positive results.

Lorillard (NYSE:LO)
Lorillard has provided significant outperformance for shareholders, both in dividends and capital appreciation. The table highlights the company's positive results versus the SP500.
The below table contrasts the stock's total return versus the SP500. The annual dividend growth and net return exceeded the SP500 by 11.3%, per year, over the past 5 years.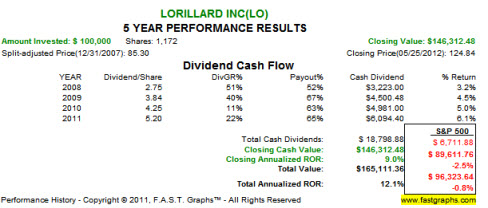 The stock yields about 15% per year. The dividend has increased from $2.75 in 2008 to $5.20 in 2011.
Action
I recommend recession resistant dividend investors buy shares in Lorrillard. The stock has outperformed the SP500. In addition, the business model is unique to the economy. Tobacco remains a slowly decreasing economic product, and the Lorillard - as a cash cow - can pay out significant dividends.

Johnson & Johnson (NYSE:JNJ) is a money maker. The company has a stellar balance sheet and provides health care products to a global community that is aging and in need of health care services and products.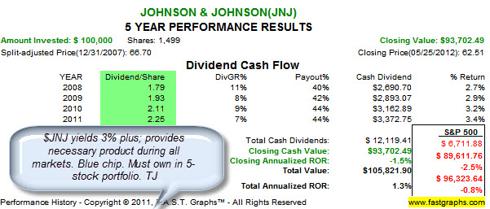 Johnson & Johnson is the bellweather of blue chip healthcare stocks. The dividends continue to increase, revenues continue to increase, and management is top tier.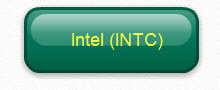 Intel (NASDAQ:INTC) is aggressively moving into smartphone applications. This is, of course, where the predominant growth is for integrated circuits.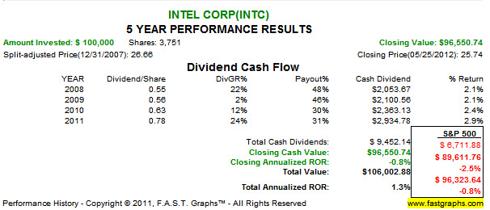 Intel trades with approximately 15% debt on its balance sheet. The company has 10% growth in earnings and dividends. The business model is focused upon all tablets, personal computers, mobile phones, and internet connected devices. The current dividend is 3% per year. This payment is growing aggressively as new mobile markets enter the growth space for Intel.
Action
I believe the balance sheet is rated "A++" for safety. The company will increase the yield, and the position adds a tech stock to a portfolio. The stock is a blue chip technology stock with a blue chip business model and balance sheet.

Procter & Gamble (NYSE:PG)
Procter & Gamble is one of the world's largest consumer goods providers with a leading stable of well-known brands. P&G primarily focuses on Beauty and Grooming, Health and Well-Being, and Household Care.
Some of its Beauty and Grooming brands (46 in total) include Braun, Camay, CoverGirl, Gillette, Gucci fragrances, Hugo Boss fragrances, Head & Shoulders, Ivory, Olay, Pantene, Scope, Tampax, Venus and Vidal Sassoon. Some of its Health and Well-Being brands include Always, Crest, Oral-B and Iams. Some of its 32 Household Care brands include Ariel, Bounty, Cascade, Charmin, Comet, Dawn, Downy, Duracell, Febreze, Pampers, Pepto-Bismol, Tide and Vicks.
Brands with over a billion dollars in annual net sales (26 in total) include Ace (stain removal), Ariel, Bounty, Charmin, Dawn, Downy, Duracell, Febreze, Gain, Iams, Pampers, Pringles (which P&G has agreed to sell to Kellogg for $2.7 billion), SK-II (first Asian home-grown billion-dollar brand in Q3 2012), Tide and Vicsk (became a billion-dollar brand in Q3 2012).
As with major corporations around the world, corporate social responsibility is almost mandatory. So it is with P&G which touts environmental sustainability in all of its operations (which is really a necessity because many of P&G's brands are chemicals-based or involve environmentally unsustainable materials and packaging). P&G also engages in social responsibility focused on helping children in-need across the world.
P&G is a corporate sponsor of the upcoming Olympic Games to be held in London later this year.
Corporate Strategy: P&G operates in very competitive and dynamic business segments. It is a multi-billion dollar company with mature operations in many of its traditional markets in the US, Asia and Europe but with growth opportunities from rising incomes in certain other parts of the world.
P&G's goal is to increase organic revenue 1% to 2% faster than category growth in each segment, to grow earnings per share in the high-single to low-double digit range, and to generate strong free cash flow.
P&G has years of experience building and maintaining its market leading brands and should be able to meet its growth targets. Profitability, though, will hinge on its ability to rein in costs and improve productivity.
P&G also benefits from its intrinsic diversification across product categories, across consumer segments and across geographies - so a dip in sales somewhere will not overly impact the company's overall business and future success.
Financials: For its third quarter ended March 31, 2012, P&G reported consolidated net revenue of $20.2 billion, up 1.5% from Q3 2011's $19.9 billion in what the company called a difficult macroeconomic and competitive environment. In the quarter, organic sales increased 3% overall, with increases in all business segments for the third consecutive quarter running.
Segment-wise, Fabric Care and Home Care accounted for 32.1% of Q3 2012 net sales followed by Beauty at 23.5% and Baby Care and Family Care at 20.2%. P&G's grooming products saw a slight sales decline over Q3 2011 but all the other categories gained with Baby Care and Family Care leading the pack with a 4.7% rise followed by the Health Care segment. In general, sales increases were driven by a combination of increased unit volume sales and improved pricing and offset by drops due to unfavorable product mix (such as sales of lower priced goods in developing regions) and unfavorable currency exchange rates due to the strengthening of the dollar.

In addition to revenue growth goals, the company is also focused on reducing costs and improving productivity to enhance profits.
Operating income dipped 11% relative to Q3 2011 a year ago due to a 4.6% increase in cost of products due to higher commodity prices and due to a 3.7% increase in selling, general and administrative expenses (SG&A).
Net earnings were down 15% for continuing operations and 16.1% overall due to one-time charges tied to restructuring related to P&G's productivity and cost savings plan which will cost $3.5 billion over a four-year period but is expected to deliver significant productivity and cost benefits over the years.

From a segment perspective, Fabric Care and Home Care contributed the most, 27.3% and $716 million, to net earnings followed by Baby Care and Family Care at 21.9% and $573 million.

In the quarter, operating cash flow was $3.8 billion and free cash flow (after capital expenses) was $2.9 billion, 19% higher than net earnings.
At quarter end, the company reported cash and cash equivalents of $4 billion, total assets of $134.6 billion, long-term debt of $21.3 billion and shareholders' equity of $65.9 billion.
Looking ahead, the company expects Q4 2012 diluted net earnings of between $1.12 and $1.32 and fiscal year 2012 diluted net earnings of between $3.63 and $3.74.
Shares and Dividends: As of May 24, 2012, P&G shares traded at about $62.50 within a fairly tight 52-week range of $57 - $68, with a price-to-earnings ratio of 19x and a market capitalization of $171.5 billion.
P&G has a solid, albeit conservative, history of regularly paying and increasing quarterly dividends, going back to 1970 when it paid dividends of $0.01 per share. For most of the 70s, 80s and 90s, P&G conservatively raised dividends by $0.01 but mildly accelerated that pace over the past ten years when dividends increased from $0.21 in 2002 to their current level of $0.562. At current rates, its annual dividend is $2.248 giving it a dividend yield of 3.6%.
In Q3 2012, P&G repurchased shares with a spend of $2.3 billion and paid out $1.5 billion as dividends.
In addition to its stable yield, long-term shareholders have been rewarded with solid market-beating returns relative to both the S&P 500 and the Dow Jones Index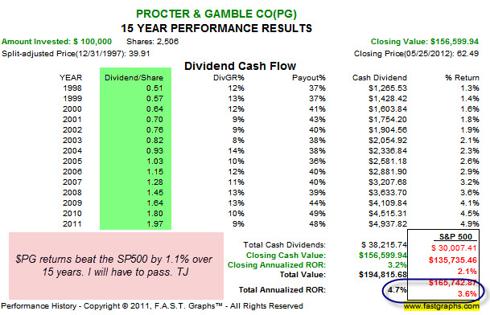 The benefit to investing pales in comparison to the SP500 return. Investors need safety and the ability to beat the SP500 returns. P&G fails to significantly beat the SP500.
Summary
I recommend investors avoid P&G shares as they have only kept pace with the SP500. Investors need more results from their time and dollars than a SP500 return.
Action
Do it yourself investors don't want the best "brand names" if the stocks don't produce outperforming returns. Understand your circle of competence and invest in businesses that make sense and make portfolio profits.
Johnson & Johnson is a must own for a blue chip dividend portfolio. Coca Cola is a must own, low beta, increasing dividend stock for any portfolio. The company is simply the best for delivering beverages on a global basis. Intel and Lorillard provide high income, dividend growth income, and unique business models for income investors.