The WisdomTree India ETF (NYSEARCA:EPI) is the first and largest India ETF. A close competitor to EPI is the second largest India ETF, the PowerShares India ETF (NYSEARCA:PIN). These ETFs have been competing since 2008 and this year is no different. EPI has outperformed PIN since the beginning of the year. Additionally, even though EPI reached higher highs this year it has held up better than PIN in the current downturn. Here's the chart of the WisdomTree India ETF versus the PowerShares India ETF from stockcharts.com.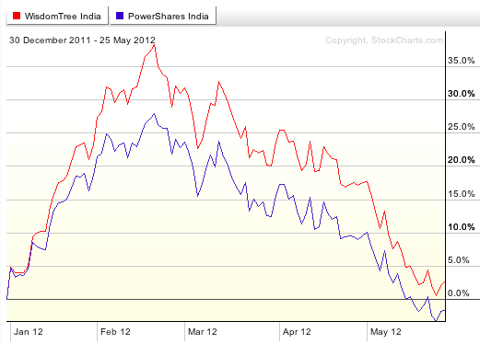 The performance gap between the two ETFs is 435bps currently, a large amount in five months. More importantly WisdomTree investors are making money this year and PowerShares investors are not. Here's the performance grid snapshot from IndiaETFs comparing performance of the two ETFs.

From this grid we see PIN has edged out EPI in one year performance but lost over three years. Going back to PIN's inception in 2008, we see consistent outperformance by WisdomTree since late 2009. Here's the chart going back to March of 2008.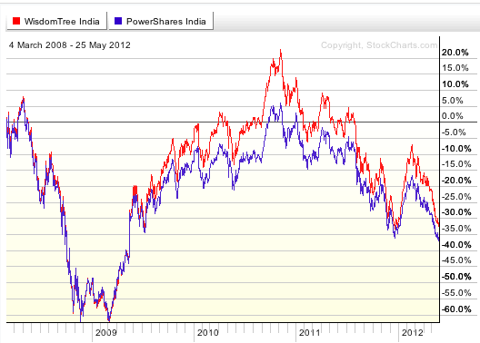 Taking a step back from performance and reviewing other criteria is important as well. Often larger ETFs trade more efficiently than smaller ones. An asset level check shows EPI at over $700 million in assets versus the PIN at just over $300 million. PowerShares is a bit less expensive at 78bps versus WisdomTree at 85bps yet this difference is so small that it has not been translated into a performance advantage. From a volume perspective Yahoo Finance shows an average daily volume of 2.8 million shares traded in EPI versus 700,000 in PIN over the last three months.
Based off multiple performance comparisons, a negligible expense ratio difference and significant volume and asset advantages, it appears the WisdomTree India ETF is best in class and is poised to remain there.
Disclosure: I have no positions in any stocks mentioned, and no plans to initiate any positions within the next 72 hours.