Make no mistake, Trans World Corporation is about entertainment. As a stock analyst, I have to admit it is an entertaining company to cover, and fun to write about. I guess since the biblical days of David versus Goliath, the little guy overcoming difficult situations in impossible places makes for a good story.
The focus of Trans World Corporation (OTCQB:TWOC) is casino operations in the Czech Republic. Despite its ominous moniker, TWOC actually has a modest market capital of $27MM, at $3 per share. This New York corporation operates four full-service casinos, including three company-owned casinos under the 'American Chance Casinos' brand name in the Czech Republic and a casino under a management contract in Croatia. It also operates the four-star Hotel Savannah in conjunction with one of the casinos.
Trans World reported EPS of $ .33 per share for fiscal year 2011, a 70% increase over 2010. It sports a trailing PE of less than 10. Book value is over $4.50 per share. We consider TWOC to be a value stock with growth drivers.
Wild and Crazy Guys. The casinos have American themes, such as the Chicago Roaring Twenties, the 50's Miami Beach and New Orleans Bourbon Street. They offer colorful interiors, restaurants, live music, comedy routines and upbeat bar action.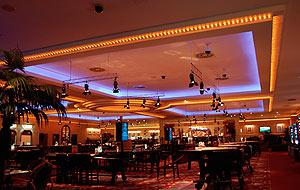 I cannot help but remember Steve Martin and Dan Aykroyd on Saturday Night Live, impersonating young Czechs preparing for a night on the town in the US. They referred to themselves as "wild and crazy guys" to emphasize their free-spirited willingness to throw caution to the wind for one night of "getting lucky" in the USA. These characters were lovable because of their painfully honest, naive nature, their keen observation of the idiosyncrasies of American culture and their general optimism. They also absolutely loved everything American.
Apparently, the American Chance brand successfully opens the door for clients to enjoy the mystique of the US culture and Las Vegas style atmosphere. TWOC faces competition from larger, non-US style casinos, but it seems to be winning the battle. Although some Europeans may be at odds with the US for its political actions, apparently they are not bothered enough to keep TWOC from retaining market share, and actually growing revenue at a double-digit pace.
I recently had the chance to visit with CEO Rami Ramadan, and he verified that the shine is still on America in the TWOC territories. Ramadan has ample executive experience with Meridian Hotels, Euro-Disney and Hyatt, among others. He was brought in to try to salvage the struggling company, and he has consistently improved stockholder's equity, which at this time actually exceeds market capital by more than 50%. His background was in the financial management of the operations. As a value analyst, it is a pleasure to be able to visit with a CEO that has a vision based on a sound financial foundation.
TWOC has developed a brand and operating model for its casinos that Ramadan thinks can be duplicated in several other locations. Expansion to 20 casinos is in the five-year plan, but the reality of the European situation this year is a cause for caution and letting the opportunities ripen. TWOC has cash in the bank and credit, so it is in the driver's seat when it come to acquiring new parcels in Europe. Modest expansion initiatives can be expected this year.
The Hotel Savannah, less than an hour from Vienna, is gradually improving profitability at stable room rates, with the average daily occupancy rate rising to just under 50%. I got the impression that Ramadan is a hotelier at heart, and he would like to see Trans World create a larger hotel operation. The Hotel Savannah experiment is working out well, so we should expect a focus on Hotel expansion around the existing casinos, as the land is available and paid for. However, Ramadan also understand that the casinos are right now the bread-and-butter of the operation. Kind of reminds me of the old joke:
A lady goes to a psychiatrist.
"Doctor, doctor," she says. "My husband thinks he's a chicken."
"Why not bring him in to see me?" says the psychiatrist. "I think I can help him."
"I would," says the lady, "But we need the eggs."
I like the approach of proving the concept and monitoring the Euro situation before investing substantial resources in more hotels. I should mention that TWOC is adding VIP suites to some casinos in order to keep the high rollers close to the casino.
The TWOC growth, earnings and PE of 10 compare favorably to international casino operator Las Vegas Sands (NYSE:LVS) and another of our favorite casino operators, Pinnacle Entertainment (NYSE:PNK), with PEs of 25 and 15, respectively. PNK's international operations are limited to a joint-venture with MGM in Viet Nam. You can review more about PNK in my article "Kentucky Derby Special: Investing in Racehorses."
It has not been an easy road for TWOC during the Euro crisis. The company has also had unusual weather events closing the casinos, and last December's high season was interrupted by a closure mandate in respect to a fallen Czech leader. In 2012, there was a change in corporate taxes to a 20% flat tax that took about a 5% bite out of the first quarter earnings. The latest hit was an additional gaming tax of 19% also levied by the Czech government in 2012 to help support its debt. Despite all those headwinds, TWOC managed to grow earnings at 13.5% in the first quarter.
Ramadan believes a great part of the TWOC success is in the loyalty program that is more generous than some of the competition. Clients are given "cash back" cards for some of their losses, which they promptly re-wager...wild and crazy guys.
Can't Get No Respect. Despite a severely undervalued stock price according to measures such as book value, price to sales, earnings growth and PE, the market has shown little interest in Trans World Corporation. Although Yahoo indicates an average of 12,311 shares per day traded, on many days there are no trades.
Some may remember the self-deprecating Rodney Dangerfield skit from the 1970s with the comedian running down a litany of jokes punctuated by "I can't get no respect."
"My wife was afraid of the dark and then she saw me naked...now she's afraid of the light...I can't get no respect..."
I asked the bartender to make me a zombie...he said God already did that for me...I can't get no respect..."
It may not be so much that TWOC "can't get no respect" as the owners of the stock know what a value they have, and so there are few sellers. It is a frustration to Ramadan, who is a net buyer of the stock for his personal account. Yet the illiquidity is a vicious circle as potential buyers stay away because of illiquiidity.
Ramadan believes that the main reason for the lack of interest in TWOC is that it is listed on the pink sheets and not on a recognized exchange. The company has investigated the requirements for listing, and it meets all of those with the exception of the minimum number of shareholders. In time that is improving, but it is difficult to predict when it will be able to comply with the last requirement. One large holder recently released 500,000 shares, while retaining more than 10% of the company stock. This may actually help widen the shareholder base.
We have seen many undervalued and unpopular stocks, even on the pink sheets, eventually get recognized by the market for their true value. When it happens, it can be very dramatic. TWOC's stock price has been rising gradually during the past year.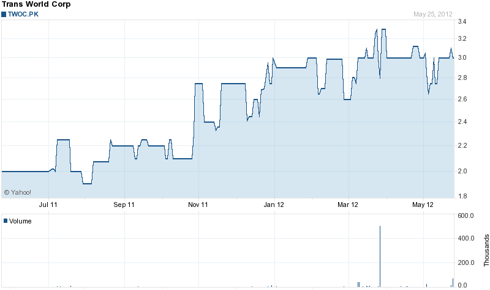 The long flat tops on the chart are periods when the stock is essentially dormant, and impatient investors may not be able to wait for the big picture to develop. It is impossible to predict when the Trans World story will catch fire with the investment community, but it could be sooner than later.
If you are looking for a company that has proven it can prosper in bad times and has probably cleared the worst of its obstacles, Trans World Corporation should be on your list. It definitely pays to have a long-term perspective with this type of stock.
This kind of reminds me of the three Tibetan monks in their meditation cave:
After about a year, the first monk opens his eyes and announces, "it's raining out there."
Another year passes, and the second monk opens his eyes and says, "it is a sunny day."
Another year passes, and the third monk opens his eyes and says, "if you guys keep arguing, I'm moving to another cave."
Disclosure: I am long OTCQB:TWOC.