As investors become more and more worried about the world economy -- focusing on Greece with China and the U.S. in peripheral vision -- it makes sense to us to look into stocks that held up best in periods of market decline.
Managing risk is as important as reaching for return. One aspect of managing for risk is the past behavior of particular stocks in negative market periods.
Toward that end, we identified four key, recent down periods for the S&P 500, and identified those liquid stocks that were in the top quartile for price return in each of those four periods, and did at least as well as the S&P 500 index in the 2008 crash period.
The bear was in 2008-2009, and the corrections were in 2010, 2011 and ongoing in 2012.
We ran the test against the 6824 NYSE and NASDAQ stocks in the MetaStock database. For those who may ask where they can get the tool, which readers tend to do -- we wrote our own filter formula. You can do the work by hand on a few securities, but to review thousands, you need a computer and some code that isolates the prices for the dates ranges to be evaluated.
We understand (and are required by regulations to say) that past performance is no guarantee of future performance. Nonetheless, we believe the past does provide some clues about the future. We believe that by looking for stocks that have repeatedly weathered storms better than others, the odds tilt somewhat in favor of those stocks doing better in near-term future storms.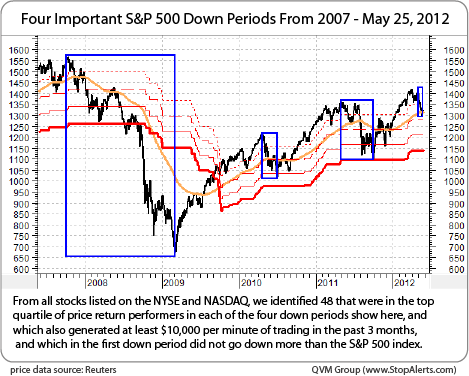 There were a number of ETFs that passed the filter not listed here, because this article is about individual stocks. And, there were some very popular names, including several we own, that we might have expected to pass that did not because they went down more than the S&P 500 in the 2008 crash period.
Here is the list of the 48 individual stocks that passed our filter. You'll have to look further into the names for additional insight, but this is not a bad list to begin a search for safety while remaining in stocks.
Some of these stocks are probably real dogs going forward, and some may be gems. What you seek may not be what we would seek, but probably most of us would be intrigued by stocks that resisted down drafts more than most others over multiple down market movements.
Whatever warts some of these stocks may have, you have to give them some recognition for beating thousands of other stocks in the dimension of decline resistance in three separate corrections and a bear over four consecutive years.
Note: None of these names are purchase recommendations. This list is provided as time saving service to the do-it-yourself investor who would like to research within a subset of the stock universe that has the price decline resistance history these names have shown.
| | |
| --- | --- |
| Security Name | Symbol |
| AMERISOURCEBERGEN ORD | ABC |
| BARRICK GOLD ORD | ABX |
| ALLIANCEBERNSTEIN INCOME CF | ACG |
| AGNICO EAGLE MINES ORD | AEM |
| ANWORTH MORTGAGE REIT | ANH |
| YAMANA GOLD ORD | AUY |
| BALCHEM ORD | BCPC |
| BROWN FORMAN CL B ORD | BF.B |
| BIOGEN IDEC ORD | BIIB |
| BRISTOL MYERS SQUIBB ORD | BMY |
| COLGATE PALMOLIVE ORD | CL |
| CLOROX ORD | CLX |
| CMS ENERGY ORD | CMS |
| CLECO ORD | CNL |
| DOLLAR TREE ORD | DLTR |
| DIAMOND FOODS ORD | DMND |
| DUKE ENERGY ORD | DUK |
| ECOLAB ORD | ECL |
| CONSOLIDATED EDISON ORD | ED |
| FAMILY DOLLAR STORES ORD | FDO |
| FLOWERS FOODS ORD | FLO |
| GENERAL MILLS ORD | GIS |
| HJ HEINZ ORD | HNZ |
| HORMEL FOODS ORD | HRL |
| HERSHEY FOODS ORD | HSY |
| HEARTWARE INTERNATIONAL ORD | HTWR |
| IDENIX PHARMACEUTICALS ORD | IDIX |
| KELLOGG ORD | K |
| KENSEY NASH ORD | KNSY |
| COCA-COLA FEMSA ADR REP 10 SR L ORD | KOF |
| MCCORMICK ORD | MKC |
| MONSTER BEVERAGE ORD | MNST |
| ALTRIA GROUP ORD | MO |
| NEXTERA ENERGY ORD | NEE |
| NEWMONT MINING ORD | NEM |
| NJ RESOURCES ORD | NJR |
| ANNALY CAPITAL MANAGEMENT REIT | NLY |
| NORTHEAST UTILITIES ORD | NU |
| PG&E ORD | PCG |
| PROCTER & GAMBLE ORD | PG |
| PROGRESS ENERGY ORD | PGN |
| PERRIGO ORD | PRGO |
| ROYAL GOLD ORD | RGLD |
| ROSS STORES ORD | ROST |
| SEATTLE GENETICS ORD | SGEN |
| STERICYCLE ORD | SRCL |
| SXC HEALTH SOLUTIONS ORD | SXCI |
| VOLCANO ORD | VOLC |
Disclosure: QVM has positions in HNZ and NLY as of the creation date of this article (May 27, 2012).
Disclaimer: StopAlert.com is a service of QVM Group LLC, a registered investment advisor. This article provides opinions and information, but does not contain recommendations or personal investment advice to any specific person for any particular purpose. Do your own research or obtain suitable personal advice. You are responsible for your own investment decisions. This article is presented subject to our full disclaimer found on the QVM site available here.