Typically technology stocks tend to swoon over the summer. Perhaps this is partially because Europeans, many of whom get 6 weeks of vacation per year tend to take it in the summer. Perhaps it is just that the markets get tired after an initial push upward early in the year. It is currently hard for even HFT traders to drive the markets higher against the quadruple whammy of the worsening EU credit crisis, the possible Chinese hard landing, the slowing US economy (2.2% GDP growth in Q1), and the slowing of many of the emerging market nations' economies. The tech swoon has often occurred as the adage, "Sell in May, and go away", attests. However, the swoon has been even more evident the last two years. The EU credit crisis has scared even more than usual away. This year that effect should be even worse.
On top of this, many of the tech leaders have warned of trouble ahead, or are already seeing it. Cisco Systems (NASDAQ:CSCO) beat barely on EPS, but gave very subdued guidance. The stock has since fallen to $16.33 from its 2012 closing high of $21.19 (-23%). On Wed. May 23, 2012, Dell (DELL) missed, and guided lower. Its stock fell from approximately $15 to approximately $12.50 in one day. It has fallen from it near term high of $18.32 in Feb. 2012 to its current $12.46 (-32%). Hewlett Packard (NYSE:HPQ) beat EPS expectations, but it announced it would cut 27,000 jobs. This has to look bad for tech. HPQ stock has fallen from a 2012 high of $29.89 to its current $22.33 (-25%). Many other techs such as NetApp (NASDAQ:NTAP) have also shown weakness (-38% from its 2012 high). This isn't the behavior of a strong sector or of strong bell weather stocks. It is instead the behavior of a sector that is only likely to get pounded further as the EU crisis slowly unfolds. Virtually all now see that there will be no salvation for the EU. It will only be a question of how bad it will get. Many think it will get much worse.
Many EU banks are near failing, even major ones. The Spanish bank, Bankia, needed a recent bailout of approximately $24B by the Spanish government. Bankia is still stuck with many more billions of dollars in bad assets. Yet the market cap is only $3.98B. Spain barely staved off a major run on Bankia (and perhaps others banks by contagion). It had to nationalize Bankia to avoid that.
The above is by no means an isolated incident. On May 16, 2012, Moody's cut the ratings of 16 major Spanish banks. On May 14, 2012 Moody's cut the ratings on 26 Italian banks. These are just token examples. Most EU banks seem to be getting downgrades these days. All of the PIIGS are in serious trouble. Spain has a huge unemployment problem with 24.44% official unemployment. It has huge real estate "bad loans", which the banks have been hiding for years. Austerity and sovereign debt are only the tip of the iceberg. The "sh.." is about to hit the fan in Spain.
On top of the plethora of problems in other countries, Greece may vote to leave the Euro. The EU enforced austerity programs are hurting it economically. This is after its economy already shrunk by approximately 20% since 2008. Whether Greece remains in the Euro or leaves it, the Greek economy seems almost sure to shrink another 10% to 20% in the near future. This is a depression! If you think the people of the US are antsy, the Greeks are no longer sure they trust their banks at all. It would take very little stimulus to cause a run on Greek banks. Many pundits seem to think this would happen automatically with a currency changeover, if Greece leaves the Euro. The new elections are scheduled for June 17, 2012. Even if Greece decides to stay in the Euro, it is clear now that staying in the Euro will not be close to the end of the Greek tragedy. Bank runs will continue to be an issue in Greece. Inevitably we will see these in Europe this year. The consequent credit seize up will mean a severe recession. Such an event could easily drag the US into a recession and China into a hard landing. A China hard landing could mean an eventual Chinese recession. The world could soon become a very depressing place.
At the very least, all of the above means tough times for tech in the EU. Capital budgets have been and will continue to be cut. This will mean less tech spending. Dell is a perfect example, but many others will follow its lead before this is through. Even Facebook (NASDAQ:FB) is getting hit hard because it is not sure how it will monetize mobile. Don't you think they might have at least come up with a decent plan for that before they went forward with the IPO? Now everyone wants to sue Facebook, Morgan Stanley, and the NASDAQ. Such callous disregard of shareholders must be what happens when you go from college student, to thief (Zuckerberg arguably stole Facebook), to multi-billionaire, to husband all in the space of a few years. The indestructibility of youth will soon fade for Zuckerberg. However, the market will have to live with the near term failure of Facebook at a time it could very much have done without that. Perhaps some disgruntled CSCO, DELL, HPQ, or other employees will find some way of getting even with Facebook. They can't be happy. Perhaps companies in Facebook's immediate industry such as Zynga (NASDAQ:ZNGA), Twitter, Groupon (NASDAQ:GRPN), Linked In (LNKD), Pandora Media (NYSE:P), etc. will sue Facebook for costing them millions if not billions of dollars? The possibilities are endless. When you are on international TV with the world watching, you really should take great care not to fumble. Oops! Ouch!
If tech wasn't in enough trouble, it assuredly is in deep trouble now. The QQQ is now firmly in a downtrend as the two year chart below shows.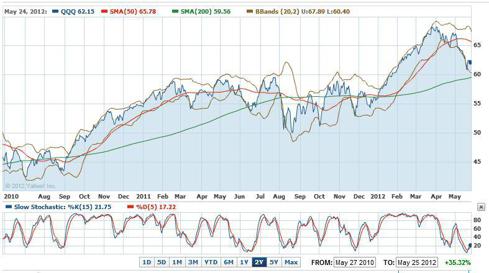 The QQQ is near oversold levels on the slow stochastic sub chart. The price is firmly below its 50-day SMA, which has turned downward. It should soon break through its 200-day SMA. It is time to think of shorting tech. You might especially think of shorting Facebook , which some pundits are now saying is only worth $13.80 per share. It was after all valued at $14B in 2010 on SecondMarket. Has it really done enough to increase in value from $14B to its current $87B. That's over a six fold increase in just two years. That reminds me of Netflix (NASDAQ:NFLX). Perhaps the crash of Facebook will soon remind everyone else of NFLX' crash. This was just an example. Many think the whole social networking area is due for a strong retracement. They are likening the current situation to the DOT COM crash of 1999. With the trouble in Europe, the situation could very well duplicate the DOT COM crash.
Before anyone gripes that I should have mentioned shorting tech earlier this year, I did do that. One of my articles published on April 30, 2012 called for tech, oil equities, and financials to fall (Momentum Traders Are Between A Rock And A Hard Place). I am sure I mentioned such possibilities in other articles too. I feel there is more negativity to come. However, the hurricane season and the summer driving season are almost upon us. Either or both could cause a near term oil rebound. A great NonFarm Payrolls number on June 1, 2012 could cause a rally. Greece not leaving the Euro soon after its June 17, 2012 elections could cause a minor rally. You will want to consider such possibilities as you move into any short positions. Averaging in is a good strategy.
Good Luck Trading.
Disclosure: I have no positions in any stocks mentioned, but may initiate a short position in FB, QQQ over the next 72 hours.