Actionable Items:
Highest Positive Spread: Nuveen Tax-Advantaged Floating Rate Fund (NYSEMKT:JFP)
Lowest Negative Spread: Nuveen Energy MLP Total Return (NYSE:JMF)
Focus Stock(s) of the Week: First Trust Senior Floating Rate Income Fund II (NYSE:FCT)
Last Week's Focus Stock: Cohen & Steers Total Return Realty Fund (NYSE:RFI)
CEF Weekly Review: On average, the 13 closed-end fund (CEF) types registered a share price increase of 1.6% for the week ending 5/25/12. The PowerShares CEF Income Composite (NYSEARCA:PCEF), an ETF that invests in taxable income CEFs, was up 2.2% for the week. PCEF is now up 2.7% YTD on price appreciation. Currently, PCEF's trailing twelve months' yield is 8.2%. The S&P 500 recovered 1.7% of last week's 4.3% plunge. The S&P 500 has arrested its slide and is now up 4.8% YTD.
CEF Weekly Fund Type Performance: The broad S&P 500 ended up 1.7% higher this week but not without a mid-week swoon attributed to "open talk" and behind the scenes preparation by the 17 nation euro-currency cabal for a possible Greece exit from the Eurozone. Domestic stocks recovered later in the week as investors' concluded it was the only place to hide in an increasing unstable global economy.
While all the CEF fund types average share prices advanced this week, CEF investors' response to this week's equity markets advance was somewhat cautious. The three fund types that advanced the most were fixed-income oriented CEFs: ConvtSecFnds (3.2%), WrldIncFnds (2.8%) and PrefStkFnds (2.6%). Domestic equity oriented fund types kept pace with the movement of the broader equity market index with SpecEqFnds and GenEqFnds advancing 1.8%. WrldEqFnds, on the other hand, barely squeaked out a gain at 0.1%.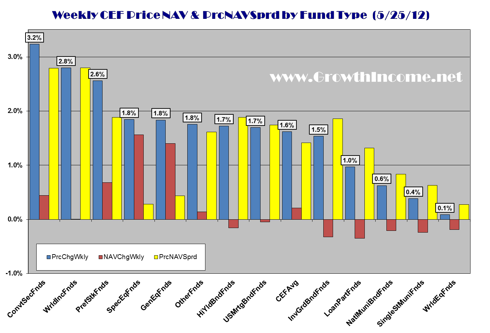 Weekly CEF Winners and Losers: One of the CEFs with the greatest positive PrcNAVSprd* for the week was Nuveen Tax-Advantaged Floating Rate Fund . JFP's share price jumped 8.9% while it's NAV per share remained flat generating a positive PrcNAVSprd of 8.9%.
On Thursday, JFP announced that the board of trustees has approved the liquidation of the fund's assets and distribution to the fund's shareholders due to the fund's relative small size and persistent discount. JFP had recently been trading at an 11% discount and its assets amounted to less than $40 million. Based on Friday's close, JFP's discount narrowed to 3.4%. JFP will cease trading at the close of business on June 22, 2012. The distribution of liquidated assets is scheduled to start on June 27, 2012.
One of the CEF(s) with the greatest negative PrcNAVSprd for the week was Nuveen Energy MLP Total Return (JMF). JMF's share price advanced a modest 0.5% while its NAV increased 4.8%, generating a negative PrcNAVSprd of 4.3%.
JMF was one of the newly minted CEFs in 2011 and one of the three that focused on investing in energy MLPs. JMF managed to trade at a premium "out of the gate" and later moved to a discount at the end of 2011. In March it a recovered its premium. (See previous article, "2011 CEF IPOs: Price Performance Dismal, BCX Of Interest" (10/27/11)).
The stock pays an annualized quarterly distribution of 7.4%, of which a portion is typically a return-of-capital due to depreciation of the infrastructure MLP's own. It is trading at a slight premium of 1.7%. In general, those CEFs that were involved in energy/natural resources did well this week with an average price advance of 2.5%. There was no unusual change in volume that would indicate an investors getting out of their positions.
CEF Focus Stock(s) for the Week: Our focus stock this week is First Trust Senior Floating Rate Income Fund II . As the name implies, it invests in investment grade senior floating-rate notes. It currently has $526 million in assets with structural leverage of 30.2%. It is generating an annualized monthly yield of 6.6% and trades at a slight discount of 0.3%.
FCT has put together a string of distribution increases since late last year. FCT increased its monthly common share distribution payable on June 15th, 2012 (ex-date June 1, 2012) to $0.08 per share from $0.0775 per share. FCT has been steadily increasing its monthly dividend since November of 2011, which was priced at $0.07 per share. This is over a 14% increase within 6 months. In addition, 100% of FCT's distributions over the past year came from net investment income.
The CEF focus stock section of this article is to "highlight" stocks of interest that may deserve further study.
We also urge CEF investors to read our most recent article on fundamental valuation of CEFs, entitled: "ADX Vs. GUT: Fundamental Analysis Isn't Ideal For CEF Share Price Valuation" (5/24/12), as we explore the limitations of fundamental analysis with regards to valuing CEF share prices.
Last Week's Focus Stock(s): The focus CEF last week was Cohen & Steers Total Return Realty Fund . Given the global turmoil and the prospects of more quantitative easing globally, real assets are a means of retaining value. RFI currently trades at a 4.4% discount and generates an annualized quarterly distribution yield of 7.1%. Its net total assets are $123 million and it employs no leverage. Its expense ratio is a very reasonable 0.91%.
Daily trading volume in RFI this week was approximately twice its average daily 3 month volume at approximately 41,000 shares. The stock was up 3.5% for the week while the Vanguard REIT ETF (NYSEARCA:VNQ) was up 2.6%.
Disclosure: I am long PCEF. I own a diversified portfolio of CEFs and ETFs and am long stocks in the CEFBig10™ and CEFMuni10™. The first is a balanced equity-income portfolio (CEFBig10™) and the second a tax-exempt income portfolio (CEFMuni10™).