By Nick Hodge
Solar stocks may go down in the short-term. There, I said it.
With that out of the way, let's analyze how lingering recession fears and an arsenal of overpriced solar stocks in a recession could provide savvy investors with a huge long-term upside.
The solar market, as a whole, has been on a joyride for the past year or so, with many stocks gaining value in the face of lackluster earnings and, in some cases, with lackluster products.
It seemed any company with solar or sun in the name was a sure bet. But now, all bets are off.
This year will undoubtedly turn out to be a transitional year for the solar industry. It will be the year when clear winners are chosen and losers are exiled.
Don't get me wrong, solar, in general, is clearly a winning technology. But, right now, the playing field is simply too crowded. And until the field is leveled out, it will be harder for investors to rake in profits as they have been.
With that in mind, what will happen to solar stocks in the face of a recession?
First of all, a drop in oil demand that usually associated with recession will produce a corresponding negative effect in solar stock prices. And while the demand for oil will have absolutely no long-term affect on the solar industry, it could have a negative near-term influence.
Secondly, the solar industry has been weathering a silicon crunch for some time now. But as production expands, as it's doing now, manufacturers are seeing increased inventories. And that means decreased margins.
Just look at one of the main players in that market, Cypress Semiconductor Corporation (NYSE: CY), over the past two months: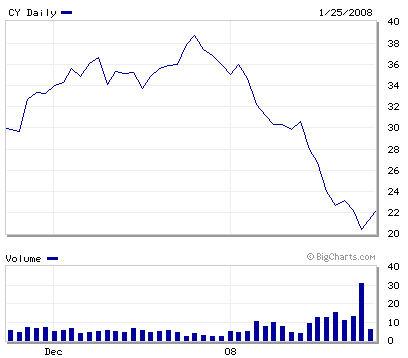 Even a stalwart in the silicon industry, MEMC Electronic Materials, Inc. (NYSE: WFR), has had a tough time in the past month. But those fears subsided after its earnings report two weeks ago. Take a look: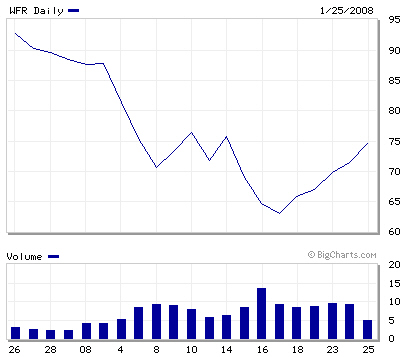 If you're looking for a less expensive way to play the silicon angle of solar, I'd suggest Hoku Scientific, Inc. (NASDAQ: HOKU). It's a stock I've been bullish on for a while and one that's on sale anywhere below $12.
Lastly, if the government was hesitant to reissue the solar tax credit before there were fears of a recession, you can bet they'll be even less likely to do so now--especially with this administration. The postponement of the solar tax credit until 2009 or beyond would be a major blow to our domestic solar market.
Go Long on Solar
So, what then, is a solar investor to do?
Well, the long-term outlook for solar is extremely bullish. I'd be using the recent market sell-off to amass shares of stocks that are now bargain priced.
Some stocks in that category include:
· China Sunergy Co., Ltd. [ADR] (NASDAQ: CSUN), a Chinese play and a bargain at $10.00.
· Spire Corporation (NASDAQ: SPIR), which recently announced its entry into the concentrating solar arena and
· SunPower Corporation (NASDAQ: SPWR), which has seen a rapid devaluation over the past few weeks, but boasts highly efficient solar cells and plans to cut costs in half by 2012.
Disclosure: Long SPWR, SPIR, CSUN, HOKU, WFR and CY.