Wuxi Pharmatech Inc. (NYSE: WX), the Shanghai-based provider of pharmaceutical R&D outsourcing services, announced today that it will increase spending on equipment and materials by 50 to 100 percent this year. The expenditures are intended to expand research capacity and facilitate its acquisition of US-based AppTec Laboratory Services Inc.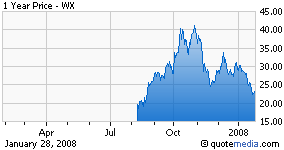 As reported in the Jan. 29th edition of Shanghai Daily, the company plans to increase total spending on laboratory equipment and reagents to RMB 300 million to 400 million (US$42 million to 56 million) this year. The plans, attributed to Li Ge, Chairman and CEO of Wuxi, and Samuel Li, senior director of international operations, were disclosed during a meeting of Wuxi management and suppliers at Wuxi's headquarters in Shanghai.
Along with the increased spending, Wuxi plans to streamline its supply chain. With a client base of multinational drug companies and a reputation for high quality, Wuxi sources much of its equipment and supplies from outside China. The company intends to begin collective sourcing of supplies, and has asked suppliers for lower prices, longer payment periods and quality guarantees.
"What we want is a win-win cooperation for us and our suppliers," said Li Ge.
Earlier this month Wuxi announced its plan to acquire AppTec Laboratory Services, Inc. Apptec is an integrated provider of contract research services to the pharmaceutical and medical device industries. With over 400 employees, the firm offers manufacturing and testing services in the areas of biopharmaceuticals, cellular therapeutics, medical devices and tissue-based products. For 2007 Apptec reports revenues of US$70 to 72 million. The deal, valued at US$151 million including US$11.7 million in AppTec debt, is expected to be immediately accretive to earnings per share.
For the nine months ending Sept. 30 2007, Wuxi reported net revenues of US$98.1 million, up 108% from the same period in 2006. Gross profit was US$46.9 millon or 48% of sales. Laboratory services expenses were 37% of revenues, including labor costs, rising 111%.
Management did not detail the impact of the Apptec acquisition on the company's spending plans, but it is clear that the acquisition along with aggressive expansion plans in China will continue to push spending upward. The challenge for Wuxi is to continue driving revenue growth at the breakneck pace expected by investors and maintaining its fat margins. At a forward PE of 34, Wuxi trades at a premium to its peers. Any stumble in regards to revenue growth or margins will likely be treated harshly. Jinsong Du, a health-care analyst with Credit Suisse in Hong Kong has his doubts. As reported by the Wall Street Journal, Mr. Du said in an interview that the Apptec acquisition is "not optimal" and "will definitely have a drag on the margins." Looking forward , Mr. Du said, "We remain confident on WuXi management's execution capability and do appreciate the synergy from the significantly enlarged customer base."
Disclosure: none