While the last Weiss Ratings undervalued portfolio focused on domestic banks, this portfolio will focus on global banks, including those in the U.S. that meet the undervalued criteria we established. As of April, the Weiss Ratings' domestic bank portfolio was up over 17%. We're going to try to beat those returns by including both international and domestic banks that do business globally in our undervalued bank stock portfolio.
The basis of this analysis of global banks will be Weiss' new global bank ratings (GBR) set to be released in early June. These include ratings for the largest 200 publicly traded banks worldwide.
As you'll remember, domestic bank stocks took a bad hit in 2011, especially large money-center banks like Bank of America (NYSE:BAC) (down 58%), Citigroup (NYSE:C) (down 44%) and Wells Fargo (NYSE:WFC) (down 41%). Global bank stocks did not fare much better, with some of the largest banks in the world suffering losses - Deutsche Bank (DBK.DE) based in Germany (down 24%, Euros); Mitsubishi UFJ Financial Group (8306.JP) based in Japan (down 23%, Yen); HSBC Holdings, PLC (HSBA) based in the United Kingdom (down 19%, British pounds) and BNP Paribas SA (BNP.PA) (down 34%, euros). So, if you're looking for good investment deals in the global banking sector, this might be the time.
For reference, we'll look at one of the most useful European financial indexes, the iShares MSCI Europe Financials Index (NASDAQ:EUFN), a weighted exchange-traded fund (ETF) designed to measure the combined equity market performance of the developed countries of Europe. It also mirrors the performance of the MSCI Europe Financial Index.
The EUFN lost almost 27% of its value in 2011, although year-to-date it is up 9.2%. Some of its largest holdings include the above-mentioned global banks, HSBC Holdings PLC, Deutsche Bank and BNP Paribas SA. Also included were Barclays PLC (BARC) based in the United Kingdom (down 33%, British pounds) and Banco Santander SA (SAN.MC, euros) based in Spain (down 20%).
Other useful global bank indexes for comparison include the Bloomberg World Bank Index (BWBANK), a much broader banking capitalization-weighted index of the leading bank stocks in the world. The BWBANK Index lost 13% of its value in 2011. And the MSCI World Bank Index (MXWO0BK), a free-float weighted equity index that was developed with a base value of 100 as of December 31, 1998 (includes developed markets only), lost 14% if its value in 2011.
After the carnage, there were good values to be found domestically and there are some to be found globally as well. First, let's consider the macroeconomic climate. On a global basis, there are several diverging economies based on key metrics of Gross Domestic Product (GDP), unemployment, inflation and interest rates. The table below shows these metrics sorted by the top 10 largest economies in the world1:
Country
GDP Growth
Rate %2
Unemployment
Rate %3
Inflation
Rate3
Interest
Rate3
United States
2.10
8.1%
2.7%
0.25%
China
8.10
4.1%
3.6%
6.56%
India
6.10
9.4%
9.4%
8.00%
Japan
-0.60
4.5%
0.5%
0.00%
Germany
1.50
7.4%
2.0%
1.00%
Russia
4.80
6.5%
3.7%
8.00%
Brazil
1.40
6.2%
5.2%
9.00%
United Kingdom
0.00
8.3%
3.5%
0.50%
France
1.41
9.8%
2.3%
1.00%
Italy
-0.40
9.8%
3.3%
1.00%
Footnotes:
1 Economic data obtained from website tradingeconomics.com.
2 GDP growth rates are from Q4 2011, except the United States, China and the United Kingdom which are all from Q1 2012.
3 Unemployment, inflation and interest rates are based on the latest figure report by that particular country.
Some of the more robust economies with higher GDP and lower unemployment rates, have higher inflation, and the interest rates and monetary policy set by their central banks tend to temper or "cool down" those economies. Weaker economies that have lower GDP and higher unemployment rates have instituted policies to stimulate their economies with lower inflation and lower interest rates.
Clearly, some have been more successful at managing their economies than others. For example, the United States, the largest world economy, has the fourth-highest GDP growth rate among the 10 largest economies, surpassed only by China, India and Russia, and has a mid-range unemployment rate that is the fifth lowest. Yet, the U.S. also has the third-lowest inflation rate and second-lowest interest rate among the 10. Looking at 196 countries, the United States ranks 47th highest in GDP growth, has the 40th lowest unemployment rate, 25th lowest inflation rate and fifth-lowest interest rate based on year-end 2011 data.
Challenges still remain in many of the world's economies, but low global interest rates in the weaker economies and strong GDP growth rates in some economies are helping to offset those risks in the short term. Monetary policies that kept borrowing relatively cheap for consumers and businesses should continue to provide a boost to the banking industry, increasing lending activity and improving profitability.
We've identified 10 of the 200 largest publicly traded banks that represent good investment value based on the following criteria:
Positive earnings per share
Current stock price to tangible book value less than 90%
Current stock price at least 10% off its 52-week high
Target price based on next fiscal year earnings greater than current stock price
Weiss Financial Strength Rating of C- ("Fair") or higher1
Actively traded stock with average three-month trading volume of at least 500,000 shares in their primary listed stock exchange
Traded on a U.S. stock exchange: NYSE, OTC or NASDAQ
Minimum stock price of $1.00 per share in U.S. dollars
Click to enlarge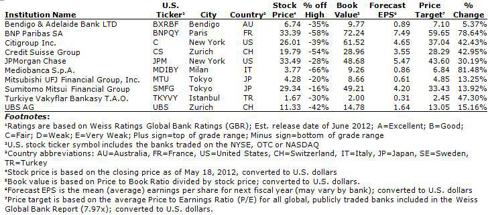 Of the basket of 10 undervalued global bank stocks meeting the established criteria, the average forecasted price gain is 39.2% based on next fiscal year earnings. For example, Credit Suisse Group traded at $19.79 per share as of May 18, with a book value of $28.96 as of December 31, 2011. The bank is currently trading at a 54% discount from its 52-week high of $43.15 reached on June 1, 2011. Based on the average P/E of global banks reviewed by Weiss of 7.97 and a forecasted EPS for next year of $3.55, the 12-month price target is $28.29, an increase of 43% over the current price. The assumptions are fairly conservative in that the 7.97 P/E is lower than the historical average of 14 for all publicly traded companies. Forecasted EPS is the average of all analysts reporting on that bank for the next fiscal year - which may vary depending on when the bank last reported.
This undervalued basket is fairly broad based geographically, including six of nine regions, and seven of the 43 countries included in Weiss' analysis. Banks in the non-European Union (non eurozone), African and South American regions seem to be priced at full value and are, therefore, not recommended for investment at this time.
While there may be other undervalued global banks rated by Weiss for financial strength, they fall short of meeting all of the criteria we established. For example, Bank of America, a bank on our domestic undervalued stock list did not make the cut as an undervalued global bank because its financial strength rating was below "Fair". The United States, Japan and Switzerland lead the undervalued basket with two banks each listed on the report.
Similar to our domestic undervalued list, we will continue to track the global bank stock performance on a monthly basis. We look forward to reporting increased value for these global bank stocks in the coming months.
Investors can trade these global bank stocks in the U.S. under the noted symbol; however, keep in mind that the stocks may be more thinly traded here than the minimum 500,000 shares criteria. The bank stocks can also be traded on their primary exchange using their foreign stock symbol.
Disclosure: I have no positions in any stocks mentioned, and no plans to initiate any positions within the next 72 hours.