Kraft Foods (KFT) is one of those steady, conservative companies that pays dividends and preserves capital over the long-term for shareholders. The stock is not risky or volatile. This $68 billion large-cap company provides the brands of food that many of us consume every day.
We wake up, and drink our Maxwell House coffee while eating a bagel with Philadelphia cream cheese spread on. Then for lunch we'll have an Oscar Mayer bologna sandwich followed by a few Oreo cookies dipped in milk. Sometime between lunch and dinner we'll snack on a Nabisco 100 calorie pack or some Planters nuts then chew on a stick of Trident gum. For dinner we'll have strip steaks marinated in A.1. steak sauce or chicken marinated in Kraft barbeque sauce (Velveeta mac and cheese for the kids). Perhaps we'll have some Cadbury chocolate for desert. Before retiring for the night, we'll snack on some Wheat Thins or Ritz crackers.
Kraft and its numerous brands are household names that are made with a consistent high quality. It's the consistent high quality in its products that leads to consistency in revenue and earnings growth.
Currently, the company is undervalued with a forward PE ratio of 13.82, a PEG ratio of 1.59, and a price to book ratio of only 1.86. Kraft rakes in $4.66 billion in operating cash flow and $2.62 billion in free cash flow.
The future looks bright for Kraft as it has 4 upward earnings revisions for 2012 and one for 2013. The company is expected to grow earnings annually at 9.63% for the next five years. By taking the dividends and stock appreciation into account, Kraft should provide a total annual yield of about 12.63%. If you initially invest $10,000 and reinvest the dividends, you can expect the investment to be worth about $18,000 in five years, and $32,000 in ten years.
Kraft pays a solid dividend of 3%. Kraft offers a dividend reinvestment plan (NYSEARCA:DRIP) and a direct stock purchase plan. Investors may wish to participate in the DRIP to make reinvesting dividends an automatic no-brainer to accumulate wealth. Or, as an alternative, just reinvest dividends when the stock dips.
If you have the discipline to reinvest the dividends when the stock becomes oversold, then by all means use this strategy. However, for those that are not comfortable with this approach, the DRIP plan would make reinvesting automatic, lessoning the chances of trading away the dividends.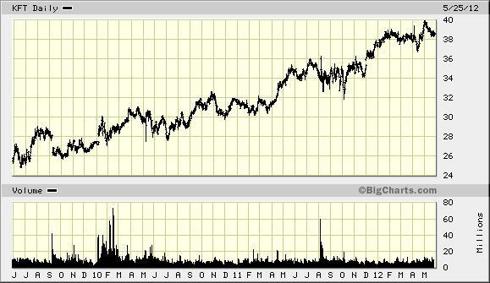 Kraft has met or exceeded earnings estimates in its last four quarters. This should continue to be the norm as the company strategically builds its brands. Kraft is expected to split the company into two separate publicly traded companies by the end of 2012: a North American grocery business and a fast-growing global snack foods business to be named Mondelez.
With the company's good valuation and earnings growth and since we all have an ongoing need to eat, Kraft provides a steady, low-risk dividend investment for the long-term.
Disclosure: I have no positions in any stocks mentioned, and no plans to initiate any positions within the next 72 hours.
Additional disclosure: Although I don't own Kraft individually, I do own it as part of a fund in my retirement account.