With interest rates at generational lows, bonds offer investors puny expected returns. The Barclays Aggregate Bond Index (NYSEARCA:AGG), which includes government securities, mortgages and corporates, currently offers a yield of just 2.06% according to Barclays. If interest rates stay at these low levels, the total return will be somewhat similar to the yield. It seems unlikely that rates will fall substantially, but they sure could rise. In that event, the total return could actually be negative, as the price could fall more than the income generated.
Many investors have been shifting out of bonds into income-oriented equities. I have favored this strategy, but it's very important to realize that dividends aren't the same as interest payments: They can be cut. In that case, not only will your income be less than you expect, but also your investment will most likely decline in value.
If you are employing an equity substitution strategy, it's essential to take steps to mitigate the risk of dividend reductions and consequent capital losses. Some of the factors that make a dividend-paying stock risky would include high levels of debt, high payout ratio (dividend relative to earnings), and a shrinking business (lower future earnings). You can minimize the risk of getting a dividend cut by investing in low-debt securities with lower payout ratios and underlying earnings growth. Another indicator of limited potential for dividend reduction is high insider ownership.
I set up a screen to identify stocks that meet the criteria. Here is what I did (using Baseline):
Russell 3000 member
Market Cap > $100mm
Dividend Yield > 4% (2X S&P 500)
Payout Ratio (trailing and forward) < 80%
Net Debt to Capital < 0%
Equity / Total Liabilities > 150%
10 stocks met the criteria: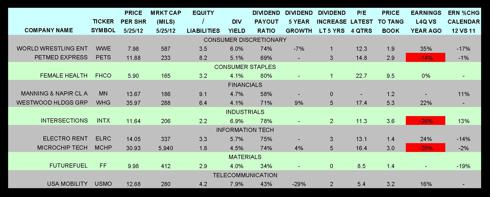 Keep in mind that these aren't recommendations - just a starting point for further investigation. We ended up with 7 of the 10 economic sectors represented, with market caps generally below $1 billion.
World Wrestling Entertainment (NYSE:WWE) has been cut in half over the past year, with earnings estimates plunging despite a nearly doubling of earnings per share on modestly higher sales in the most recent quarter. The company has a fortress balance sheet, with cash and investments net of debt of roughly $165mm (>$2 per share), which mitigates the chances of a dividend cut. Perhaps more importantly, insiders own 59% of the company (mainly 66-year old Executive Chairman Vince McMahon, through B shares that are convertible to A shares). Interestingly, the McMahon family took a 33% reduction in their dividend from 2008-2011 before cutting the A shares (and B shares) by 2/3 in Q2-2011. At this point, the dividend looks sustainable given the payout ratio's significant decline, but the earnings outlook for 2012 suggests some caution.
PetMed Express (NASDAQ:PETS) is one that I looked at a few years ago and couldn't figure out how they ultimately would fare with respect to Amazon (NASDAQ:AMZN). On the one hand, I felt like their competitive position was weak, but, on the other hand, perhaps they might be a potential acquisition target. I am glad I hesitated, as this stock has been crushed, with earnings declining by about 1/3 since peaking in 2010. Analysts expect FY13 (March) earnings to be roughly flat, with growth to resume next year. With almost $3 per share in cash and investments, the near-term risk to a dividend cut seems low. Insider ownership isn't too substantial here at about 3%.
Female Health Company (FHCO) began paying a .05 quarterly dividend in 2010 and increased it in May to .06. The company, which makes the FC2 female condom designed to prevent pregnancy and sexually transmitted infections, has an aggressive payout. Growth has been strong (YTD sales up 107%), and the sole analyst projection is for continued strong growth in FY12 (September) of 56% (.28 per share) . With just $6mm of cash, which would fund about two quarters of dividends, it's not clear that the company would be able to maintain such a high dividend were it to experience a downturn in earnings. They have a revolver that can be tapped to fund dividends or share repurchases as long as total liabilities are less than the value of shareholders' equity (plenty of room). Insiders own almost 30%.
Manning & Napier (NYSE:MN) is an investment advisor ($43 billion AUM) based in Fairport, New York that is up from its $12 IPO six months ago. The company just paid its first dividend. The structure here is a bit complex, as the Manning & Napier Group LLC is the larger entity with just 13.8% of its units currently representing the outstanding shares of MN (and the balance convertible ultimately). Further, Chairman William Manning (75) owns all of the voting rights (Class B shares). The dividend payments are linked to the distributions by the LLC, which is owned predominantly by Manning, suggesting a high likelihood of continued payment, but the complexity makes it difficult for me to have confidence. Analysts project continued growth, and the stock appears to trade at a reasonable valuation.
Westwood Holdings (NYSE:WHG) is another investment manager, and it is much easier to analyze. The stock hasn't been the best of the companies I highlighted last fall (6 Small Companies with Big Cash and High Insider Ownership), but it has rallied substantially. It still looks attractive to me. Insiders own 17%, led by Chairman Susan Byrne, with over 8%. The company has increased its dividend in each of the past five years. Impressively, the company managed to grow sales and earnings sharply in 2011 despite the overall poor environment for equities. In 2011, AUM grew 5% to $13.1 billion (but up 20% for the average of the year compared to 2010). The balance sheet is solid, with cash and investments of over $6 per share.
Intersections (NASDAQ:INTX) has a nice recurring revenue model, as the company sells subscriptions for identity-theft. Insiders own about 13%. Investors should be aware that Loeb Partners owns 39% of the company. The company initiated a .15 quarterly dividend in 2010 and hiked it to .20 a year later. The single analyst providing estimates expects 2012 earnings per share of $1.05 but a decline in 2013 to $0.92. In the most recent quarter, sales were flat from the prior year, but adjusted EBITDA grew 26% and EPS were a record, up 44%. The company is guiding for full year revenue of $330-340mm, which is down from $373mm due to the loss of a client. It expects adjusted EBITDA to rise slightly. The company has $1 per share of cash and investments net of debt.
Electro Rent (NASDAQ:ELRC) sells and leases test and measurement equipment made by companies such as Agilent (NYSE:A) and Tektronix, which is owned by Danaher (NYSE:DHR). Cash levels have declined significantly over the past few years as the company has been aggressive on the acquisition front and now offer little cushion. The dividend was hiked a year ago from .15 to .20 on a quarterly basis. Insiders own over 21% (mainly CEO David Greenberg, who is 71, and his family).
Microchip (NASDAQ:MCHP) is the stock on this list I know best, as I have followed the company for over a decade and it resides on my watchlist. Last fall, when the yield was above 4% briefly (like now), I added it to my Conservative Growth/Balanced model portfolio. Recently, the stock has been hit as the entire semiconductor sector comes under pressure but also after a very large acquisition was announced. The company is buying Standard Microsystems (NASDAQ:SMSC), which will leave them with still a substantial cash balance, but seems to be an expensive buy. The company historically has been very successful the few times it has pursued acquisitions. This deal has significant potential sales synergies but limited cost savings. I am a big fan of CEO Steve Sanghi, who owns 6mm shares beneficially or 3% of the company (insiders own almost 4%).
FutureFuel (NYSE:FF), previously Viceroy, acquired Eastman SE, a single plant in Batesville, Arkansas, from Eastman Chemical in 2006. The plant was converted to a biofuels and biobased chemicals platform. The feedstock for biodiesel is used cooking oil, tallow and algae. The chemicals include custom manufactured products (a bleach activator, a herbicide and materials for a lithium-ion battery) and polymer modifiers and other chemicals sold to multiple customers. The balance sheet is a fortress, with almost $4 per share of cash, though deferred revenue should be netted (still over $3). The company just initiated a .10 quarterly dividend last year after it moved off of the OTC Bulletin Board. According to the proxy from last June, insiders owned 53% of the company, with Paul Novelly (67), the Executive Chairman, the largest holder at 44%.
US Mobility (USMO) has about $1.50 cash net of debt per share. The company has a cash-cow paging business with large deferred tax assets that is in slow decline and a software business boosted by a recent acquisition (Amcom). In an investor presentation this month (slides were part of an 8-k filed on 5/16), the company describes a need to have capital available to pursue more software acquisitions and specifically says that it might "establish a revised dividend rate". The warning doesn't get much clearer than this! Still, it suggests a desire to "maintain a significant current yield". Another red flag is the very small ownership among insiders, with the total beneficial ownership of just 189K shares (less than 1%).
I hope that it is clear from my brief discussions on these stocks that high dividend paying stocks can be risky. I have tried to highlight some of the risks and to weigh mitigating factors such as net cash and insider ownership. Low valuation is another characteristic that can protect you, especially if the dividend is cut. USMO, for instance, trades at just 5 PE on a trailing basis. Several of the stocks trade relatively closely to the value of their tangible equity. I find WHG and MCHP to be the most deserving of further research, but some of the others look interesting as well.
Disclosure: I have no positions in any stocks mentioned, and no plans to initiate any positions within the next 72 hours.