I'm not all that thrilled to be owning Freeport McMoRan Copper & Gold (NYSE:FCX) right now. While the company's stock has tended to be highly correlated to the price of copper, that correlation has slipped a bit.
I'm guessing this has a lot to do with the violence and labor disputes at the company's Grasberg mine in Indonesia.
Freeport CEO Richard Adkerson said he's "concerned" per this Reuters report.
"Number one is the security element. There have been acts of violence and that is my biggest concern," he said n comments monitored via webcast by Reuters in New York.

"Also, we had a new situation with our workforce last year," he said, referring to a three-month strike that affected Grasberg production, denting 2011 and first-quarter 2012 earnings and prompting the company to declare "force majeure," under which it cannot be held to contractual obligations.

"As companies become more profitable, demands from workers increase," Adkerson said.
Recent copper and FCX correlation patterns
Every once in awhile I take a look at FCX, comparing the share price to the price of copper. For example, this chart shows the relationship between the shares and copper going back to January 2010.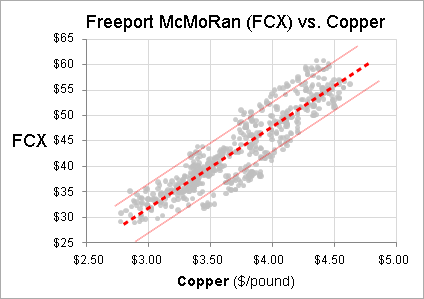 As you can see, when copper was at $4 during this time period, Freeport tended to trade between $42 and $55 or so. With copper at $3.50, that range was more like $35 to $45.
The only problem is that this range isn't necessarily going to be a good guide -at least not until these labor and Indonesian government relations problems get resolved.
This chart refines the one above. It shows the same data except that 2012 prices are in blue.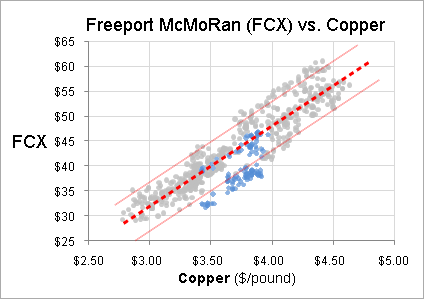 In general, those blue dots are all lower than would be expected based on the entire time period - and that's a bit worrisome.
If you look at that line I drew on both charts, you'll see it's essentially a regression line so it has a linear formula. Here's a look at how the stock has traded against that formula since January 2010: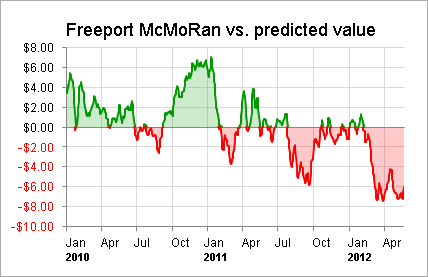 Since July, FCX hasn't kept up with the price of copper in the same way it did in 2010 and early 2011. It's now about $7 below where it "should" be if you were to use the chart at the top of the article as a guide.
Copper prices soft
It certainly doesn't help that copper prices have been sagging. And gold has basically stalled for the past few months. (FCX does own some significant gold assets.)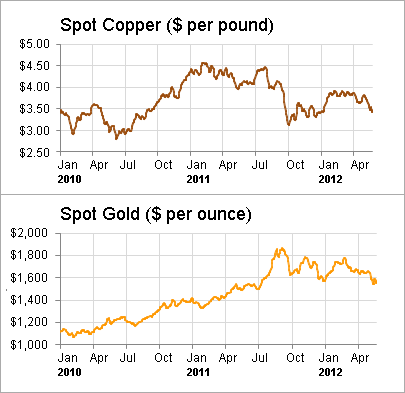 According to Reuters, the Chinese are now storing copper in parking lots. Talk about a surplus!
At Qingdao Port, home to one of China's largest iron ore terminals, hundreds of mounds of iron ore, each as tall as a three-storey building, spill over into an area signposted "grains storage" and almost to the street.

Further south, some bonded warehouses in Shanghai are using carparks to store swollen copper stockpiles - another unusual phenomenon that bodes ill for global metal prices and raises questions about China's ability to sustain its economic growth as the rest of the world falters.
So given these developments, Freeport has been a disappointment these past several months. As these charts show, FCX has underperformed both Southern Copper (NYSE:SCCO) and the iPath Copper ETN (NYSEARCA:JJC), a fund that tracks copper futures contracts.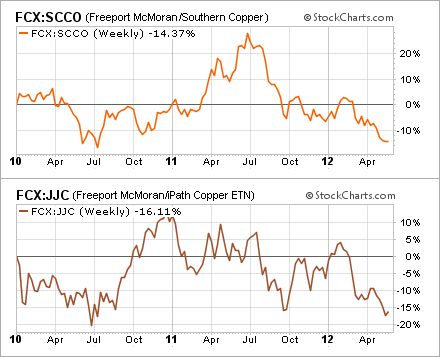 I'm going to hold onto Freeport for the time being. Overall, it's a quality company with a current yield of 3.9%. I may add some Southern Copper to diversify, but neither company is destined to move very much unless copper prices come back.
And FCX needs both higher copper prices and to get past its Indonesian issues before shares can rally much.
Disclosure: I am long FCX.