I am alerting investors to a company called IsoRay (NYSEMKT:ISR). It recently achieved an important landmark when the company announced:
IsoRay Inc., a medical technology company and innovator in seed brachytherapy and medical radioisotope applications, today announced that the GliaSite radiation therapy system, the world's only balloon catheter device used in the treatment of brain cancer, has earned the European CE Mark, allowing immediate sale in 31 European countries. The system's balloon catheter is a landmark technology that allows physicians to treat more patients than ever before with brachytherapy or internal radiation and provides important benefits over other radiation treatment options.
This announcement was significant because it signaled IsoRay's opportunity to increase future sales. That seems to be exactly what analyst Matt Kaplan of Ladenburg-Thalmann has been looking for as he wrote in 2011:
The GliaSite catheter system is in its final testing stage and ISR plans to submit its 510K to the FDA upon completion. GliaSite is a balloon catheter device used in the brachytherapy treatment of brain cancer and has been FDA approved (2001) using Iotrex (liquid iodine). Until FDA approval of liquid CS-131 and its use in GliaSite is granted, ISR plans to market Iotrex for use with GliaSite. We believe there could be a niche for GliaSite in the treatment of brain cancer and await updates on its upcoming launch.
From a long investor perspective this may be a reason to initiate a position in the stock.
Risk Statement
Therefore, I am putting IsoRay on my watch-list of biotechs, but investors are warned that it is extremely volatile at its current depressed price. Nevertheless, a confirmed reversal pattern coupled with strategic corporate news points to significant uptrend. Because its 3 month average volume is very low (72,263) with a $23M market cap, investors will need to weigh whether this stock fits their individual investment style. However, risk aside, this company has seen better days as in 2007 its stock price was over $5/share.
Reversal Pattern Confirmed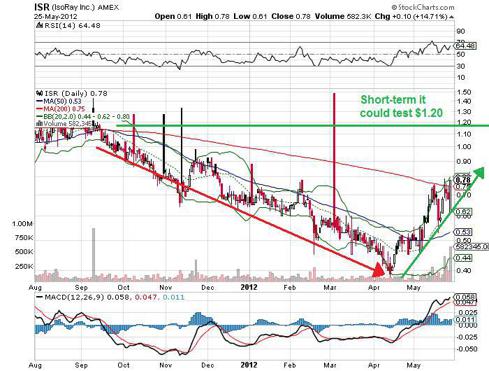 In the short-term it could test $1.20/share. Long-term, it may break well-above $1.20 towards $5/share seen in 2007. The only disadvantage I see here for buyers is that the stock has been in a confirmed reversal since early April -- suggesting day-traders may have missed the run. However, the upper test mark seems to be somewhere around $1.20/share. Day-traders who may see more room to run may want to test the waters.
Looking at the Trading Opportunity
The key to IsoRay is increased revenues. My own opinion is a company like this would be a great take-out target for a company like Covidien (COV) that is focused on medical equipment. Nevertheless, the confirmed trading pattern and the upper $1.20/share floor may make this a good short-term hold for flippers or a long-term hold for investors who can tolerate the volatility of biotech investing.
II. Antares (AIS)
Just when I reversed my belief that Antares would not retrace below $2.50/share-- stating instead that $3/share seemed to be a good platform-- the stock went for a ride into the $2.80's! Such is the volatility of biotech investing, up one day, down the next.
Curious to me is something a poster wrote on a chat board, of all places:
Investors were disappointed in the timelines layed [sic] out by Howarth in the recent presentations. Bashers have also jumped on this bandwagon questioning why investors should buy now.
This comment caught my attention. Did new Vice President of Corporate Affairs, John "Jack" Howarth fumble the ball? It appears investors are concerned he focused too much on the future and not on the present, thus affecting the share price and questioning whether it is necessary to buy in now.
Of course, Antares longs are less concerned because most of them are banking on the success of the Vibex MTX (methotrexate) auto-injector and I can appreciate their candor. As another chat room poster wrote:
I also think a lot of investors felt let down when Jack put forward our vision a few years out. I was a little taken aback myself but again,I am trying to stay focused and look at the bigger picture.To most here, you know why you are here. You have done your homework and you too believe that Antares will be a mega company one day. Just "one day" might be a little longer than we would like.
Commentary
What I perceive is that Antares investors are perplexed by the share price retrace. But I conclude they are overreacting. The market in general has been negative, so the recent decline in Antares's share price probably has nothing to do with Jack Howarth's presentation.
However, the internal value of the company and long investors' enthusiasm for the firm seems to be conflicting with where the stock market may be taking Antares's share price. But here is an important stock trading principle: Retracing is normal, especially after a bullish run.
Looking at the Chart
Unfortunately, the technical picture portrays Antares in a downtrend after a long uptrend. However, this may also spell o-p-p-o-r-t-u-n-i-t-y to buy more shares or to initiate an entry point. In my opinion, some Antares investors are impatient, but they are probably day traders. While long investors are happy to ride the recent retrace out with a view for 2014 and beyond.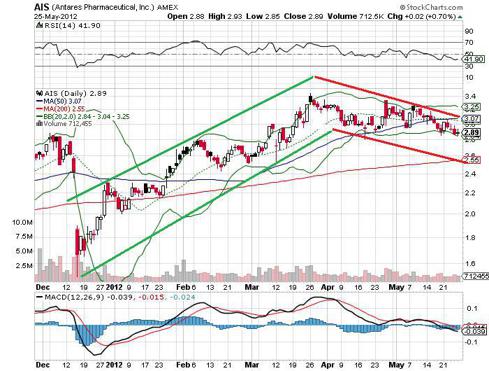 Looking Forward
For Antares, I perceive a reversal uptrend is imminently plausible. Moreover, I don't see the current situation as a long-term downturn because there is a solid base in the $2.50-2.60 range and some would argue that $2.80 is a better floor (I don't necessarily disagree).
I rate Antares a BUY above $2.80/share and a STRONG BUY if it breaks below $2.80/share. Antares is a very good company and I generally think some investors have overreacted to Jack Howarth's presentation. The opposite view is to state that he was representing a robust and exponential future. That, in my opinion, is my own conclusion.
Disclosure: I have no positions in any stocks mentioned, and no plans to initiate any positions within the next 72 hours.
Disclaimer: Investors buy and/or sell at their own risk.