Ironwood Pharmaceuticals (NASDAQ:IRWD) is an entrepreneurial pharmaceutical company dedicated to the art and science of great drugmaking. Linaclotide, Ironwood's GC‐C agonist, is an investigational drug for the treatment of irritable bowel syndrome with constipation (IBS‐C) and chronic constipation (CC).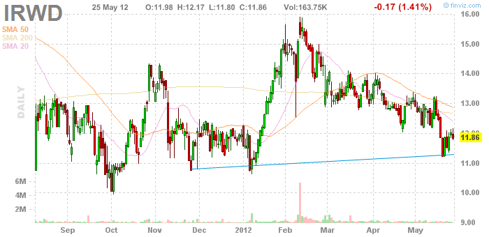 I see at least 5 reasons to buy the stock currently
1. Linaclotide has a September PDUFA date
On April 23, 2012 the U.S. Food and Drug Administration (FDA) notified that it will require a three-month extension to complete its review of the data supporting the New Drug Application (NDA) for linaclotide for the treatment of irritable bowel syndrome with constipation (IBS-C) and chronic constipation (CC).
An additional analysis of existing data was recently requested by the FDA to further characterize the relative effect of the two doses of linaclotide that were studied in the Phase 3 CC clinical trials. Since this analysis was submitted to the FDA within three months of the user fee goal date, the date has been extended by three months, in accordance with applicable regulation. No new data have been requested by the agency to complete the review. FDA action is now expected by September 2012. Ironwood and Forest (NYSE:FRX) continue to plan for a 2012 launch.
The efficacy and safety of linaclotide was studied in a clinical trial program of more than 2,800 patients for the treatment of IBS-C and CC. Additionally, over 3,200 patients were enrolled in ongoing open-label safety trials and more than 2,000 of those patients have received linaclotide for at least 12 months.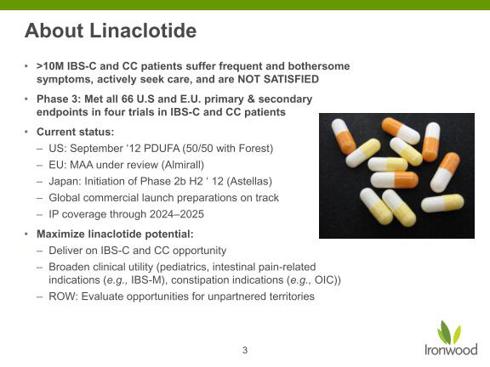 IBS-C and CC are functional gastrointestinal disorders that afflict millions of sufferers worldwide. IBS-C is characterized by frequent and recurrent abdominal pain and/or discomfort and constipation symptoms (e.g. infrequent bowel movements, hard/lumpy stools, straining during defecation). CC is primarily characterized by constipation symptoms, but a majority of these patients report experiencing bloating and abdominal discomfort as among their most bothersome symptoms.
2. Large market potential for Linaclotide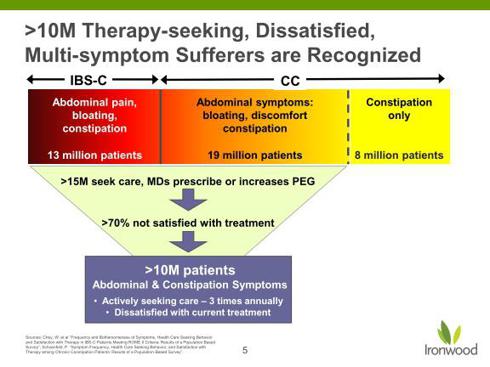 Based on the Talley and Higgins studies, studies performed by F.A. Luscombe (published in 2000 in Quality of Life Research) and J.F. Johanson (published in 2007 in Alimentary Pharmacology and Therapeutics), and 2007 U.S. census data, the company estimates that in 2007, approximately 35 million to 46 million people in the U.S. suffered from symptoms of IBS-C or CC, of whom between 9 million to 15.5 million patients sought medical care. As a result of the less than optimal treatment options currently available, patients seeking care experienced a very low level of satisfaction. Due to patients' lack of satisfaction with existing treatment options, about 70% of patients stop prescription therapy within one month, according to IMS Health. It is estimated that patients seek medical care from five or more different healthcare providers over the course of their illness with limited or no success, as shown in a 2009 study by D.A. Drossman in the Journal of Clinical Gastroenterology. Many of the remaining patients are too embarrassed to discuss the full range of their symptoms, or for other reasons do not see the need to seek medical care and continue to suffer in silence while unsuccessfully self-treating with fiber, OTC laxatives and other remedies which improve constipation, but often exacerbate pain and bloating.
3. Linaclotide met all trial endpoints
Across four Phase 3 efficacy trials in patients with IBS-C or CC, linaclotide met all primary and secondary endpoints encompassing abdominal and bowel symptoms. In these trials, diarrhea was the most commonly reported adverse event and the most commonly reported adverse event that led to study discontinuation. Most occurrences of diarrhea were reported as mild to moderate. More than 3,200 patients have enrolled in one of two ongoing 18-month open label safety studies.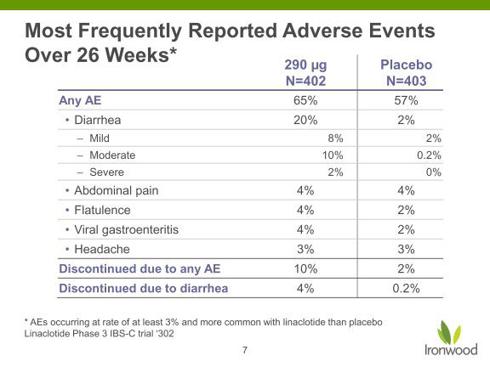 4. Linaclotide EMA decision expected in early 2013
Ironwood's European partner Almirall submitted a Marketing Authorization Application (MAA) to the European Medicines Agency (EMA) for linaclotide for the treatment of irritable bowelsyndrome with constipation (IBS‐C) on September 2011. Ironwood is expecting the final decision early 2013 according to webcast on May 15th.
5. Strong financial position
Ironwood ended the first quarter of 2012 with approximately $202 million of cash, cash equivalents, and available‐for‐sale securities.
Ironwood is also expected to receive milestones of more than $100 million from the US and EU approvals.
Conclusion
I believe Ironwood could see a run-up to its September PDUFA date. I am expecting a price target of $15-$20 per share after positive US decision. I plan to initiate a position in this stock 2-3 months before the PDUFA date.
Disclosure: I have no positions in any stocks mentioned, but may initiate a long position in IRWD over the next 72 hours.