2012 could very well be the breakout year for Nvidia (NASDAQ:NVDA). Nvidia has been investing in mobile application processors for the last 4 years. In 2011 they purchased Icera a soft modem company for $367M to complement their in house developed Tegra processor. Recently they introduced a new graphics technology called Kepler and announced two new strategies called Nvidia VGX and Geforce Grid to expand their market for GPUs. Below is a chart of the last 7 quarters of revenue, earnings, and gross margins.
The midpoint of Nvidia's revenue guidance for the July quarter is $1020M up 10.3% sequentially, Non-GAAP gross margin guidance of 51.5%, Non-GAAP operating expense guidance of $354M, and an expected tax rate of 20%. Diluted share count guidance is 628M shares.
Geforce GPU
Nvidia competes against Advanced Micro Device's (NASDAQ:AMD) in discrete GPUs. In Q1, Nvidia had 61.9% of the discrete GPU market vs. 37.8% for AMD according to Jon Peddie Research. Another important factor to consider is the current trend of integration of the GPU and CPU on the same die. Advanced Micro Devices with their APUs and Intel (NASDAQ:INTC) with their Sandy Bridge and Ivy Bridge processors have replaced integrated graphics chipsets. In 2011 Nvidia got out of this business and announced the Intel license settlement which runs through 2016. See below for the breakout of revenue.
From the above graph one can see that Nvidia has been able to replace the revenue lost from the demise of integrated graphic chipsets with increased discrete GPU sales and the Intel royalties. With the introduction of 28nm Kepler graphics in April, demand has outstripped the ability of TSMC to furnish enough 28nm wafers. This will of course improve throughout the year. Note: Nvidia's July quarter's guidance is plus 10.3% from the April quarter. Kepler GPUs bring improvements in die size, 3X performance/watt, and 50% faster speed over the previous Fermi generation of GPUs. Compared to AMD's current flagship discrete GPU HD7970, Nvidia's GTX 680 is claiming a 20% smaller die size, 22% lower power requirements, and 20% faster performance. It seems most if not all Gamer Review Sites agree.
Nvidia is stating that they have 240 discrete GPU Ivy Bridge notebook design wins vs. the 200 they won on Sandy Bridge notebooks. No doubt this is because of the dramatically better performance/watt characteristics of Kepler GPUs. Many design wins are in ultrabooks which most thought Nvidia would not be able to win because of the thin form factor and the strength of Intel's Ivy Bridge integrated graphics. The real proof will be if the rumors are true that Apple will go with Nvidia's Kepler GPUs in their upcoming MacBook Pro updates.
Last week, Nvidia announced two new strategic initiatives which have the potential of increasing GPU sales. The first one is called Nvidia VGX and is aimed at the enterprise PC market in which Nvidia has an insignificant or essentially zero participation rate. VGX is a virtual GPU desktop application where Nvidia's GPUs can reside in a company's server room and be virtualized on any computer on the network on demand. Their virtual software partners are Citrix Systems (NASDAQ:CTXS), Microsoft (NASDAQ:MSFT), VMware (NYSE:VMW), and Xen and their hardware partners are Dell (DELL), Cisco (NASDAQ:CSCO), HP (NYSE:HPQ), IBM (NYSE:IBM), and SuperMicro (NASDAQ:SMCI). First revenue is expected in 1Q of 2013.
The 2nd initiative is called Geforce Grid and is an effort to expand their Gamer GPU market which currently is 100M PC gamers worldwide to the 100M console gamers, the 500M Casual gamers...Think Angry Birds on your IPAD, and 500M cable suppliers. The concept is the same as VGX. Nvidia GPU's reside in the Cloud and through their on-line gaming partners such as Gaikai, G-Cluster, and Playcast you can play the latest PC Games on demand with the performance of a powerful PC gaming computer. It can be streamed to a smart TV, a PC or a Mac, and a tablet...IPAD included. The key technical breakthrough was reducing the internet latency to 160 Milliseconds which matches the latency for a game console+TV. Note: For gaming on a PC the latency is 65 Milliseconds. It remains to be seen how this will play out, but it is an interesting concept.
Pro Graphics - Quadro and Tesla
PSB-Professional Services Business unit consists of GPUs...Quadro for the professional graphic workstation users and high performance computing GPUs...Tesla. Year over year quarterly revenue in the April quarter grew 5.3%. Nvidia dominates this business with 90% market share plus it generates 70% Gross Margin and 40+% operating income margin.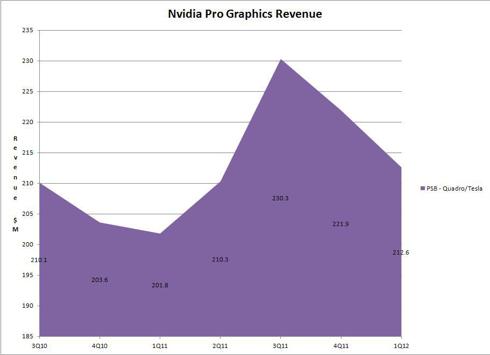 One growth initiative is Maximus which is software that enables workstations equipped with at least one Quadro GPU and a one Tesla GPU to not only design but simulate in an iterated fashion improving productivity. Every workstation OEM in the world is now shipping workstations with Maximus which has the potential to increase GPU sales. Another factor in growth is the globalization of the world's economy with the rise of design economies in countries like China, India, and Russia where there were very little workstation users 10 years ago.
Nvidia just announced a new Tesla card available for purchase using Kepler GPUs called the K10. This is 2 GPUs on the same card and it provides 3X improvement in single precision calculations and 1.8X memory bandwidth when compared to the previous Fermi generation card M2090. These improvement come without any increase in power requirements. Customers are primarily in the Defense and Oil and Gas Industries. Nvidia also announced another card called Tesla K20 which consists of the one massive GPU having 7.1B transistors. This card provides 3X improvement in double precision calculations compared to the last generation Tesla. Customers are in the Finance and Academia. Think Supercomputers. In 2008 Nvidia GPUs were in one Supercomputer. Today they are in 35 and growing. By the end of the year Oak Ridge National Laboratories Supercomputer will turn on using 18,000 Kepler Teslas along with CPUs to become the fastest Supercomputer in the World at up to 20 petraflops.
Mobile - Tegra and Icera
Tegra and Icera reside in the Consumer Products Division which consists of Tegra mobile application processor and Icera soft modem sales plus royalties received from Sony on the PS3 game console.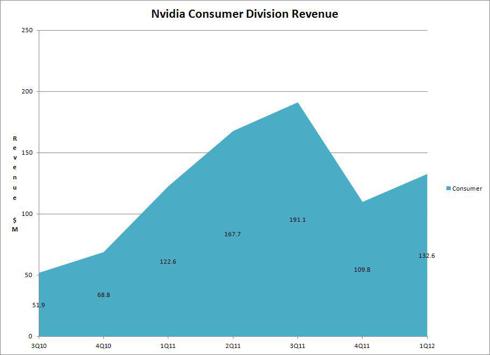 Mobile is Nvidia's key growth business that Nvidia has been investing in for 4 years. In 2011 Nvidia achieved $360M in sales from Tegra up from almost nothing in 2010. In 2012 Nvidia has guided to Tegra sales of $500+M. In the mobile application processor market Apple (NASDAQ:AAPL) designs and contracts with foundries to build their own application processors. Samsung too also primarily designs and builds their own processors although they will from time to time use processors from other companies. That leaves Qualcomm (NASDAQ:QCOM), Texas Instruments (NYSE:TXN), and Nvidia to compete for the remaining sockets. Surely Apple and Samsung dominate the market but industry sources estimate the remaining Non-Apple, Samsung sockets at 150M in 2012 and growing to 350M in 2013, 625M in 2014, and 725M in 2015.
Last year the Tegra mobile processor shipped in 15 phones. Nvidia has stated that they have design wins in 30 phones that will ship this year....18 in China. Already released and available for sale is the HTC One X with Tegra 3...worldwide except US. Due in June is the LG 4X in Europe. In the 2nd half of 2012 the Fujitsu Aero will ship utilizing a Tegra 3 processor and 3rd party LTE modem. Nvidia has two design wins with ZTE. The first one is the ZTE ERA using a Tegra 3 processor. The 2nd is called the ZTE Mimosa X using a Tegra 2 processor and an ICERA soft modem. In addition, Nvidia just received certification from AT&T for their new Icera LTE soft modem. Note: No phones have been announced yet but the qual of the new LTE modem at AT&T is a critical first step. Nvidia plans to integrate their Icera soft modem with the Tegra 3 processor on the same chip in 2013.
In Tablets, Apple continues to dominate the high end, but the remainder of the business belongs to Android. Within the Android segment the Amazon Kindle Fire is the largest seller but uses a Texas Instrument processor. Nvidia's Tegra 3 is in tablets by Asus, Toshiba, Acer, and others. The low end is currently dominated by Amazon's $199 Kindle Fire. Recently Nvidia announced a $199 tablet reference design called Kai utilizing a Tegra 3 processor with Direct Touch and low cost DDR3L memory support. Google is supposedly going to announce a low cost tablet competitor to the Kindle Fire in late June but there is no firm confirmation of which company's mobile processor will be used. Is the announcement of the reference Kai reference design a hint about Tegra being in the Google Tablet or is a defense against the possibility of the slot going to a competitor?
This Fall Windows 8 will be released by Microsoft. For the first time it will support ARM processors through their Windows RT release. In addition the Windows RT will include Windows Office which is the number one application used worldwide. This opens the X86 monopoly to ARM competitors in my opinion. Many words will be written about Windows 8 on ARM but Nvidia can only benefit from this. Expect to see tablets using Windows RT with processors from Nvidia, Qualcomm, and Texas Instruments. Note: Nvidia software engineers have worked with Microsoft software since it's founding in the middle 90's.
Cash
At the end of last quarter Nvidia had $3.13B in cash and no debt to speak of....$22M. This amounts to $4.98 per share.
Conclusion
Nvidia is a very inexpensive stock with a large net cash cushion with a multitude of upside opportunities through margin expansion and revenue increases in the GPU and mobile computing space. At $12.40 with $4.98/share in cash, I see very little risk of further downside with significant upside potential over the next 6 to 9 months. If inclined to buy, I recommend some caution and don't buy a full position all at once.
Disclosure: I am long NVDA.