Joy Global (NYSE:JOY) manufactures and services mining equipment. Lately, the stock has struggled along with other commodity-related and industrial stocks. JOY reports earnings on the morning of May 31st with its stock struggling to stay above 2011 lows. The weekly chart shows how for a second time JOY has lost its gains from the important breakout in late 2010. The daily chart shows how this line has recently turned into resistance as the stock hovers above the 2011 lows.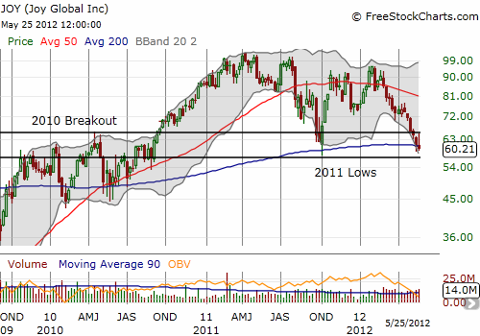 A long roundtrip for Joy Global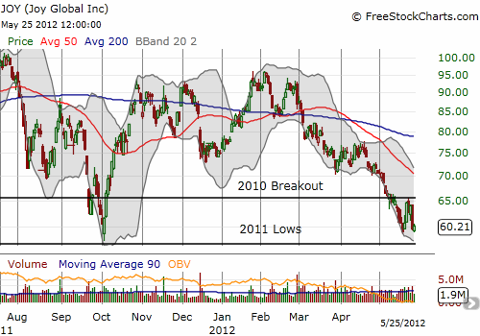 Joy Global now bounces between critical resistance and support
Every earnings play I examine presents some interesting quirk that catches my attention. In the case of JOY, it is the combination of a likely retest of the 2011 lows, the general malaise in commodity-related stocks, and especially the extremely large swings in the stock last week. On May 21, JOY soared 6.5% only to lose all those gains by the end of the week. With a week to go before earnings, this tells me there is high potential for a very big move.
The historical record suggests that JOY is likely to have a positive (one-day) reaction to earnings. This record is not as compelling as other earnings plays I have analyzed, but it is the most interesting given JOY can serve as a barometer for the health of the mining industry. In particular, I am considering using JOY instead of Caterpillar (NYSE:CAT) as a hedge for the commodity portfolio (for more details see last year's "Profiting from Physical Assets in a Resource-Constrained World - Rules and Picks").
Since 2007, JOY has traded up in the day immediately following earnings 13 out of 21 times (62%). All of these earnings were released in the morning before the regular trading session. Nine of these announcements featured gains over 5%, while five of these announcement have delivered losses greater than 5%. Extremely large one-day moves are very rare.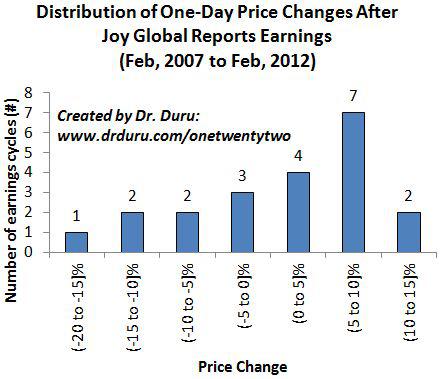 Distribution of One-Day Price Changes After Joy Global Reports Earnings (Feb, 2007 to Feb, 2012)
Source: Earnings dates from briefing.com, stock prices from Yahoo!Finance
On a quarterly basis, May (or the second earnings report of the year) stands out amongst all other earnings periods. Since 2007, every single May (or June) has delivered a positive gain. They one-day post-earnings gains have ranged from 1.4% to 9.7%.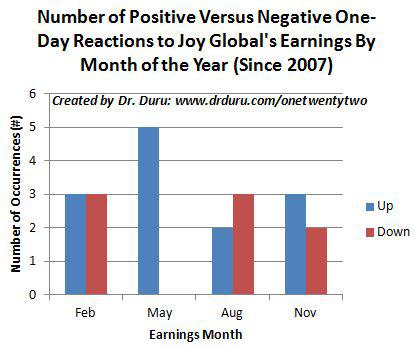 Number of Positive Versus Negative One-Day Reactions to Joy Global's Earnings By Month of the Year (Since 2007)
Before getting excited about any one particular data point, I like to see confirming signals. Unfortunately, in the case of JOY, almost none of my standard correlations are particularly strong. There are some interesting patterns, like the negative correlations with the average two-week price change going into earnings and the positive correlations with the average one-week price change going into earnings. The signal in the trading on the day prior to earnings has increasingly become irrelevant.
The one strong signal occurs with February earnings where JOY's average two-week price change has a strong negative correlation with the one-day post-earnings reaction. On February 29, JOY lost 5.2% after reporting earnings. The average 2-week price change preceding those earnings was 0.1% as the stock first sold-off sharply and then sharply recovered going into earnings.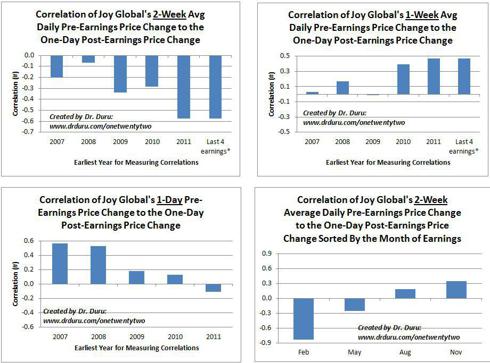 Since earnings for Caterpillar always preceded Joy Global's earnings, I next wondered whether CAT provides any clues on what to expect out of JOY. On May 23, CAT presented at the Raymond James Infrastructure & Construction Conference. The company spoke very bullishly about its "resource industry" business segment which was 30% of its revenues in 1Q 2011 (not sure whether the year was a mistake) - just as large as its other two major segments of power systems and construction. CAT stated that "mining is expected to be one of Caterpillar's best longterm opportunities."
CAT also reaffirmed earnings and revenue guidance for the year. CAT presented in the last 30 minutes of trading as the general market was recovering sharply from an earlier sell-off. The next day, both CAT and JOY sold off sharply again. CAT also sold-off in response to last month's increase in earnings guidance and reaffirmed revenue guidance for the year. The stock is down 17% since then. In other words, the market has not been in the mood to trade on the apparent positives for companies like CAT or JOY.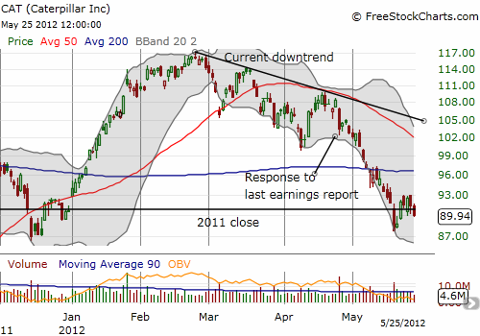 CAT's last earnings greased the skids for the current downtrend
Source for charts: FreeStockCharts.com
So, everything seems set for JOY to experience its first negative May/June post-earnings trading day in five years, right? Nope. It turns out that JOY's post-earnings response is not correlated with the response to CAT's earnings. Even JOY's price change between CAT's report and JOY's report has only a weak positive correlation to the response to CAT's earnings (correlation equals 0.32). Most interesting of all is that after CAT generates a negative post-earnings response, JOY tends to generate a positive post-earnings response. Since 2007, of the seven times CAT has traded down the day following earnings, JOY has experienced a positive one-day response six times after it reports earnings weeks later.
Thus, overall, JOY presents a very intriguing post-earnings play. Critical support awaits just beneath the stock at a time when the historical odds slightly favor a one-day jump. Such a move would be a classic relief rally given the prevailing negativity in the market and especially for commodity-related stocks. Adding to the tension is a sharp spike in JOY's volatility in May accompanying a sharp rise in the put/call ratio (close to 18 month highs) and in short interest (at two-year highs). You can see a summary of these data at Schaeffer's Investment Research.
While I like the odds for an upside response, I consider the downside risk high enough to want to hedge bets. I typically avoid hedging on post-earnings plays because it greatly increases the costs by incurring high pre-earnings risk premiums twice. This dynamic makes it much harder to earn profits. I am making an exception for JOY because a break of the 2011 lows could be particularly disastrous for the stock, leading to a very large loss. One potential configuration I will examine on Tuesday and/or Wednesday is the weekly June $57.50 put married to the June $62.50 call.
Since I consider the downside the lower probability event, I want to pay as little as possible for it. The weekly put option with a strike right at support meets my criteria. I will also consider the weekly $60/$55 put spread given it costs about the same as the $57.50 put with a higher break-even point. The trade-off is the profit capped at the $55 price level, but recall that the 8% loss from Friday's close of $60.21 to $55 is already a low probability event. The call option gets a June 16th expiration to provide some time for appreciation to make up for the cost of the put.
Again, this play does not have the highly attractive risk/reward outlook of earlier earnings plays I have described over the past many months. However, given the negativity, in some cases extreme, swirling around JOY, I like taking the chance that a contrarian bet pays off surprisingly well. As usual, I will tweet the execution of this trade using the #120trade hashtag.
Be careful out there!
Disclosure: I am long CAT.
Additional disclosure: (Long CAT shares as a hold-over from a different hedged trade.)