As many interested in the biotech sector are aware, the American Society of Clinical Oncology (OTC:ASCO) 2012 annual meeting will take place in Chicago, June 1-5. While the sexier side of this summer's biotech potential may rest with the anti-obesity darlings Vivus (NASDAQ:VVUS) and Arena (NASDAQ:ARNA), the annual ASCO meeting has been a force to reckon with for nearly 50 years.
Past years have seen stocks jump on news from this premier biotech event. Many are quick to point out homerun hits like that of microcap OXiGENE, Inc. (OXGN), which jumped some 200% between May and June 2011 on news from ASCO. Examples like this are extremely speculative in nature and do not often offer long-term gains, but there are a number of more solid options out there. The following companies may offer opportunities for the long-term investor to buy in before any ASCO-related pops.
Pharmacyclics Inc. (NASDAQ:PCYC) touched its 52-week high in late May. The $2.26 billion market cap company will host two oral presentations and one poster discussion at this year's ASCO. The company's Bruton's tyrosine kinase inhibitor (BTK) inbrutinib (PCI-32765) abstract will be presented at the "Best of ASCO Meetings" on June 4. Inbrutinib data presented at ASCO could provide news for the stock to move to newer highs this coming week.
Click to enlarge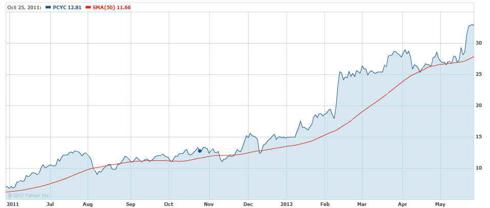 Why is Pharmacyclics a strong buy on many analysts radar? The company offers strength of platform, a solid cash position and steady growth in 2012. In late February, PCYC received an upgrade from RBC Capital Markets. Though still in clinical phases, the company doubled its cash and cash equivalents between June of 2011 and May 2012. Johnson & Johnson (NYSE:JNJ) subsidiary Janssen Biotech has given the company a lucrative nod with a global partnership on inbrutinib.
Inbrutinib is expected to move from Phase II to Phase III clinical trials for the treatment of both chronic lymphocytic leukemia and mantle cell lymphoma in before 2013. In late May, the drug was given orphan status by the FDA for the chronic lymphocytic leukemia target. Two additional oncological targets and rheumatoid arthritis are in earlier stage trials for this same agent. Biotech investors might be wise to gobble up a platform that offers multiple target options for a single drug. BTK inhibitors offer a novel approach to prevent cell proliferation - the root issue with cancer. The pipeline also contains earlier stage treatments for pancreatic cancer and lymphoma. Pharmacyclics may offer long-term gains in addition to a potential ASCO pop.
Onyx Pharmaceuticals, Inc. (NASDAQ:ONXX), a $3 billion market cap company, is also trading near its 52-week high at the end of May. Onyx already has successfully navigated FDA approval with Nexavar, its Bayer (OTCPK:BAYRY) partnered drug for the treatment of liver and kidney cancer. The drug is additionally in Phase III trials for breast and thyroid cancers.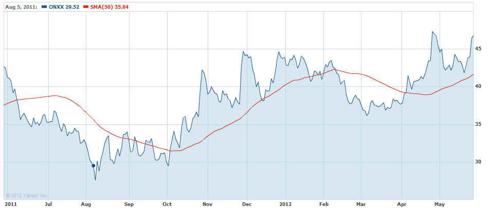 An NDA has been filed for Kyprolis, a multiple myeloma drug for which a bulk of its ASCO interest lies. The company will present more in-depth data of the drug's response rates at this year's ASCO meeting with three oral presentations and multiple poster sessions. The PDUFA date for this drug is July 27, 2012. Future interest centers on Regorafenib, a colorectal cancer drug owned by Bayer, for which it will see 20% royalty on global sales. Two oral abstract presentations for this drug will be hosted at the ASCO meeting on June 3 and 4. Any positive news on either of these anticipated drugs could offer investors gains.
Onyx, like Pharmacyclics, offers molecular therapies that focus on the biological processes underlying cancers and other diseases. A host of clinical trials in the pipeline offer multiple opportunities for success from its wide reaching platform. Its partnership with Bayer on Nexavar has been successful. The drug generated an increase in revenues of 7% in over 100 countries this past quarter. High costs associated with its maturing pipeline and array of clinical trials will keep Onyx a more speculative play. Banking on its pipeline and potential FDA success with Kyprolis could make an investment in Onyx now a long-term benefit for your portfolio.
Disclosure: I have no positions in any stocks mentioned, but may initiate a long position in PCYC, ONXX over the next 72 hours.