Apple (NASDAQ:AAPL) has experienced an extremely volatile 2012 with five percent price swings becoming the modus operandi rather than the exception. I have recommended option strategies on Apple since 2010 with positive results (remember past performance is not indicative of future results). For reference, please view the first and other articles in the series to fully understand the strategy and its strong potential returns.
This strategy is oriented towards long term investors with the objective of simultaneously generating income and reducing your effective cost basis in the underlying stock. In essence, the investment objective is to capitalize on Apple's volatility by selling out-of-the-money options to generate weekly income without sacrificing long-term returns. I perform a weekly analysis of Apple's stock, options, recent news, and competitive analysis. Even if you have no plans to engage in the options market this is your one-stop primer for the critical Apple developments from the past week.

(Source: Yahoo Finance)
A brief recap of this week in Apple, which was up $27.79 (5.2%):
Apple erased most of its loses from the previous week as it rallied last Monday while Facebook floundered. The storyline of investors selling Apple pre-Facebook IPO only to reverse course on Monday is too compelling to ignore. While I own both I think it is quite apparent which the more attractive investment is based upon both value and growth metrics. Apple has now either appreciated or depreciated in excess of five percent in five of the last six weeks.
With the World Wide Developer Conference less than two weeks away, I expect to see investors and hedge funds repurchasing Apple to follow the typical "buy the rumor" pattern - this is a buying opportunity. Now that Apple has completed a full correction and briefly tested the three month low of 530, I think the stock is more likely to appreciate $30 than to decline by that same amount. I predicted a selloff in Apple earlier this year and you have the opportunity to repurchase Apple which is currently nearly thirty percent below my price target for the company.
The most famous Apple analyst, Gene Munster of Piper Jaffray, outlined the top reasons why Apple should rise to $1,000 per share in the near future and I agree with every reason. While I believe $1,000 is still a long way off, these reasons should catapult Apple higher:
2012 Products refreshes including Mac, iPhone
New Products including "iTV" and iPad Mini
Limited pressure on carrier iPhone subsidies
Favorable product mix and component purchasing power supporting 40%+ gross margins
Strong smartphone growth in China
Continued enterprise adoption and strengthening of the iOS ecosystem
As a $500B company Apple has the burden of convincing investors that the best years are still ahead of the corporation without Steve Jobs at the helm. The reasons listed above are real catalysts that will drive the stock higher and have Steve Jobs 'iGenius' fingerprints all over them. Competitors always have a chance to catch Apple in the "downtime" between product updates but that window is rapidly closing for Apple's key products.
The New iPhone will be announced in the upcoming months and a MacBook refresh is anticipated in June. Even Apple's competitors are helping the company as they produce dedicated iOS applications, or at the very least release them for iOS before competing operating systems. Facebook Camera or Office iOS will not sway users to buy iPhones solely but Apple continues to build insurmountable barriers to entry that insulate the firm from rivals.
I wanted to recap a brief note I published last week regarding Apple's European exposure as the Eurozone's finances continue to deteriorate. Apple only derived 23% of operating income from Europe in its most recent quarter indicating that the company is not overtly linked to the health of Europe. Apple is now an Asian-Pacific/Japan story as it derives most operating income from those geographic regions.
Below I present three possible scenarios and the potential returns for the Apple options. The first scenario represents a negative outlook for Apple while the final two scenarios are more reasonable. These scenarios are just projections and there is no guarantee that they will come to fruition. Even if you are optimistic it is important to consider both positive and negative circumstances in order to stress your assumptions. As a general rule, selling calls with higher strike prices has greater potential return but additional risk of loss due to the lower (or lack of) downside protection. For more information on the fundamentals of covered calls, consult Investopedia.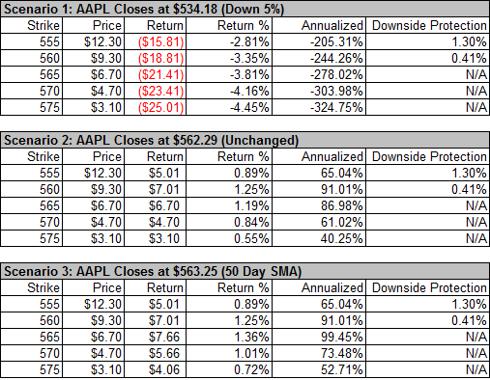 Additionally, if you would like even more information, I have prepared a sensitivity analysis for absolute return and percent returns, respectively. After studying the information above, these two charts make it easy to pick a strike price based on where you believe Apple will close at the end of the week. Estimate where you believe Apple will close and select the strike price with the highest return.

With this information, executing a buy-write on AAPL June 1 (Weekly) 580s is the optimal risk-return strategy as an opening Apple transaction. If you are uncomfortable with this strike I would consider a buy-write in the range of 555-585. This makes for an excellent trade if you are currently not long Apple; however, if you are a long-term Apple investor I would not sell any calls this week as Apple has declined so significantly in the past month. Even if you are extremely bullish you can still profitably sell covered calls; Apple is volatile enough that you will have opportunities to repurchase on further dips.
An alternative approach is to sell out-of-the-money 560 puts and collect the premium without having to purchase the stock outright. Based upon Apple's volatility I think this might be the best strategy of all for this week. Note that if the stock declines to the strike price, you are obligated to buy the stock (or closeout the position). You should always consider the risk factors (particularly with naked calls or puts) raised in this article in light of your personal circumstances (including financial and taxation issues) in consultation with your professional financial adviser.