Shares of Monsanto Co. (NYSE:MON) have fallen off roughly 15% in the past two weeks as the broader market experienced a meltdown, and some investors lost confidence in the agricultural space.
However, the agricultural product expert continues to have a great fundamental outlook, according to Goldman Sachs' Robert Kron. The analyst has a "buy" rating, and $135 price target on the shares, which represents upside of roughly 22%.
Goldman's commodities research team recently hiked its six-month forward corn price forecast by almost 50% to $6.50 per bushel, he told clients in a note, adding "we are even more confident that near-term earnings visibility is exceptional and Monsanto is going to once again produce inspiring earnings result in 2008."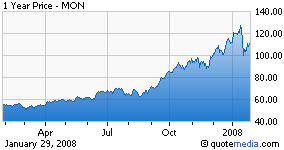 Independent of broader macroeconomic trends, Mr. Kron is confident in the health of the Ag cycle, despite weaker expectations for the chemical sector.
He added:
A rich pipeline, a pure play focus on Ag markets, a history of beating earnings forecasts and an unequaled investor relations effort suggest to us that Monsanto can reclaim its former valuation levels.
Mr. Kron expects more good newsflow and upside earnings surprises from the company.