The coal Sector is experiencing panic-- no other words can describe what we are witnessing within the space. With natural gas near historical lows, coal inventories at/near record highs and government regulation on the horizon, it is very easy to get caught up in the bearishness. You know what they say though, when there is blood in the streets...
Coal Inventories at High Levels
Let me first begin by saying that I think the short term fundamentals in coal are abysmal. We are coming off a warm winter and utilities are switching to a cheaper, cleaner natural gas. Although this phenomenon will not last forever, it is the growing trend right now. In the short term, here is a chart I've compiled to show production compared to inventories. In order for coal prices to rally, we really need to see inventory levels retreat, and at this time there is no sign of that happening. The projections are from EIA's most recent short term energy outlook.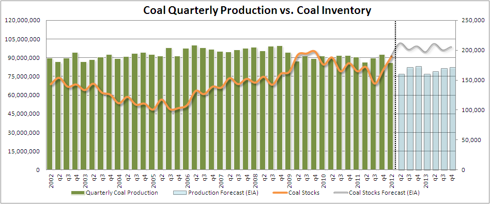 The Future of Coal, Emerging Markets
Although the next 18-24 months could be extremely rough, it is important to remember that emerging market growth and population growth will power coal moving forward. The future of coal is NOT in the next 2 years, it's in the next 20. We all need to take a step back, un-focus ourselves from the day to day gyrations and look at a mega trend that is unfolding before us. The EIA projects that by 2030, U.S. coal exports will grow 30%. Exports should remain flat to slightly up for the next 2-3 years before beginning a slow and steady rise. This should be what investors focus on-- long term growth. Here is a glimpse of the export picture, data compiled from EIA.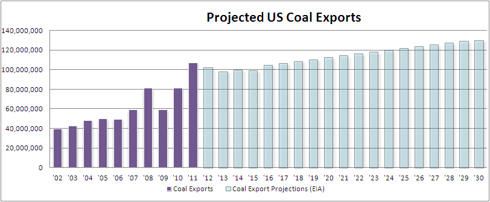 This is so important because we are all guilty at times of being unable to separate short term bearishness and long term potential. When you look at the world population going to 8 billion people by 2030, and 9 billion by 2050, you have to look at what sectors will benefit from these cycles. Power and industrialization are the two that have most to gain. Coal is the most significant use of power both in developing economies and the emerging world.
Not all Coal Created Equal
Looking at Appalachia coal going forward, it is a murky picture due to higher costs associated with the region. While the met coal that comes from the region will always make it attractive, thermal portfolios could be in for stagnation. Western coal, however, could not be more different. When one is deciding which coal company to invest in for the long term, it's important to have two areas of focus:
Met Coal production, met coal growth
Western Coal Assets
Western Coal production has been rising at a quicker pace than the Appalachians for nearly the last 30 years, and EIA expects this trend to continue simply because of cost effectiveness that the region presents. The Appalachians will likely support met coal and the thermal exports going forward, but in terms of overall production and domestic growth, the western region is more promising. Here is a look at the projections for growth into 2035.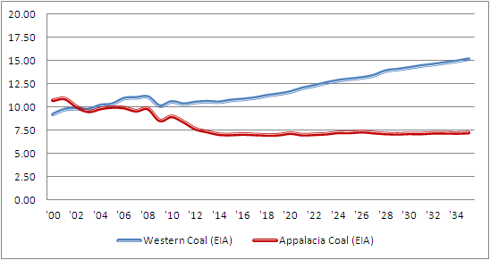 Growth in Metallurgic Coal exports to Emerging Markets
Steel production in emerging markets is expected to grow 5% per year into 2015, as developing economies urbanize. The growth of middle class in the developing world will lead to more buildings, which means more steel, which means more Metallurgic coal. Met coal is the place to be right now within the space. It's the reason Walter Energy (NYSE:WLT) is only down 65% instead of down 80%-90% like Patriot Coal (PCX) James River Coal Co (JRCC) and Arch Coal (ACI). Looking out over the next 3-5 years, the growth in thermal coal is non existent when compared to Met.
Production Cuts Matter, it just takes time
Coal Companies just began cutting production this year. The bottoming out phase does not happen overnight, it is a process. More cuts are likely on the way and eventually that will lead to tighter supplies. It is my personal opinion that this process will take about 18-24 months. Sure, there are some who think that this process is taking shape now, that coal prices are bottoming and that a monster move in coal stocks are forthcoming... well, I agree, just not on timing.
News flash: with utility inventories at record highs there are no new buyers of coal, and we don't have the export capacity to make up the difference to have a major move up. During the last coal bull run that started some time in 2004, coal inventories were half of where they are now. Utilities loaded up on the black rock, this time they won't. It takes time to fend off inventory levels and that is why I don't think a major move is coming in the next 6 months. The EIA projects coal inventories to remain elevated through 2013, as shown in the first chart above.
Coal companies will cut production further to force the supply chain to tighten. This will balance price over the next 12 months and as utility inventories get worked off prices will rise, albeit gradually. Again, we are around 2 years away from this taking place though. Can it happen without inventories falling? Sure, but I don't think it will be a sustainable rise like we saw from '04 to '08 when a lot of money was made in this sector.
The Bottom Line
Am I saying run out and buy coal now? No-- I am saying be patient and start layering into positions. The most important thing to remember is don't let short term bearishness cloud your judgment on longer term trends. We can all agree that coal looks terrible right now. But, if you wait until it's clear that the bottom is in place, you are too late because the market will have it figured that out 6 months before. That's why it's always prudent to layer into positions as very rarely do we ever pick the bottom.
Disclosure: I am long ANR.