We believe that Sprint Nextel (NYSE:S) and T-Mobile USA have seen a reversal of fortunes over the last 3-5 years. We believe that Sprint deserved its much-maligned reputation as the joke of the wireless industry back in 2007; however we believe that Sprint and T-Mobile have switched places in terms of competitive strength in the wireless industry.
When Dan Hesse took over as Chief Executive Officer of Sprint after serving as the CEO of Sprint's former rural local telecommunications division Embarq (NYSE:CTL), he found that Sprint's former CEO Gary Forsee had left Sprint in such a shambles. Forsee had engineered the disaster-piece of a merger with Nextel Communications, which resulted in customer defections and a $30B goodwill impairment charge in Q4 2007, prompting the Sprint board to replace Forsee. In short, you could smell Sprint's stink emanating all the way from Kansas City. At Hesse's first conference call he was able to see and articulate Sprint's lousy customer service culture as well as a brand that lacked relevance and a clear message. He also could see that Sprint still had great tangible and intangible assets to utilize. After 4.5 years with Hesse in charge, we agree with his assessment during his first conference call.
We are disappointed that the company has not turned a profit during Hesse's tenure. However, we are pleased with the quantum leap forward in Sprint's customer service. Hesse was a long-time employee with AT&T (NYSE:T). We were impressed with his leadership experience of AT&T Network Systems, AT&T Worldnet (Internet) and AT&T Wireless, where he helped lead its growth and enabled it to win several J.D. Powers awards for service quality. Since bottoming out in Q1 2010, Sprint has enjoyed eight straight quarters of subscriber growth, including six straight quarters with nearly 1.1 million new subscribers or more. Postpaid subscriber losses have declined from 4.07 million in 2008 to 98 thousand in 2011.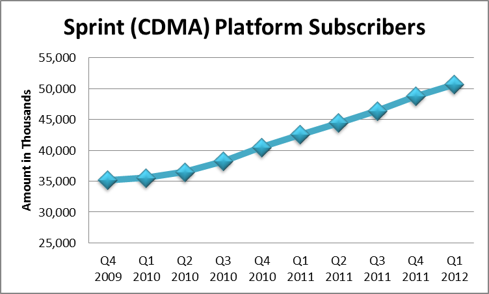 Sources: Sprint's 2011 Annual Report and 2012 Q1 10-Q Report
The Sprint CDMA platform has seen nine straight quarters with subscriber growth, including 7 straight quarters with growth exceeding 1.7M and it averaged over 2M new subscribers during this period. We're not upset that subscriber growth has been predominately low-margin prepaid and wholesale customers because at least Sprint has solidified its leading position in the prepaid segment and emerged as a leading carrier for mobile virtual network operators. These low-margin segments have also seen the fastest growth within the wireless communications industry and we believe that trend will continue. Sprint's CDMA postpaid segment has seen subscriber growth in 9 out of the last 10 quarters, the last 8 quarters and 225K or more in the last 7 quarters. We believe that Sprint's steady progress in customer growth is proof of its strides towards improving the customer experience, which has been recognized by major 3rd party organizations like J.D. Power and Associates, the American Customer Satisfaction Index, ATLANTIC-ACM, Frost and Sullivan and Forrester Research.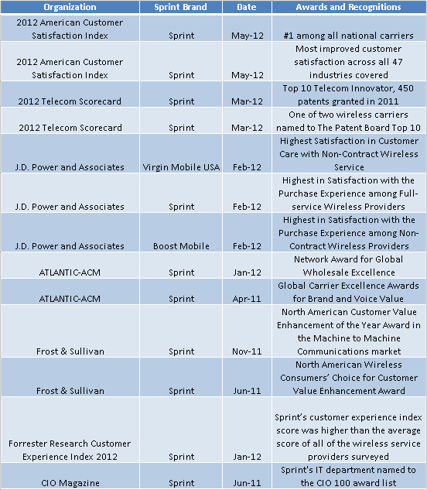 Source: Sprint's Corporate Newsroom
T-Mobile USA was established in 1994 as VoiceStream Wireless, a former subsidiary of Western Wireless. Despite early start-up losses, the company grew its subscriber base rapidly reaching 2.6 million during Q2 2000 and ultimately accepting a $50B cash, stock and debt acquisition by Deutsche Telekom (OTCQX:DTEGY). In 2002, Deutsche Telekom rebranded VoiceStream as T-Mobile USA and replaced former spokesperson Jamie Lee Curtis with Catherine Zeta-Jones.
Despite suffering an $18B asset impairment charge in 2002 due to the implosion of the tech and telecom bubble, T-Mobile USA was able to generate growth for Deutsche Telekom. T-Mobile USA grew its subscriber base from 7M in 2001 to a high of 33.8M in 2009. T-Mobile's growth momentum began to soften after 2008, when T-Mobile replaced Catherine Zeta-Jones as part of a corporate rebranding effort. T-Mobile was able to maintain subscriber growth from 2007-2009 due to its acquisition of SunCom Wireless and introduction of next generation Internet-enabled phones (smartphones). Of course AT&T enjoyed stronger total and percentage subscriber growth than T-Mobile USA as it was the exclusive home of Apple's (NASDAQ:AAPL) cutting edge iPhone.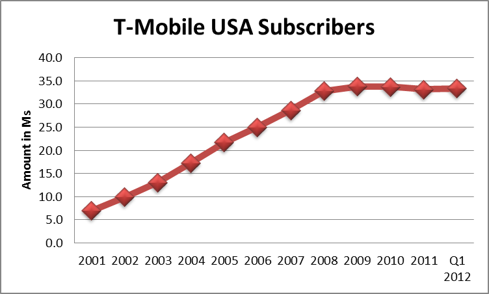 Source: Deutsche Telekom 2001-2011 Annual Reports and T-Mobile USA Q1 Press Release
T-Mobile USA stopped growing its customer base around the same time Sprint began to see growth in its customer base. We believe that Sprint's improvements in customer service have served to take market share away from T-Mobile USA and because Sprint has Apple's iPhone whereas T-Mobile made sport of the iPhone only to spend $4B to upgrade its network in order to accommodate 1 million subscribers who brought old iPhone devices onto T-Mobile's slow 2G GSM network. We give Deutsche Telekom credit for having the foresight and forward-thinking to identify T-Mobile USA's weakening competitive position and to strike a deal with AT&T that would have sold T-Mobile USA to AT&T for $39B in cash and gain $4B in cash and spectrum from AT&T if the deal fell through. We were disappointed that Sprint had opposed the deal because we felt that if the DOJ had approved the merger, it would have forced AT&T to make sizable concessions which we felt that Sprint could have capitalized on.
For customers and investors, we believe that the best alternative to the AT&T and Verizon (NYSE:VZ) U.S. wireless duopoly is Sprint. We think Sprint offers stronger absolute and risk adjusted investment prospects, as well as a better customer value experience versus T-Mobile USA and its parent company Deutsche Telekom for the following 10 reasons.
Sprint offers the iPhone from Apple. T-Mobile has the iPhone only in Europe.
Sprint spun-off its local wireline business . Sprint's remaining wireline services consists of long-distance services and only accounts for 11.42% of Sprint's revenue. Deutsche Telekom breaks out revenue by geographic segment instead of by product but we expect its wireline revenue percentage to exceed Sprint's wireline percentage.
Sprint Nextel gained wireless customers whereas Deutsche lost wireless customers in Q1 2012, even though Deutsche has a larger customer base and operates in more countries than Sprint Nextel.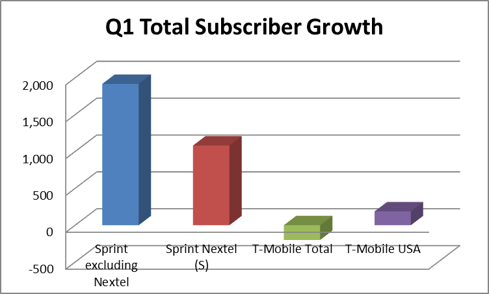 Source: Sprint and Deutsche Telekom Q1 Earnings Reports, Amounts in Thousands
T-Mobile uses GSM and UMTS for its European and US operations. Sprint uses CDMA, which is what Verizon used and is what Leap Wireless (LEAP), MetroPCS (PCS) and U.S. Cellular (NYSE:USM) use. Sprint also has 4G through WiMax and plans to launch 4G LTE in its home market of Kansas City and four cities in the heart of AT&T's territory.
The US is expected to grow faster than Europe. Sprint is entirely in the US, which is expected to grow by 2.1% this year, according to Oxford Economics. Only two of Deutsche Telekom's 10 core European markets (Poland 3.5% and Slovakia 2.1%) are expected to grow at or above the US growth rate.
We expect faster future economic growth for the US than Europe, since we expect the US state, local and national elections to result in across-the-board electoral gains for business-friendly conservative Republicans. We were disappointed, but not surprised that the European countries have voted for Far-Left Socialist parties in the most recent elections in those countries.
Sprint is the only company that still offers unlimited high-speed data. Verizon and AT&T are phasing out unlimited data and T-Mobile USA throttles data after 2GB is used.
Sprint and T-Mobile USA have essentially switched places in terms of customer satisfaction ratings. It even dropped below AT&T, a company that has historically had low customer satisfaction ratings. Despite not merging with AT&T, T-Mobile has joined AT&T at the bottom of the 2012 American Customer Satisfaction Index.
The Sprint Platform (excluding Nextel) gained more total subscribers than all the other companies during the last quarter and the last 12 months. Sprint gained more subscribers than Verizon, T-Mobile International AG, MetroPCS, Leap Wireless and U.S. Cellular combined.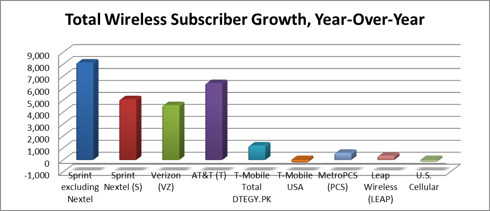 Sources: Mobile Carrier Q1 Earnings Releases, Amounts in Thousands
Sprint only has two more years of suffering Nextel run-off and improved its Nextel retail postpaid contract subscriber retention rate from 27% in Q1 2011 to 46% in Q1 2012.
Based on these 10 reasons, we not only reiterate our recommendation of a long position in Sprint Nextel, but also recommend that aggressive investors may want to finance a long position in Sprint by entering into a short position with Deutsche Telekom. We can see how even while Sprint was in the midst of a multi-year, multi-step transition process, it was still able to outperform Deutsche Telekom by a wide margin since the end of 2008. To paraphrase the former Mayor of Boston Kevin White, we think he would agree if we were to say about Sprint Nextel , it may not yet be Verizon , but at least it's not T-Mobile.
Disclosure: I am long AAPL, S, CTL.
Additional disclosure: Saibus Research has not received compensation directly or indirectly for expressing the recommendation in this report. Under no circumstances must this report be considered an offer to buy, sell, subscribe for or trade securities or other instruments.