MAP Pharmaceuticals (NASDAQ:MAPP) received a Complete Response Letter (CRL) from the FDA on March 26th, 2012. The FDA cited, "that the Company address issues relating to chemistry, manufacturing and controls (CMC) and observations from a recent facility inspection of a third party manufacturer." These issues raised by the FDA seem to be minor, and MAPP will be meeting with the FDA to learn more on how they can resolve them. The FDA is not requiring any additional safety or efficacy studies.
On March 11th, I wrote an article entitled "MAP Pharma: Making Money From Migraines", where I wrote I expected approval. I was wrong; however, I brought up the fact that FDA might bring up red flags on minor issues. Since the rejection, MAPP's stock price has slid lower, from 17 to 12, as investors have yet to receive clarity of when Levadex could receive approval. Currently, expectations for approval range from 4Q 2012 to 1H 2013.
Investors continue their wait for MAPP's meeting with the FDA. We know MAPP requested a meeting with the FDA and this meeting was granted to discuss the CRL. By law, the FDA has 14 days to accept or reject the meeting with a company and another 60 days to have this meeting. By simple math, that means 74 days is the maximum timeline after the rejection for MAPP to know additional details about the rejection. That 74th day would fall on June 9th, 2012.
Short sellers have been pressing the stock lower, as they don't expect approval until 2013. They also expect that MAPP will need to raise more cash, which I feel is not necessary (more details later). These short sellers should be getting a little nervous as we finally receive clarity on when MAPP will resubmit for approval. If it ends up being late 2012, shorts will be scrambling to buy back their short positions.
Short sale data has shown that short interest in MAPP has grown from 1.8M shares before the rejection to more than 4.8M shares as of May 15th. That is more than 22 days of volume to cover and 19% of the current float is short. As June 9th approaches, I expect some short sellers to cover and longs to reenter positions.
Bears in MAPP continue to raise the concern that the company won't get approval until Q2 2013 and would need to issue shares to have enough capital to launch their drug. As of March 31st, MAPP had $79M in cash on their balance sheet. They've guided to operating cash expenses of $35-$37M for the rest of the year, leaving the company with $42-44M in cash at the end of 2012. At this same burn rate, MAPP's cash position would be down to roughly $15-20M by middle of 2013.
What shorts are missing is that Allergan (NYSE:AGN) partnered with MAPP on sales through neurologists and pain specialists in the US and Canada only. Based on approval, MAPP will be receiving $97M more in payments based on regulatory milestones (i.e. approval). This would give them more than $110M in cash if they were to have worst case scenario of Q2 2013 approval from the FDA. Either way, I doubt MAPP would need to raise cash between now and approval.
Also, MAPP remains un-partnered for the remaining U.S. sales (not covered in AGN agreement) and all ex-US sales. Any type of partnership will bring in huge sums of cash, again thwarting the thesis of short sellers. Willing partners might are more likely to strike a deal with MAPP now that the FDA has pulled the worst case scenario of Levadex never reaching approval off the table.
At its current share price, MAPP remains an attractive acquisition candidate and investment. The share price could remain weak in the near term as the timeline of FDA approval is still unknown. I remain an advocate of selling $12.50 or $10 put options. I previously mentioned in my March 11th article that I was short puts, and anyone who pursued this strategy is still seeing solid profits despite MAPP's sagging price. In the end, the worst case scenario for MAPP was taken off the table by the FDA, and upon approval shares of MAPP will be over $20 for good.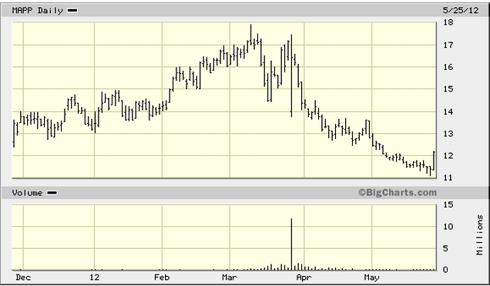 Disclosure: I am short MAPP puts.