We read the press releases every day on every company we track. We've been noticing that Hercules Technology Growth Capital (NASDAQ:HTGC) has been adding new investments at a rapid clip. Just based on announcements, HTGC has invested in 9 new or existing deals since September 30th 2007 (the last reported quarter) and committed about $120mn. To put that into perspective, this represents a 30% growth in assets at cost on the balance sheet back at September 30th. Some of the deals closed after the 2007 year-end, but most will impact the soon to be announced fourth quarter 2007 results, and should offset any modest bad debts which might pop up. This is quite a change from the pace of new asset formation in the last quarter, which was anemic.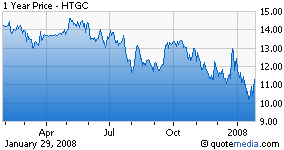 HTGC still has a ways to go. In theory, according to management, HTGC could borrow up to $500mn to build its investment base from just $52mn last quarter. In an earlier posting on Seeking Alpha we had predicted that a $100mn in new new assets at HTGC could add 12.5 cents a share to Net Investment Income (see our November 7, 2007 article). We may see that outcome as early in the IVQ 2007 results , or (more likely) by the end of IQ 2008.
Moreover, management has already announced its intention to pay in 2008 10 cents a share in capital gains realized from exits achieved last year. The likely increase in the Net Investment Income Per Share and the undistributed capital gains confirms our suspicions that HTGC will announce a significant increase in its quarterly dividend in this quarter or the next.
We're still predicting an increase to 35 cents a share from 30 cents, but the increase may be higher if management has visibility on earnings from all the new business added in recent weeks.HTGC is still trading at a discount to NAV (stock price $11.20 versus $11.97 NAV at September 30, 2007), and closer to its 52 week low of $9.59 than its high of $14.71. We believe the stock remains a bargain, which is why we're long the stock in our BDC Fund, and we'll be buying more before the dividend announcement for one or more of our other investment vehicles. If we're right about the 35 cent a share dividend ($1.40 a year), the yield will be 12.5% on yesterday's price for a company whose debt to equity will still be under 0.4:1.0.
Disclosure: Author has a long position in HTGC