Yahoo Inc.'s (YHOO) fourth-quarter earnings report won't do enough to appease increasingly restive shareholders. The Internet giant after market close Tuesday posted net income of $206 million on revenues of $1.4 billion (excluding traffic acquisition costs), compared with net income of $269 million on sales of $1.2 billion in the year-ago period.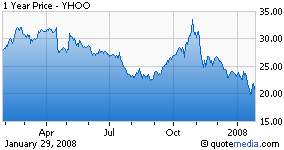 The company's guidance for 2008 also was viewed as disappointing. The company forecast revenues of $5.3 billion to $5.9 billion for 2008, less than Street forecasts of between $5.5 billion and $6.4 billion.
Much of the talk in advance of the earnings report was whether Yahoo! would make substantial layoffs. The company said it was targeting 1,000 job cuts that it would announce by mid-February.
Shares of Yahoo! were down 8.5% in after-hours trading. - David Shabelman
See Yahoo! fourth quarter earnings report
See Reuters story on Yahoo! earnings
See Jan. 29 post from Tech Confidential
For more see WatchMojo and Tech Check with Jim Goldman