Google (NASDAQ:GOOG) is a relatively new company that has taken its place in the world. As an Internet Information provider it is being copied in many countries. Like so many big companies, Google is already starting to slow its earnings growth.
In reality, Google has much competition and is feeling it on its expense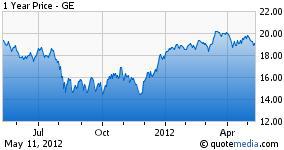 statements. I share my assessment of Google in order to help investor expectations conform to reality. In my practice, a reality check is quite similar to my process of comparative analytics. Nowadays, companies either have or do not have clear valuation support for future price appreciation.
I intend to offer my input on Baidu, Inc. (NASDAQ:BIDU) and Sohu.com, Inc. (NASDAQ:SOHU) in a future article. Neither of these companies can truly be called competitors. It is a matter of, a world of cultural differences. As for the English-speaking world, I suggest each 'competitor' will find its own niche, be absorbed or fail.
Despite the recent acquisitions and positives, Google does have its problems. The most alarming concerns are the recent lower earnings. Android's losses are much greater than expected. However, Android has helped Google establish a presence on smartphones, giving it a path to earn money via mobile advertising and integrated mobile and local search. Lastly, Google's problems are best described in the chart below.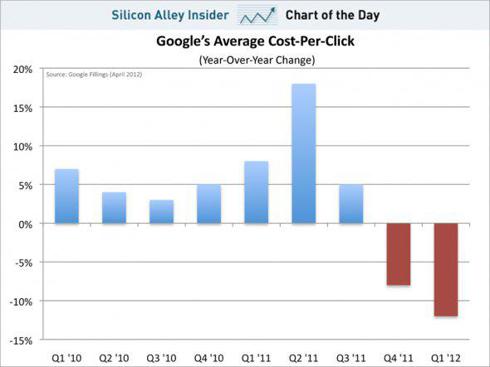 Google is currently selling for about $590. and has a recent high of $658. It pays no dividends and likely won't in the near term. It is not likely that investors will be rewarded with much upside price appreciation in the coming months. The recent price decline from the mid-March highs convinces me that lower prices are yet to come.
Price History
Did you know that Google's shares sold for over $714 in late 2007? As a relative newbie, the company began trading at $100 per share in mid 2004. Reaching the $700 mark in late 2007 was wonderful for the new investors. The 2008 bear market took the shares back to the mid $200 range. Today's current stock price is 17% lower than its peak in 2007. That means, in the 2009 rally to date Google has been under-performing. The 20-year chart (see below) tells this story best. You may want to ponder before taking new positions. This chart compares Google with the SPDR S&P 500 ETF (NYSEARCA:SPY). I use this ETF to provide an important perspective about a company that I am valuating. The first is thing how Google tracks the index in bullish and bearish market time frames. The second thing is a statistical measure of percentage gain and loss during bullish and bearish market time frames. Trends are a very helpful tool when investing wisely.
Current Valuation of Google
| | |
| --- | --- |
| Current Price: | $591.00 |
| Target Price: (from the high) | plus 6% / minus 20+% |
| Trailing P/E | 18.3 |
| Forward P/E (fye 12/31/13) | 11.9 |
| PEG Ratio | 0.99 - very good |
| Price to Sales: | 4.9 - high |
| Price to Book: | 3.2 - ok |
| Valuation Divergence: | (minus) - 29% |
Source: Raw data taken from Finviz.
Notes for the above table: Target price is calculated and produces a probable range of the current price over the coming one to three months. Valuation divergence is calculated and produces a plus or minus percent of price over the following one to three months after a given bullish or bearish inflection point.
These are not strong Valuations and Target Price Projections. When I do further fundamental studies, the valuation simply does not improve. Projected earnings growth for Google will fall off for a couple years or more. Good technical and consensus opinion analysis suggests that Google will continue to be a longer-term good but not likely excellent performer. Investing in Google at this time, or even holding, definitely is not investing wisely.
Earnings Chart
(Click to enlarge)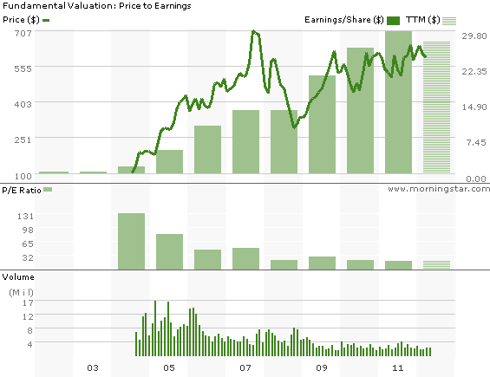 Regarding the above chart, please note the following: The earnings per share remains well below the 2007 level. The P/E ratio is flat to down, and the volume is diminishing. These are not supportive facts to foster holding Google in your portfolio.
Financial Statements
I have reviewed the company's income statement and balance sheet. I do not find anything to take issue with. There are many other companies with financials that present a better outlook.
Technical Opinion
It is clear from the above price charts that there are some longer-term problems with Google. Technical indicators are in the process of breaking down. This is my initial warning that prices will be falling in the coming weeks and perhaps beyond.
(Click to enlarge)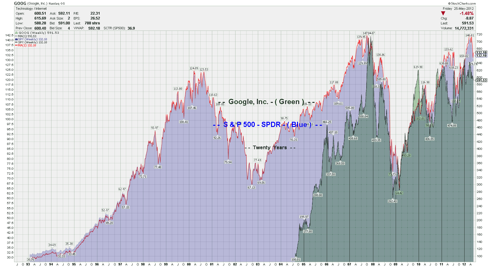 Summary
The above tables and charts present a clear and not-so-positive account of Google. Google's "reality check," like so many other companies, is not all that positive.
I recommend taking a few minutes to study my 20-year chart. When buying or selling, taking a longer-term view of a security's price history is very important.
This is a warning about buying or holding Google.
Conclusion
I am bearish on both the economy and the general market. My more recent Instablog postings are focused on securities that should not be currently held in your portfolio. It is important for you to understand that holding cash during questionable time frames is a wise choice. (This is definitely a "questionable" time frame). This coming Saturday, I plan to add Google to my weekly Instablog update posting, check it out.
Disclosure: I have no positions in any stocks mentioned, and no plans to initiate any positions within the next 72 hours.