If you have not read part I of my analysis, or would like to review it as a refresher, it can be viewed here.
How to Value Goldcorp
Goldcorp (NYSE:GG) is a senior mining company. Future production and operating expenses are fairly predictable; therefore the most appropriate way to value Goldcorp is by using a discounted cash flow analysis. The following analysis will value Goldcorp using a DCF, as well as the Graham formula, and a relative valuation analysis compared with other senior miners.
Q1 2012 Earnings
Goldcorp reported Q1 earnings that came in below analyst's expectations due to challenging ground conditions at Red Lake, while the footwall zone continued to be nuggetty. These issues are temporary, and do not change the company's long-term prospects. My 2012 earnings forecast are relatively conservative at $2.10 per share, which I expect the company will be able to achieve.
The Mines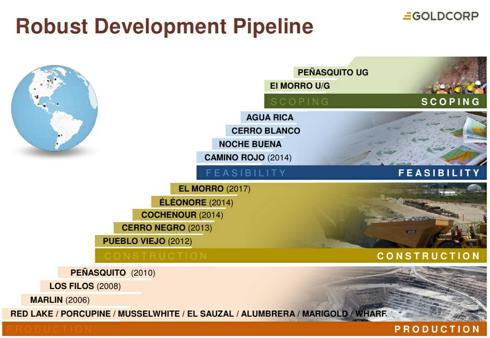 Source: Goldcorp
With multiple mines at all stages of production, Goldcorp should be able to continue growing into the foreseeable future.
(click to enlarge)

The mines detailed above provide insight into estimated future production per mine. No single mine is projected to be more than 18% of Goldcorp's total production through 2016. These mines will provide Goldcorp with significant and diverse future gold production.
Peer Analysis

Source: Data from Yahoo Finance
Goldcorp has a better P/B ratio and profit margin than Barrick (NYSE:ABX), Newmont (NYSE:NEM), Yamana (NYSE:AUY), and Eldorado (NYSE:EGO). ROE is also strong at 8.2% relative to other senior miners. Although the P/E ratio is higher than most of their competitors, it is in-line with the industry, and only slightly higher than AUY and EGO. P/S is higher than most other major miners, but that is due in part to higher profit margins, and the large production growth forecasted through 2016. ROA is low, which indicates the company is not using its assets as effectively as it could.
Graham Valuation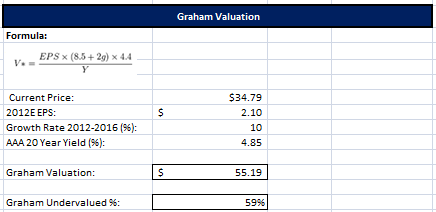 The Graham valuation is a good estimate of intrinsic value for mature companies with stable growth. Goldcorp's intrinsic value of $55.19 is currently 59% below its current price. Investors looking to buy a strong senior miner should consider Goldcorp.
DCF with Terminal Value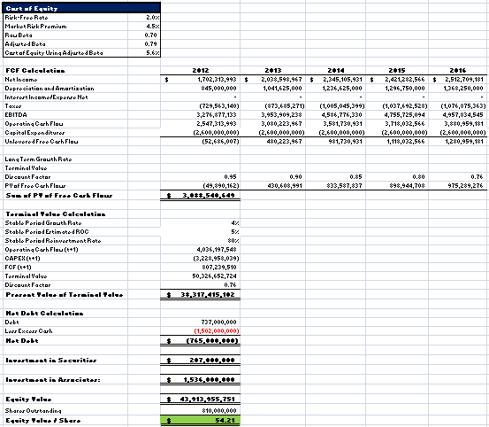 A DCF with a terminal valuation calculation is the most common DCF valuation, which assumes the company will continue to grow past 2016, although at a slower rate than their current growth rate. CAPEX is projected to be $2.6B per year through 2016. After 2016 it is assumed that Goldcorp will grow operating cash flow at a conservative 4% per year, and return on capital will decline to 5%; resulting in a required reinvestment rate of 80% of operating cash flow to maintain its growth. The resulting FCF in 2017 is $807.2mm. Assuming a cost of capital of 5.6% and a growth rate of 4%, results in a terminal value of $50.3B; which has a present value of $38.3B. Adjusting for excess cash, Goldcorp's investment in securities, and investment in associates, results in an equity value of $43.9B, or $54.21 per share.
Risks
Since Goldcorp does not hedge, its revenue is exposed to the volatile price swings of silver and gold.
Extended delays at one or more of the major projects would hurt future earnings.
An inability to obtain new productive mines would significantly hurt the company's future prospects.
Natural disasters or poor weather conditions at one or more of Goldcorp's major mines could damage or prevent continued operations for an extended period of time.
Potential government or environmental regulation could impair profitability.
Reserves and future production are estimates and subject to change.
Goldcorp is spending a large percentage of its operating cash flow on CAPEX to continue expanding its reserves and annual gold production. If these funds are not invested in productive mines with strong return profiles the company could suffer significantly.
If India takes strong action to limit gold imports, the price of gold could suffer a significant near-term setback.
Investment Thesis
Goldcorp's market price is not appropriately valuing its current and long-term growth prospects. The current stock price as of May 18th, 2012 is $34.79. However, using a conservative estimate for sustainable growth after 2016 of 4% per year and a reduced stable period return on capital of 5%, values the company at $54.21 per share (56% higher than its May 18th closing price).
Having two separate valuations methodologies that estimate the company's intrinsic value within 2% of each other increases the strength of the valuation estimate, and the probability of having an appropriate fair value estimate.
Analysts are currently forecasting strong sales and earnings growth.
Gold production over the next 5 years are expected to be relatively stable, with 69% of production through 2016 coming from mines that were already in production in 2011.
Being well capitalized with little debt, having $1.5B in cash, and a $2.0B undrawn revolver allows Goldcorp to continue gold production growth without the need for new financing. A strong balance sheet also reduces the possibility of future share dilution and helps GG weather any downturn in the credit markets.
Being unhedged allows GG to take advantage of the historical trend in precious metal price appreciation, as real interest rates continue to be negative for the foreseeable future, and the Fed planning to keep interest rates at historic lows until at least late 2014.
Strong demand from China and India create a bullish case for precious metals.
Goldcorp's dividend shows a commitment to rewarding shareholders and gives investors the opportunity to benefit from price appreciation of the stock, as well as future dividend increases.
Goldcorp's production costs per ounce are significantly less compared with a typical senior mining company.
Having its projects in politically stable countries significantly reduces the political risk that many other miners face in more unstable geographic locations.
Gold miners are cheap relative to the price of gold, as currently indicated by the Gold/XAU ratio at 10.45:1.
Disclosure: I have no positions in any stocks mentioned, and no plans to initiate any positions within the next 72 hours.