Shares of online gaming company Zynga Inc (NASDAQ:ZNGA) are trading lower Tuesday despite a major rally in the broader market indices.
(Click to enlarge)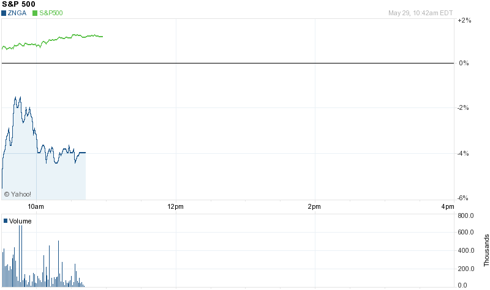 Facebook Continues Lower
The biggest factor behind the sell-off in ZNGA Tuesday is the continued weakness in shares of Facebook (NASDAQ:FB). The weakness in FB continues to drive much of the social media sector lower including ZNGA. However, with ZNGA shares now at an all-time low, it is difficult to say that selling ZNGA based on weakness in FB makes sense. Rather, investors should look at ZNGA as more than just a Facebook derivative trade.
Cash Per Share
ZNGA has just over $1 billion or $1.44 per share. Considering that ZNGA is trading just above $6, the cash relative to equity is very high. At this point, ZNGA's cash per share could be used in a variety of ways to boost the stock. If the company is truly confident in its future prospects, a large share buyback might make sense.
Short Interest
Short interest in ZNGA currently stands at 56.6 million shares or 35.8% of the float. If any positive news comes out on ZNGA, the stock could make a major move higher as shorts are forced to cover.
My Take
I believe ZNGA is a compelling speculation right now as it has been sold aggressively because of what is going on with FB. While the fate of ZNGA is partially tied to Facebook, I am not convinced that the weakness in FB is all about the business itself. Rather, the pricing along with the issuance size are causing problems for FB.
Disclosure: I have no positions in any stocks mentioned, and no plans to initiate any positions within the next 72 hours.