Shares of home builder Toll Brothers Inc (NYSE:TOL) are now trading at a new 52 week high. TOL shares are up nearly 50% over the past six months. Similarly, other home builders such as KB Home (NYSE:KBH), Beazer Homes (NYSE:BZH), and Pulte Group (NYSE:PHM) have had impressive moves over the past six month. However, TOL is the housing stock with the most momentum right now.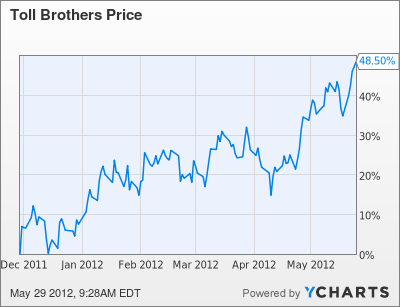 As you can see in the chart below, shares of TOL are at a 52 week high while other home builders have not made new 52 week highs.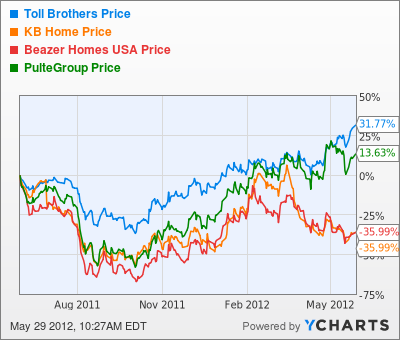 Rally Despite Bad News
The move higher in TOL is impressive considering that the housing news has been at best mixed. The most recent Case-Shiller home-price index showed a drop to new lows for housing prices. Housing prices are back to levels not seen since 2002. However, it appears as though TOL and other home building stocks have already priced in this news.
Short Interest
Despite the rally, many on Wall Street are still skeptical about the company's future. Short interest in TOL currently stands at 16.53 million shares or 13.9%. As the stock continues to gain momentum, shorts will likely feel pressure to cover. Additionally, if any positive news comes out for TOL, the high short interest can lead to a short squeeze.
Conclusion
From noted market commentator Dennis Gartman's 22 rules of trading:
The objective is not to buy low and sell high, but to buy high and to sell higher. We can never know what price is "low." Nor can we know what price is "high." Always remember that sugar once fell from $1.25/lb to 2 cent/lb and seemed "cheap" many times along the way.

Sell markets that show the greatest weakness, and buy those that show the greatest strength. Metaphorically, when bearish, throw your rocks into the wettest paper sack, for they break most readily. In bull markets, we need to ride upon the strongest winds... they shall carry us higher than shall lesser ones.
Investors who are looking to ride the momentum in housing stocks should consider TOL instead of other names such as PHM, BZH, or KBH.
Disclosure: I have no positions in any stocks mentioned, and no plans to initiate any positions within the next 72 hours.