Master Limited Partnerships (MLPS) have an outstanding record of growth even though they are mainly thought of as yield securities. The Alerian MLP Index, their measure of performance, has risen from 100 at the start of 1996 to 373 (273% gain) after reaching a record 411 last February. More importantly the comparable index, which includes reinvested income, reached a record of 1249 in March before settling back to 1160. During this time, the Dow went up from 5,117 to 12,454 (up 143%).
The outlook for MLPs continues to be excellent with substantial demand for more infrastructure to move (primarily) gas and oil in the US and Canada. The boom in obtaining natural gas and oil from shale is adding to enormous demand for more pipelines and terminals. 2 of the largest MLPs are Kinder Morgan Partners (NYSE:KMP) and Enbridge Energy Partners (NYSE:EEP). What sets them apart from other MLPs is that each has a companion form of ownership. Ownership of MLPs is measured by units, but they have a second company formed as a corporation with stock ownership that pays stock dividends based on distributions paid by the partnerships.
Enbridge Energy Partners
Enbridge Energy is organized into 2 companies, Enbridge Energy Partners and Enbridge Energy Management (NYSE:EEQ). EEP has 2 main businesses: the Liquids Segment for crude oil transportation (about 2/3 of the total) and the Natural Gas Segment with storage and natural gas midstream services (the remaining 1/3). The Liquids Segment transports crude oil and natural gas liquids through the world's longest petroleum pipeline from western Canada to refining centers in the Midwest and Ontario, Canada. The Natural Gas Segment consists of transmission, processing and marketing operating in the Mid-Continent and Gulf Coast regions of the US. EEQ is the companion corporation that manages the business. Enbridge Inc. (NYSE:ENB), one of the largest Canadian energy companies based in Calgary, Alberta, owns about a quarter of the partnership and is the general partner.
EEP just announced that it is making a huge expansion in crude oil mainline pipeline system worth $3.2 billion to transfer crude from western Canada to Eastern refineries as well as in the Midwest. The addition to the Lakehead System and the Eastern Access Projects is scheduled to be ready in 2014. The Lakehead System expansion capacity will enhance the Alberta Clipper pipeline 27% to 570,000 barrels per day (BPD). Further extensions in the Southern Access pipeline will increase capacity to 560,000 BPD from 400,000 BPD. Under the Eastern Access Projects, EEP will boost capacity in its Spearhead North pipeline to 235,000 BPD from 130,000 BPD. Collectively this expansion is budgeted at $2.2 billion, financed by ENB (60%) and EEP (40%). EEP will gain access to new markets in North America from western Canada and from the Bakken formation in North Dakota.
Additionally, Enterprise Products Partners (NYSE:EPD), one of the largest MLPs, and ENB just announced modifications to the Seaway crude oil pipeline to transport crude oil from Cushing, Oklahoma, oil hub to the Gulf Coast has been completed. The pipeline provides North American producers with the infrastructure needed to access more than 4 million BPD of Gulf Coast refinery demand. Seaway Crude Pipeline is a 50/50 joint venture owned by EPD and ENB. EEP is not directly involved, but the oil hub in Cushing has been a major bottleneck. Moving oil from Cushing to the Gulf Coast will relieve the bottleneck and allow more crude oil to be brought from Bakkan oil fields in North Dakota and Canada on EEP pipelines.
Kinder Morgan
Kinder Morgan is organized in 3 companies. KMI owns the general partner of MLP Kinder Morgan Energy Partners and holds a significant portion of the units. Kinder Morgan Management (NYSE:KMR), a corporation paying stock dividends, manages and controls the business affairs of KMP.
KMI is a leading pipeline transportation and energy storage company in North America that operates 38,000 miles of pipelines and 180 terminals. Its pipelines transport natural gas, gasoline, crude oil, CO2 and other products, and its terminals store petroleum products and chemicals and handle energy products. KMI just merged with El Paso (EP) to form the largest MLP and the 4th largest energy company in North America with 13,000 miles of pipelines for the transportation of refined products (NYSEARCA:OIL) and 67,000 miles of natural gas pipelines in North America. The network will unite KMI pipelines in the Midwest, the Rocky Mountains and Texas with EP network spreading from the Gulf Coast to New England, and in the west through Arizona, California, New Mexico and Nevada. The transaction is expected to generate cost savings of $350 million a year (5% of combined earnings).
Both companies have excellent records of increasing annual distributions.
Enbridge Energy Partners: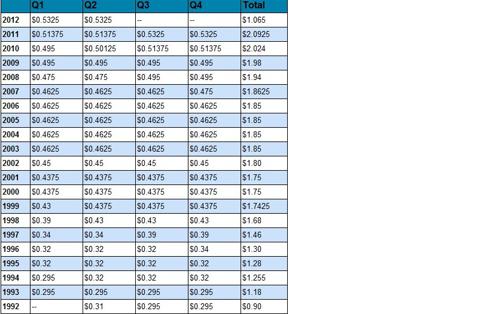 Kinder Morgan Energy Partners: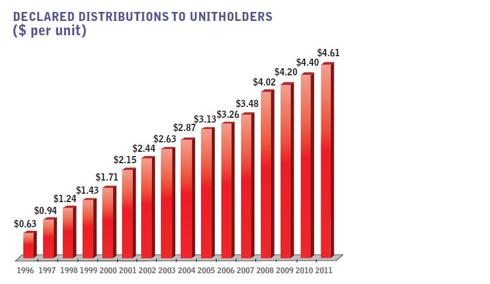 EEP projects distribution growth of 2-5% in the coming years which implies the $2.13 distribution could be raised to roughly $2.20 this year. KMP expects distributions to be $4.98 in 2012, up 8% from $4.61 in 2011. Because they have corporation, investors who do not need current income or want to avoid tax hassle of MLPS, can purchase the stocks. Stock dividends do not generate 1099s. The table below shows distributions for MLPs in the Dividend column and the last column describes the ownership type. EEQ and KMR dividends are implied values of the stock dividends.
| | | | | |
| --- | --- | --- | --- | --- |
| | Price | Dividend | Yield | Ownership |
| Enbridge Energy Partners | $29.60 | $2.13 | 7.2% | units |
| Enbridge Energy Mgmt | $31.71 | $2.13 | 6.7% | shares |
| Kinder Morgan, Inc (NYSE:KMI) | $32.42 | $1.28 | 3.9% | shares |
| Kinder Morgan Partners | $79.67 | $4.80 | 6.0% | units |
| Kinder Morgan Mgmt | $72.62 | $4.80 | 6.6% | shares |
While the growth of distributions is impressive, the underlying strength of an MLP business is the main consideration for investment. Both have excellent records of growth and are aggressively expanding fixed assets to supply more energy products to bring increased distributions.
Disclosure: I am long EEQ.