Real estate investment trust, or REIT, exchange traded funds may continue to generate higher profits as interest rates remain suppressed. Even if rates do rise, REITs could follow higher growth as the assets move less like equities and more like real estate.
According to a Paragon Report, REITs are taking advantage of the low interest rates to boost earnings and raise dividends for investors. For instance, mortgage REITs are dependent on interest rate spreads -- higher rates makes it less profitable for REITs to borrow. Federal Reserve Chairman Ben Bernanke has stated his intent to keep interest rates low until 2014 and even suppress borrowing costs if the economy is in need.
REITs are securities that trade like stocks, but are required to pay out 90% of their taxable income to share holders as dividends. JP Morgan Asset Management projects that U.S. REIT dividends may grow 6% on average per year over the next five years and produce total returns of up to 10% if dividend yields are 4%, reports Michael Aneiro for Forbes.
JP Morgan real estate strategist Michael Hudgins believes a 5% to 6% growth seems reasonable, considering the pullback during the recession and dividend cuts:
U.S. REITs do not currently offer value vs. equities, and have been trading in a range that goes from slightly expensive to slightly discounted relative to the value of their underlying portfolios. Having said that, the dividend growth described above combined with measured but improving strength in the U.S. economy and U.S. commercial real estate market (i.e., improving occupancy and rent growth) should support positive returns, even while U.S. REITs underperform the broader equity market and, perhaps, international REITs.
Here's a quick list of REIT ETFs:
Vanguard REIT Sector ETF
Click to enlarge image.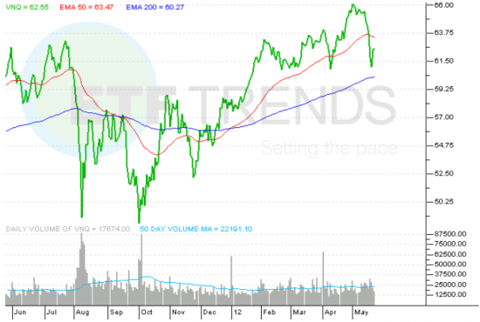 Max Chen contributed to this article.
Disclosure: I have no positions in any stocks mentioned, and no plans to initiate any positions within the next 72 hours.