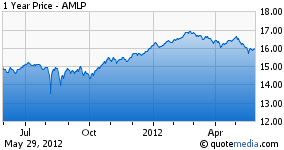 ALPS Alerian MLP ETF (AMLP) holds a capitalization-weighted portfolio of 25 primarily midstream master limited partnerships (MLPs), including names such as Enterprise Products Partners (EPD), Kinder Morgan Energy Partners (KMP) and Magellan Midstream Partners (MMP).
While obviously energy-focused, the operations of most midstream MLPs are fairly diversified and largely insulated from commodity prices. Rather than being paid according to the value of the commodities they move, pipeline operators are paid by volume.
Given that midstream operators' profitability is driven more by aggregate demand than commodity prices, I remain extremely positive on the sector.
ALPS Alerian MLP ETF currently yields 6 percent, one of the highest yields in the ETF space. The reason for such an impressive payout is the structure of MLPs; they're not subject to corporate-level income tax, so most of their income is passed along to investors. But this isn't a case of questionable companies making higher distributions just to attract investors; these are strong companies that take advantage of a unique structure to maximize unit-holder returns. And many have been able to tap into relatively inexpensive financing to fund acquisitions and organically grow their businesses. As a result, payout growth in the sector has averaged between 5 percent and 6 percent over the past several quarters.
While ALPS Alerian MLP ETF doesn't confer any tax advantages itself -- due to its structure it pays corporate-level income tax and investors are subject to tax on income and capital gains -- it benefits from the higher payouts MLPs are able to offer because of their favorable treatment.
Although MLPs and MLP ETFs face some short-term headwinds, the sector's long-term growth story remains intact.
Disclosure: I have no positions in any stocks mentioned, and no plans to initiate any positions within the next 72 hours.