During the noon hour, while watching "Fast Money" on CNBC, I heard one of the panelists refer to the first hour of each day's trading as "amateur hour."
At that I looked through my trading log for the morning and saw that during that first hour I had executed 13 trades. I looked around the room and saw no one else and realized that he must have been talking about me.
I suppose that kind of the trading during the first hour of the first trading day of the week really merits the "amateur" label.
When the market opens on a strong note to begin the week, there's no better time for a covered call writer to sell those calls. Even a collegiate Tiger Woods knew where the cup was relative to the flag.
When I had written and published my weekly guide for which transactions would be on my radar screen as the week opened for trading, my anticipation was that we would have a mildly lower open. With that backdrop I recommended the potential purchase of a number of new positions along with the notion that 'in the money" covered calls were in order once the purchases were made.
But sometime on Memorial Day, still, coincidentally, within the amateur hour at 10:28 AM, I sent a text message to my subscribers to tell them that news of a potential pro-bailout party being able to win Greek elections might be just what the market needed to give it an opening boost.
I don't know if the Najarian brother, and I can never tell them apart, believes in that designation even on non-trading days or on Federal holidays, but it made me wonder again about the absolute verbal onslaught of insults being hurled at the individual investor. I think I understand the positions held by Steven Rattner and John Bogle, but I'm not certain why a panelist on a program that's focused on the individual investor is in favor of defining behavioral patterns that can only lead to mediocrity.
By 10:30 AM, I had also sent out eight Trading Alerts to subscribers. Despite the higher open, I still believed that there were opportunities to recommend four of the anticipated trades and three new ones that were reflective of the days market strength and early strength in silver.
With British Petroleum (NYSE:BP) not participating in the early rally following more threat of legal liability, the trade to pick up shares and sell the in the money calls still seemed right. So too did an under-performing Goldman Sachs (NYSE:GS), which goes ex-dividend tomorrow (May 29, 2012).
In that first hour, JPMorgan Chase (NYSE:JPM) showed enough strength to warrant the sale of their call options, continuing yet another week of collecting those premiums, at it seems to find a new floor.
Finally, during amateur hour there was a great time to pick up shares of Lexmark (NYSE:LXK) which goes ex-dividend on May 30, 2012 and was this week's Double Dip Dividend selection.
Once amateur hour was over, I sent out another six Trading Alerts as the market was consolidating some of its gains that included one additional scripted trade, another new one and then taking quick profits on the earlier unscripted trades, while then just as quickly reversing the process.
Ah, amateurism.
Incidentally, the unscripted recommendations during "Amateur Hour," turned out to be related to the continuation of recent week's volatility both in the markets and the metals.
With a strong open, there appeared to be yet another chance to sell the Barclays Volatility ETN (NYSEARCA:VXX) put options, as both selling calls and puts have been very useful hedging and income producing activities of late, despite the various warnings patrician like "Talking Heads" are apt to give to the lesser abled.
Additionally, early recommendations to sell calls on ProShares Ultra Silver (NYSEARCA:AGQ) and puts on ProShares UltraShort Silver ETF (NYSEARCA:ZSL) were, within an hour, replaced by the call to close those positions and then do precisely the opposite.
In that time, by 11:30 AM as the European Markets were closing, some of that overseas optimism was waning and precious metals reversed course. I guess once 10:31 AM rolled around, the amateur label was lifted and it was a perfect time to recognize that you could compound your income flow by now selling AQQ puts and ZSL calls.
While Najarian, let's call him "Najarian A" was referring to my likes as "amateurs," I prefer to think of myself as simply being an addict and being unable to resist the temptations that seem to come along at a regular pace, regardless of the time.
It's not that I want to be lumped in with the amateurs, but you do what you need to do, sometimes hanging out with unsavory characters, in order to get your fix. Or you could use the strategy of hanging out with the ugliest and stupidest people, just to look that much better by comparison. I think that's the strategy that each Najarian brother uses with the other.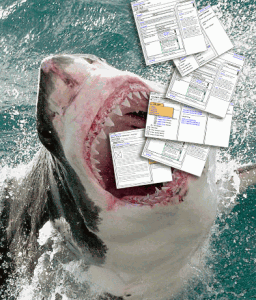 For me, the addiction is trading and that Beast has overtaken me, luckily, however, still leaving my rational self unharmed.
Sometimes you're so overwhelmed by your addictions that you are unable to exercise rational judgment. When The Beast calls, it's voracious and sucks all the air out of the room. It simply has to be fed.
You can try, but you can't escape The Beast. So I don't even bother to try. Certainly for me, today was one of those days.
The cold sweats, the shaking, the denial and the profits. All classic signs that The Beast had taken over. Not being a patient sort nor forgiving sort, it needs its sacrificial offerings.
The Beast knows when there's fresh cash in the account after positions are assigned, as were my shares of MolyCorp (MCP), Abercrombie and Fitch (NYSE:ANF) and Groupon (NASDAQ:GRPN). That cash has to be spent.
The Beast was calling to me. He wanted those offerings. He had waited long enough.
For me, The Beast can only be soothed by placing trades. Any trades.
Despite having my sights set on a lower open, ultimately it didn't matter, because it's sometimes all about the spontaneity of the trade, without regard to the script. Depending on your spin, amateurs either don't have the discipline to stick with the script or professionals have the experience to know when to ad-lib.
Despite the market's quick climb, it was still a good day to find value and later in the morning, Halliburton (NYSE:HAL), one of the scripted selections, remembered its lines and fulfilled the scripts directives. It too goes ex-dividend very shortly (June 4, 2012).
Of course, there was no better value than shares of Facebook (NASDAQ:FB), as it started trading monthly options today, with weekly becoming available. For the professionals on Fast Money that started expressing interest in Facebook last week as it reached $32, think of how much more interested they must be today after a 10% mid-day drop. To Facebook's credit, though, it did keep its share price above its IPO price for longer than Pandora (NYSE:P) was able.
Too soon to joke about Facebook? My bad. Amateurs have no sense of timing or time.
As the afternoon wore on, both my trades and Alerts came to a halt as the market just meandered a bit. The Beast doesn't understand that. He wants trades, even if they lack rational basis. But I could see none to be made, although I'll still be looking for the chance to execute the script with regard to MolyCorp, Microsoft (NASDAQ:MSFT) and Mosaic (NYSE:MOS), especially if it feels as if bugs are beginning to crawl inside my skin.
The speculative part of me was tuned into the news that Foxconn, the Apple (NASDAQ:AAPL) assembler of some ill repute, was rumored to be ready to produce the Apple TV. Then there was the rumor that Facebook was considering its own entry into the telephone market, spurring thoughts that Research in Motion (RIMM) might be the next Zuckerberg acquisition, after his honeymoon Big Mac in Italy, which was for some reason a big story today in the absence of other real news.
Given RIM's future prospects as a go it alone company, no one could be surprised by anything, especially as it comes to RIMM's patent portfolio. Since The Beast has left the rational side of me intact and since the speculative side does have the same power over me, that rumor is easy to resist. But it is safe to say that if you do already own RIM shares, you have been excessively RIM jobbed to date.
And not in a good way. It would feel very good once it finally stops.
Admittedly, I enjoy feeding The Beast and I don't really mind being referred to as an amateur. At least I can find the inner strength to stay away from the pre-market and after-hours markets. The Beast and I have come to an agreement that we really won't need to do that sort of thing for our mutual benefit.
The Beast isn't an idiot, it doesn't want to bankrupt the host.
But come tomorrow morning The Beast will be ready and perversely enough, I'll be more than ready to start gorging his bad and ugly self at 9:30 AM
Come gains or losses, I do love That Beast and the opening bell.
Disclosure: I am long FB, JPM, ZSL, AGQ, GRPN, LXK, GS, MCP, BP, HAL, MOS.