We believe that Apple (NASDAQ:AAPL) is the best friend a mobile carrier can have. Apple's cutting-edge iOS devices (iPhone and iPad) are the hottest selling smartphone and tablet computer devices at AT&T (NYSE:T), Verizon (NYSE:VZ) and Sprint Nextel (NYSE:S). Granted, Sprint does not carry the iPad yet, but we believe that Sprint will carry it at some point - especially if it can successfully execute its Network Vision reorganization. In a previous column, we had debunked the ridiculous thesis that the only reason why people are buying iPhones is because they are subsidized by the mobile phone operators. To further shore up our thesis, we had analyzed the profitability of AT&T, Verizon and Sprint. We were able to determine that the smartphone subsidies that carriers pay are not the most serious set of affairs impacting company profitability. We also concluded that the healthy operating margins and steady growth of the wireless divisions is powered by iPhone sales and is helping to mitigate the following headwinds to carrier profitability:
Declines in wireline revenue and profitability (AT&T, Verizon and Sprint).
Increased minority interest expense on wireless business -- 45% of Verizon Wireless's profits go to Vodafone (NASDAQ:VOD). We're glad for AT&T shareholders that Edward Whitacre had the foresight and forward thinking to buy out BellSouth in order to gain 100% total control over Cingular Wireless (AT&T Mobility).
We believe that blaming iPhone subsidies for carrier misfortunes is like blaming defense spending for the U.S. federal budget deficit. And in another article, we showed that the iPad is dominating the tablet computer industry even though it was not subsidized and that competing devices were subsidized by the carriers. Here is our analysis as to why Apple is the best friend of a mobile carrier can have.
In our first article about smartphone subsidies, we touched on how the iPhone was Apple's revolutionary smartphone product. We also touched on the distribution agreement with Apple and AT&T. Here is what AT&T gave Apple in order to be the iPhone's exclusive carrier for five years:
AT&T spent millions of dollars and thousands of man-hours to create visual voicemail.
AT&T had to reinvent the new subscriber sign-up process.
AT&T paid Apple roughly $10 a month from every iPhone customer's AT&T bill.
Apple retained complete control over the iPhone's design, manufacturing, and marketing.
While it is clearly obvious that this deal was far better for Apple than it was for AT&T, it would not be accurate to say that it hurt AT&T. We could see that the AT&T brand had strong recognition so much so that when SBC Communications acquired AT&T Corporation, it adopted the AT&T brand name for the combined company and its subsidiaries. We also believe that the relatively faster growth in the wireless segment vs. wireline, as well as the secret negotiations between Apple and Cingular Wireless, is what prompted AT&T to acquire BellSouth. In 2007, the year the iPhone was introduced, the company increased its wireless customers by 9.1 million. This represented a 14.9% increase in the number of wireless customers relative to 2006 levels, and the growth rate exceeded the impressive, double-digit gains in 2003, 2005 and 2006, which registered growth on a smaller base of existing customers. The iPhone was a game changer because it helped reorient mobile phone revenue growth away from voice and toward data plans. We would also like to note that the sharp spike in subscribers in 2004 was due to AT&T Mobility (formerly known as Cingular Wireless) acquiring AT&T Wireless Corporation. In our opinion, we believe that the iPhone ensured that the AT&T brand remained relevant in the 21st century. Without the iPhone, the AT&T brand represented the old Ma Bell monopoly and a company that lost its way.
Click to enlarge all images.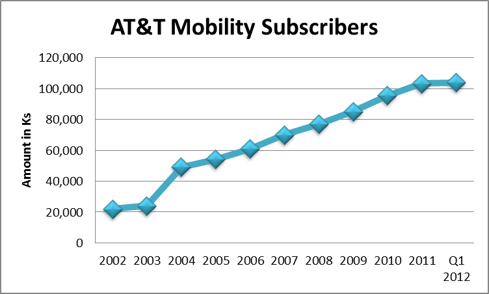 Source: AT&T annual reports 2006-11 and Q1 earnings release.
AT&T offers smartphones from 14 different vendors; however, the Apple iPhone was far and away its most popular product. In Q1 2012, AT&T sold 5.5 million smartphones and 4.3 million of those were iPhones. AT&T has been heavily involved in promoting the Nokia Lumia 900 with Nokia (NYSE:NOK). Assuming that AT&T was to magically transform every iPhone sold in Q1 into Nokia Lumias and to reduce its handset subsidies by the $100 difference in subsidies between the Nokia Lumia and the iPhone product suite, AT&T would reduce its operating costs by $430 million, which would represent 1.67% of AT&T's total operating expenses. AT&T Mobility's CEO Ralph de la Vega recently spoke about his desire to minimize smartphone subsidies. We find that amusing, considering that while AT&T pays $450 subsidy per smartphone sold, it garners about $30/month, or $720 in revenues from the typical data plan contract.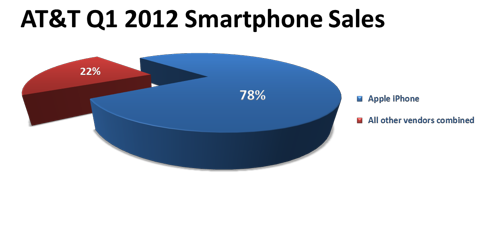 Source: AT&T Q1 earnings release.
Verizon Wireless and AT&T have alternated leadership in the U.S. wireless segment. Verizon was the market leader in Wireless in 2002 and 2003 then SBC's Cingular Wireless joint venture acquired AT&T Wireless for $40 billion. Since legacy AT&T Wireless had a poor reputation in the wireless services industry, SBC used the Cingular Wireless brand for the combined company. Verizon Wireless almost overtook Cingular/AT&T in 2006, but in 2007 AT&T rebranded Cingular as The New AT&T and became the exclusive home of the iPhone. In 2007 and 2008, AT&T Mobility was able to widen its lead in the number of wireless customers served, prompting Verizon to acquire Alltel in 2009 to regain the leadership in the wireless industry. From 2007 to 2010, AT&T had gained more postpaid and total customers than Verizon. This reversed itself in 2011 when Verizon began selling the iPhone and AT&T tried to acquire T-Mobile from Deutsche Telekom (OTCQX:DTEGY). Verizon was also aided by its wireless sales partnership with CenturyLink (NYSE:CTL) when CenturyLink acquired Qwest Communications (who had previously sold its wireless business to Verizon).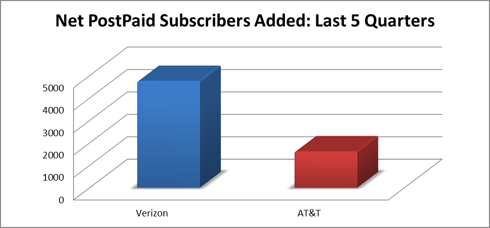 Source: AT&T and Verizon 2011 annual reports and Q1 earnings releases.
In our firm's comprehensive research report on Sprint Nextel (S), our thesis was that the iPhone is Sprint's savior. Without the iPhone, Sprint would either go bankrupt or need to be bailed out. Sprint paid a steep price to get the iPhone; however, the company seems to be on track to satisfy this agreement on time, as it sold 3.3 million iPhones in Q4 2011 and Q1 2012. About 42% of Sprint's iPhone sales went to new customers. In Q1 2012, 21% of AT&T's iPhone sales were to new customers and Verizon did not disclose iPhone sales to new customers. Sprint is the only U.S. carrier offering unlimited data for any smartphone and is offering $100 discount on a new iPhone 4S if the user switches from another carrier and activates a new iPhone by July 3, 2012.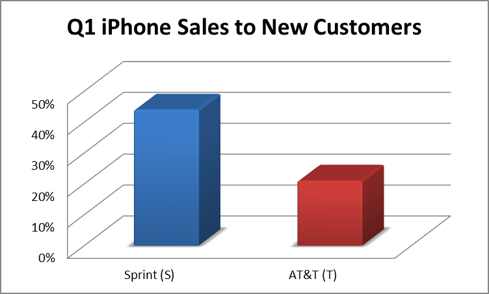 Source: Sprint Q1 earnings release and AT&T Q1 earnings release.
Forty percent of new Sprint iPhone users reported breaking a contract with their prior carrier to switch to Sprint, evidence that the Sprint brand hallmarks of value and simplicity are resonating with consumers. Over 60% of Sprint's iPhone customers who left another carrier to come to Sprint wouldn't have considered switching to Sprint if Sprint did not carry the iPhone. Over 10% of Sprint's postpaid customer base is on the iPhone after just two quarters. We also believe that because Apple saved Sprint by letting Sprint sell the iPhone; that weakened the growth prospects of prepaid carriers like Leap Wireless (LEAP) and MetroPCS (PCS), since Sprint is strong in the wholesale and prepaid segments that Leap Wireless and MetroPCS target.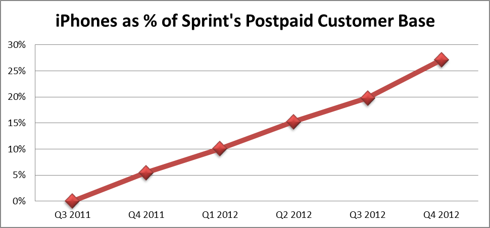 Sources: Sprint's last three earnings releases and Saibus Research forecasts.
T-Mobile not only doesn't have the iPhone, but ran ads mocking the iPhone. That hasn't worked out too well for T-Mobile, since the firm has been shedding lucrative postpaid subscribers and losing out to Sprint in the prepaid and wholesale segments.
AT&T and Verizon also benefit from the ability to sell the iPad tablet computer. The iPad is dominating the tablet computer space and, unless you can find Wi-Fi when you need it, you're most likely going to be buying an iPad with a data plan from AT&T or Verizon. We believe that because those companies have a duopoly on the iPad, AT&T and Verizon will ensure steady demand for the iPhone from those company's customer bases as customers will find it convenient to buy their iPhones and iPads from the same carrier.
In conclusion, we believe that Apple's cutting edge iOS devices (the iPhone smartphone and the iPad tablet computer) are the best things to happen for the mobile carriers. We believe that Apple's iPhone smartphone is a unique product suite that has revolutionized the way the consumer thinks about mobile phones. It has certainly revolutionized the way mobile phone carriers think about mobile phones as well. Apple followed up its iPhone success with the iPad tablet computer. Between growth from connected computing devices and the premium data plans the carriers have been able to sell consumers, Apple's devices have given the carriers another source of revenue and profit growth now that the wireless communications market is relatively mature, especially with regard to the traditional voice services piece.
We believe that Apple's devices have ensured AT&T's relevance in the minds of consumers, Verizon's leadership in the wireless segment, particularly lucrative retail postpaid contract customers, and Sprint's ability to not only survive as an independent company and to solidify its position as the third-largest mobile carrier in the U.S. (as well as the third-largest telecommunications company in the U.S. by revenues and customers). We also believe that Sprint carrying the iPhone -- and potentially the iPad in the future -- positions Sprint to provide competitive headwinds on the high-end retail postpaid contract segment against Verizon and AT&T, and the ability to survive as a company to provide competitive headwinds on the low-end prepaid and wholesale segments against T-Mobile USA , MetroPCS and Leap Wireless .
Disclosure: I am long AAPL, CTL.
Disclaimer: Saibus Research has not received compensation directly or indirectly for expressing the recommendation in this article. Under no circumstances must this article be considered an offer to buy, sell, subscribe for or trade securities or other instruments.