American Capital Mortgage (NASDAQ:MTGE) is an externally managed hybrid mortgage REIT. The managers of popular American Capital Agency (NASDAQ:AGNC) formed MTGE to invest throughout the total mortgage market, including both agency and non-agency sectors. AGNC is focused on the agency sector. MTGE's ability to move between agency and non-agency securities provides diversification and the ability for managers to allocate capital to the highest risk-adjusted return.
Click to enlarge.

AGNC's managers have experienced lower prepay speeds due to unique security selection in HARP securities. AGNC management has accumulated Home Affordable Refinance Program (HARP) securities that carry low balances ($85,000 - $125,000) or high loan to values (105% to 125%).

MTGE Agency Portfolio
The vast majority of MTGE's portfolio remains agency securities. Non-agencies represent $181MM, or less than 5% of the portfolio.
MTGE's agency mortgage portfolio looks very similar to sister company AGNC. MTGE is seeking to minimize prepayments in its agency portfolio. MTGE is focused on 15-year and 30-year securities backed by either lower loan balances or HARP.
This rationale is very similar to that of AGNC's agency model.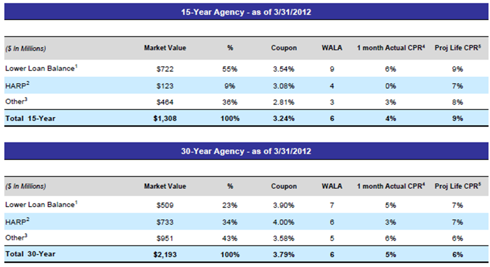 Conclusion:
While MTGE has been set up to purchase both agency and non-agency securities, as of the latest financial reports, the majority of the portfolio is agency. As one could expect, the portfolio composition looks very similar to that of AGNC's agency portfolio. Investors looking for exposure to hybrid REITs that have a track record of investing in both agency and non-agency securities should look at MFA Financial (NYSE:MFA) and Two Harbors (NYSE:TWO). As opposed to investing in a hybrid "start-up," I am sticking with managers who have performed through various market cycles. MFA was founded in 1997 and has earned its stripes.
MFA Financial (MFA) - Hybrid REIT (Agency and Non-Agency)
Price to Book Value: 1.0x
Dividend Yield: 13.3%
Market Capitalization: $2.6 billion
Leverage: 3.2x
Two Harbors (TWO) - Hybrid REIT (Agency and Non-Agency)
Price to Book Value: 1.1x
Dividend Yield: 15.9%
Market Capitalization: $2.1 billion
Leverage: 4.5x