Recently, my contrarian side ran a stock screen for beaten-down, Europe-based, defensive securities unduly punished by the ongoing EU debt crisis. The screening concepts sought depository receipts of companies with a sound balance sheet, dividend support, good cash generation, and reasonable forward growth prospects.
Specific criteria included:
Depository Receipt Securities (Depositary receipts simply make it easier to buy shares in foreign companies because the shares trade on a local stock exchange)

Dividend Yield greater than 4%
Return-on-Equity greater than 15% (TTM)

Return-on-Investment greater than 10% (based on the five-year trailing average)

PEG ratio less than 1.5 times (based upon a three-year forward estimate)

Price-to-Cash Flow less than 10 times

Price-to-Book less than 2 times

Current Ratio greater than 1 times
Five stocks met the initial screen criteria, as follows:
Stock

Yld%

RoE

RoI

PEG

P/CF

P/B

C-R

Royal Dutch Shell (NYSE:RDS.A)

5.5

18.2

15.0

1.0

4.5

1.1

1.2

BASF SE

4.7

21.7

12.3

1.4

5.8

1.9

1.7

Statoil ASA

(NYSE:STO)

4.8

28.1

14.7

1.0

3.3

1.5

1.1

Charm Comm.

(NASDAQ:CHRM)

4.4

17.6

17.5

0.3

7.3

1.3

2.4

Metso Corp.

6.5

17.4

11.5

1.0

7.5

2.0

1.2
Charm Communications was eliminated immediately since it is a China-based company. My search intended to focus upon Europe-based companies.
Metso Corp., based in Finland, is a mid-cap machinery company that trades via the Pink Sheets. While it has some interesting attributes, I did not like the 2.2 beta (too volatile), previous five-year EPS growth rate (flat), and the fact that is it very thinly traded.
That left two energy giants and a heavyweight chemical company:
Statoil ASA, based in Norway;

Royal Dutch Shell PLC, based in Netherlands; and

BASF SE, based in Germany.
Let's look a deeper into these three stocks.
BASF
Click to enlarge all images.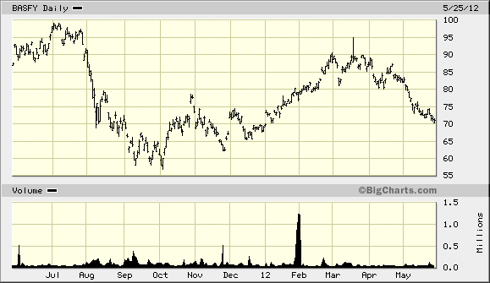 Source: Bigcharts.com.
BASF is the largest chemical company in the world. Fears about its cyclic businesses have resulted in the stock price being dragged down. The shares have trended lower since March, falling about 17% from a high of $80 a share to about $70 last week. The company has been building cash. The debt-to-equity ratio is 52%, demonstrating reasonable debt management. Total debt has remained somewhat flat the last several years. Near-term EPS growth is projected to be flat, though I believe the highly cyclical nature of BASF's business could cause it particular problems if the EU slides into deeper recession. Overall, I consider BASF a value stock, but perhaps not as deeply valued as the other candidates.
Statoil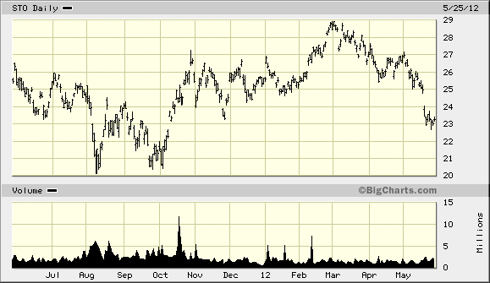 Source: Bigcharts.com.
Statoil is a major global energy company. It has been expanding its scope of late, entering into a large deal with Russian-owned OAO Rosneft. In addition, STO has expanded its footprint via joint ventures and straight energy plays in Ghana, Brazil and the U.S. Bakken region. The stock tends to stay off the radar of many investors. Perhaps this causes the stock price to apparently lag its underlying fundamental performance. The shares hit a three-year high of about $29.67 a share about a year ago. They have fallen about 21% since, despite rising revenues and operating income. Street consensus EPS growth is flat for the next three years. However, margins and financial strength are notably good. Debt-to-equity is only 37%. While the dividend yield is strong, the board of directors cut it significantly during the previous 2007-09 economic downturn. To be fair, the payout has been raised smartly since that falloff. Overall, Statoil is not a bad pick. The stock appears unduly beaten up, yet the underlying company is sound.
Royal Dutch Shell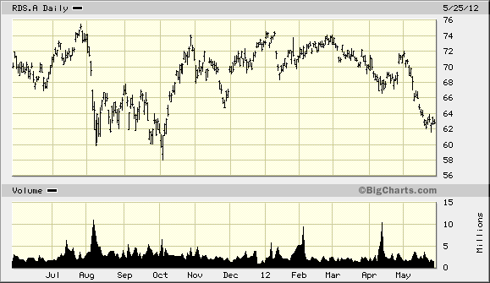 Source: Bigcharts.com.
The screen highlighted another major oil company to compare head to head with Statoil. Royal Dutch Shell is actually one of the global Super Major energy companies; the market cap is $116 billion. (For comparison, STO's market cap is $74 billion.)
Royal Dutch Shell was formed many years ago via the combination of Royal Dutch Petroleum and Shell Transport and Trading Company. The corporation has major offices in London and Houston, with its headquarters located in the Netherlands. Shell has been focused on unconventional energy plays, as well as staking a global lead in the LNG business. Management has stated their intent is to emphasize the Upstream business vs. the Downstream, as well as a strategic direction to reduce the number of countries in which the company operates.
Investors should note that while the company is based in Europe, only 13% of its revenues are generated there. I believe this results in a level of "guilt by association" with respect to current price action. The stock has fallen about 16% since it's March high, languishing around a low of $62. Such a share price has not been seen since October 2011. A solid earnings report and guidance last month provided no respite. Production is up, revenues are up, and SG&A expenses are down due to a concerted effort to cut costs.
Compared with Statoil, RDS.A shares sport a better yield and a safe payout ratio. The board has shown the propensity to hold or increase the fat dividend, albeit by relatively small percentages of late.
The price-to-book ratio of 1.1 times is a standout. This valuation measure is noteworthy. The net book value of the company is $57.62 per share. The "A" shares closed at $62.83 on Friday. The Shell balance sheet shows the company holding over $15 billion in cash. The equity/asset ratio, a favorite value measurement of Benjamin Graham, is 49%. The father of value investing considered companies with an E/A of 50%, representing deep value. The debt-to-equity ratio stands at a low 16%.
I also noted that RDS shares offer global energy exposure with about 20% less volatility than STO: 1.0 versus 1.2, using Beta as the benchmark measurement.
Conclusion
My initial screen uncovered five undervalued company candidates. After knocking out a China-based company and a smallish and volatile Scandinavian industrial company, three large global players emerged. You can see a chart of the side-by-side comparative YTD stock performance of the three here.
BASF represents a sound financial company, but does not appear to offer as deep a value as the others. The dividend yield is lower and the business appears a bit more exposed to the economic business cycle than the other integrated oils.
Statoil is an underrated major oil company that affords the investor a good balance sheet, exceptional margins, and a global expansion strategy that could be a catalyst for moving the shares forward. However, the forward prospects for management generating bottom-line EPS growth has been called to question by the Street. The dividend yield is lower that the top prospect found below. Indeed, the board of directors lowered the cash dividend payout during the tough times between 2006 and 2009. It has since increased it again of late.
Royal Dutch Shell is my top pick for an EU-based value play. The oil giant has demonstrated three good years of growing revenues, operating income, and net income. The current 5.5% yield is atop the circuit. The dividend was maintained or grown throughout the Great Recession. While the company is based in Europe, less than one-seventh of its revenues are generated there. A price-to-book of 1.1 times, price-to-cash flow of 4.5 times, and one of the best ROI ratios in the industry make this Super Major my choice for a rock-solid stock that has been unduly punished by EU debt fears.
While it is certainly possible that an implosion of the European Union economy could wreak additional havoc on the shares, they now appear to be undervalued enough to start a position. As I already own shares, I will continue to accumulate slowly on additional weakness, assuming some level of yield support. I recommend doing your own homework before committing funds, and then scaling into stock investments via stages.
Disclosure: I am long RDS.A.