By Paul Carton
For the first time in years, a ChangeWave corporate software spending survey is pointing to negative growth for the economy. The survey presents clear signs of a recession in business spending for the first quarter of 2008.
Better than one-in-five respondents (22%) now say their company will spend less for software over the next 90 days compared to the previous 90 days – 8 percentage points worse than our previous survey in October 2007.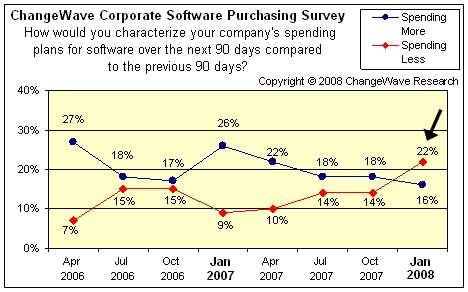 Just 16% of respondents say their company will spend more – 2-points worse than previously.
A total of 1,802 respondents involved with software purchasing in their company participated in the January 9-16 survey.
"These latest software results – combined with our recent consumer spending survey – should end the 'are we or aren't we' in economic recession debate once and for all," said Tobin Smith, founder of ChangeWave and editor of ChangeWave Investing. "Now both businesses and consumers are singing from the same 'cut-thy-spending' hymnal."
Forces Driving the Slowdown
Nearly one-in-ten respondents (9%) cite "a general slowdown in business conditions and capital budgets" as the foremost factor driving their companies purchasing decisions – a number up 3-points since October 2007 and triple the percentage of a year ago.
In a follow-up question, we focused specifically on the issue of changing capital budgets:
Thinking about your company's overall capital budget for 1st Quarter 2008, have there been any adjustments made over the past 90 days?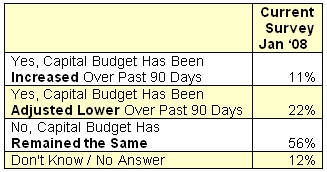 Twice as many respondents said their capital budgets were adjusted lower (22%) than said they were increased (11%) – a powerful indicator of a very tough corporate spending environment.
Other Signs of Weakness
The survey also looked at specific software categories and found Security Software (16%; down 7-pts) to have experienced the biggest slowdown since October 2007. Business Intelligence (8%; down 2-pts) and Document/Content Management (5%; down 2-pts) software also look softer.
On a somewhat brighter note, Virtualization (9%) spending and Enterprise Resource Planning (7%) spending appear similar to that of the previous survey.
A Recession In Business Spending
It was back in the summer of 2007 that our ChangeWave weekly surveys picked up the first signs of economic tightening, and ever since we've been tracking the slowdown of the economy. But now, for the first time in years, our software spending survey has picked up something far more drastic – negative corporate spending growth.
The current survey results show clear signs of a recession in business spending for the first quarter of 2008, and are a striking confirmation that we're now sailing through a period of heavy economic turbulence.
---
Jim Woods co-wrote this article.
This article summarizes the results of a recent ChangeWave Alliance survey. The Alliance is a research network of 14,000 business, technology and medical professionals who spend their everyday lives working on the front line of technological change. For more info on the ChangeWave Alliance, or if you are interested in joining, please click here.