By Joey Vazquez, Oxen Group Contributor
We continue our search for the most technically attractive charts in the market. The markets started the day on a great note then they started to slowly fizzle. However it does look we will have a green close. I strive to find technically attractive charts that will outperform the markets and a chart that looks to continue to fall apart in this weak environment. Should you buy or sell the chart?
CBS Corp. (NYSE:CBS):
(Click to enlarge)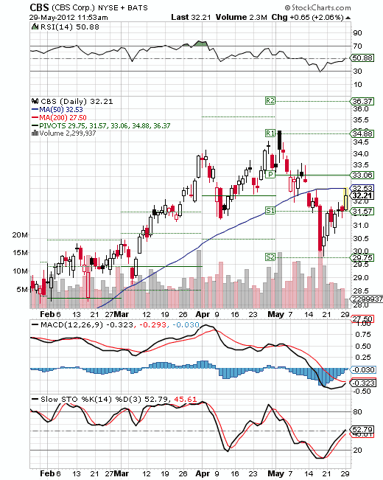 CBS' new agreement with ESPN signed about a week ago to broadcast more college basketball games was widely accepted by the market. CBS Corp. looks to have regained its footing following the bounce off its bottom support level. CBS recently broke through resistance at $31.57 and will now use that for support. The looming MACD crossover is pointing at the start of a new bullish trend. I would look for CBS to retake its 50 day MA then go long.
Trade Idea: I would look to go long CBS.
Teradyne (NYSE:TER):
(Click to enlarge)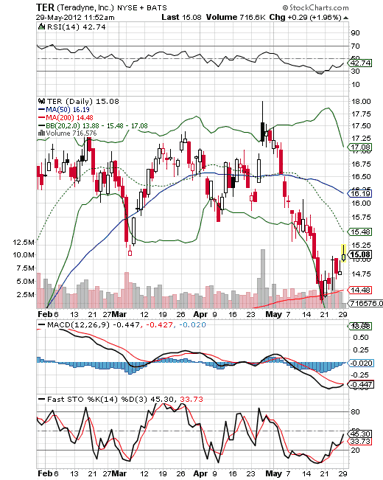 Another potential buy is Teradyne. TER was also upgraded to buy from neutral by Goldman on the 23rd of this month which also raised its price target to $18. Teradyne Inc. looks to have left its worst days behind since that upgrade, and getting analysts behind this one is helping alleviate worry. TER was facing heavy selling pressure but it rebounded off its 200 day MA and its bottom Bollinger band. Now that the bottom has been set TER will start its ascent and the MACD crossover formed today is perfect proof of that. TER has low RSI and stochastics have lots of run to run north giving us two more bullish indicators.
Trade Idea: I would look to go long TER.
Avery Dennison Corp (NYSE:AVY):
(Click to enlarge)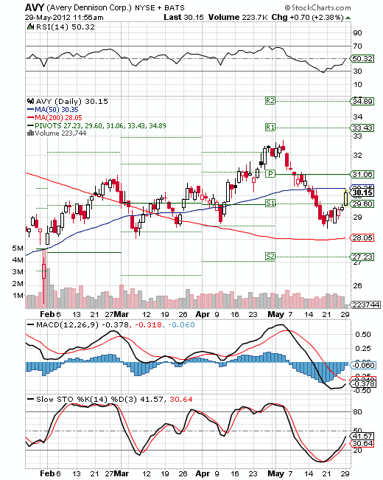 AVY offers a nice dividend yield of 3.58% and iets x-dividend date is on 6/4/2012. If AVY is able to retake its 50 day MA this might be a good time to go long into the ex-div date and profit from the nice dividend as well. Avery Dennison Corp. was able to bounce off its crucial support line that it has at the $28.50 area when looked on a 9 month chart. It just crossed its resistance at $29.60 and will now test its 50 day MA. If AVY is able to break through its 50 day MA we will see a MACD crossover. Stochastics look great pointing straight upwards and there's plenty of room for more buying as its RSI is just at 50.
Trade Idea: I would look to go long AVY.
Molson Coors Brewing Co. (NYSE:TAP):
(Click to enlarge)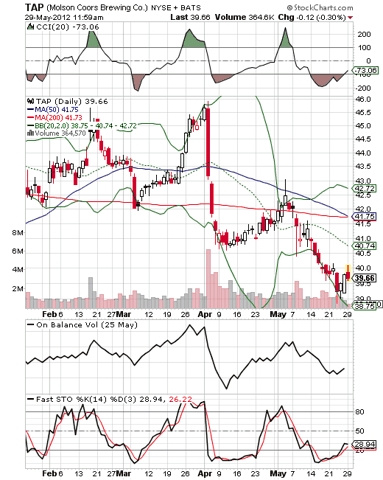 Molson Coors Brewing Co. continued its weak run today, even on a day that the markets performed well. Since the first quarter reporting on the 8th of this month TAP has had nothing to cheer about. To add to its worries at the end of the trading day today TAP will have formed a death cross. Since its report date the positive volume has been sucked out of TAP as shown in the OBV indicator. Stochastics are starting to downwards adding to the bearish indicators.
Trade Idea: I would like to go short TAP.
Disclosure: I have no positions in any stocks mentioned, and no plans to initiate any positions within the next 72 hours.