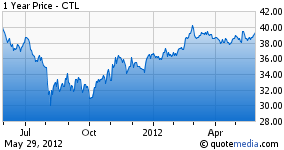 CenturyLink (NYSE:CTL) is the nation's third largest telecommunications company by delivering broadband, voice, wireless and managed services in several regions throughout the United States. The company also provides advanced entertainment services under the CenturyLink Prism TV and DirecTV (NYSE:DTV) brands.
CenturyLink also has an advanced fiber optic network and multiple data centers that offer telecom services to business entities, governments and wholesale customers. Cloud infrastructure and hosted IT solutions for enterprises are provided through the company's Savvis subsidiary, which was acquired July 15, 2011. These are vital components of the long-term strategy for CenturyLink because the core market of wireline voice transmission continues a systemic decline in subscribers.
The near term outlook for CenturyLink is impacted by the pace of wireline losses and the growth for data services. Therefore, this article examines recent trends in those areas.
Quarterly Performance
In the first quarter of 2012, CenturyLink experienced a 2.7% revenue decline, which is an improvement over the 3.6% decline in the same period one year earlier.
Fixed wireline subscribers declined 8.7% from the prior year. This is 20% less than the annual rate of decline one year ago. These are pro forma calculations that consider the impact of acquiring Qwest on April 1, 2011. The organic decline in wireline customers during the first quarter of 2012 was 6.4% annualized sequentially, which is well below analyst estimates of 7% to 8%.
CenturyLink added more than 89,000 high-speed Internet connections in the first quarter of 2012. The new customers represent a pro forma annual growth rate of 4.2% from the first quarter of 2011. The number of subscribers to Prism TV was 20% higher at the end of the first quarter compared to the beginning of the quarter. Market penetration for Prism TV increased to 8% of available homes.
The Savvis operating group generated new sales plus stronger revenue from recurring sources. A 7.6% pro forma revenue growth rate was experienced for managed hosting services. Total operating revenues were 3.9% higher on a pro forma basis from the year earlier. At the end of the first quarter of 2012, Savvis had 51 data centers in North America, Europe and Asia.
CenturyLink has also identified an opportunity in wholesale services called wireless backhaul. This is a way for wireless carriers to add bandwidth as they upgrade to 4G by having fiber to tower connections. CenturyLink has bound its fiber network to 12,500 towers. Because of new contracts, the company is on track to for building ties to another 4,000 to 5,000 towers in 2012.
At the present time, of course, the increased revenue from high-speed internet, Prism TV and broadband services is more than offset by the declining revenue from fixed wireline access.
Operating expenses for the first quarter of 2012 increased as a consequence of added costs associated with Qwest and Savvis. On a pro forma basis, operating expenses decreased by 5% - excluding non-recurring special items. Total expenses also declined modestly, which reflects integration-related cost synergies concerning Qwest and Savvis plus operating expense reductions associated with workforce realignment. These improvements were, however, partially offset by continued investments in key strategic initiatives for meeting synergy targets related to Qwest and Savvis.
Free cash flow in the quarter topped $1.04 billion. This excludes the impact of non-recurring items totaling $82 million and integration costs related to recent acquisitions of $10 million. Despite a pro forma decline in operating cash flow - excluding special items - of 5.8%, the absolute amount of cash flow at CenturyLink increased by 124% as a consequence of the 2011 acquisitions. The substantial growth in cash flow permits the company to weather declining revenue from legacy wireline services while building the delivery of data services.
Financial Position
The strong cash flow at CenturyLink also permits the company to pay a high dividend. Investors are rewarded with a dividend yield of over 7% based upon the stock price in the early part of the second quarter 2012.
Meanwhile, the company's ratio of debt to capital was 52.6% at the end of the first quarter of 2012. This is an increase from 51% at the beginning of the first quarter and 43% at the end of 2010. Higher debt is attributable to the Qwest and Savvis acquisitions. With free cash flow of over $1 billion per quarter, management should succeed in plans to maintain - but not increase - the dividend, plus gradually reduce debt.
Integration Update
During the first quarter of 2012, CenturyLink incurred pre-tax transaction, integration, severance and retention costs of $39 million concerning Qwest and Savvis. The company raised its annual operating expense synergy target related to Qwest from $575 million to $650 million. Most of this $75 million increase is non-personnel cost synergies, which the company expects to realize over the next two to four years. The company reported annualized operating expense synergy with Qwest was running at about $340 million at the end of the first quarter of 2012.
CenturyLink has a considerable history of achieving cost synergies via acquisitions, but non as large as Qwest. Considering that management has thus far met synergy targets concerning Qwest, ongoing progress is reasonably expected. The same integration success is anticipated for smaller but strategically important acquisitions - such as Savvis and Embarq, both of which were purchased in 2011.
Operating Group Restructuring
The hosting and colocation services offered by Savvis have been operated as a separate division of CenturyLink. But that is now changing. The addition of Savvis gave CenturyLink a foothold into one of the hottest growth areas for telecom. This growth is likely to accelerate as more businesses see the cost benefits of moving to cloud-based and virtual environments.
Starting in April, CenturyLink restructured its operating groups to focus on business and government customer segments in two organizations. The existing Regional Markets Group serves in-region businesses and governments. A new Enterprise Services Group serves national and multinational businesses outside of the regional scope, including federal government agencies and Savvis data services customers. The Wholesale Markets Group includes the addition of wholesale customers of Savvis.
As a result of the restructuring, segment financial information will be realigned when the company announces second quarter 2012 results in August. The company will permit comparison of financial information for the new group structure by rendering restated historical quarterly data retroactive to first quarter 2011.
The Enterprise Markets Group will report two segments. One is network services, consisting of national and international customers of the former Business Markets Group plus federal government customers and Savvis network services customers. A data hosting segment consists of colocation, managed hosting and cloud services.
Analysis
Like the rest of the telecom industry, CenturyLink bundles services in an effort to curtail the impact of wireline losses. Significantly, the company is committed to making the essential transition to broadband data services. However, this effort also demands a patient commitment from investors.
While valuation metrics are not compelling at first glance, the stock is priced for disappointment rather than positive upside results. As better operational performance causes expectations to rise, the stock price should begin to reflect higher valuation multiples.
For example, the net profit margin for CenturyLink of 3.0% is higher than the 2.4% rate for Verizon (NYSE:VZ), a much larger rival but still a telecom company that recognizes the industry's future rests upon delivering data services. However, the recent price to earning ratio for Verizon was 16.5 compared to 16.2 for CenturyLink. Of course, Verizon does have a higher earnings growth rate but not when making an allowance for CenturyLink's integration costs related to acquisitions.
Similarly, the earnings growth at AT&T (NYSE:T) and regional telecom company Windstream (NASDAQ:WIN) is higher than CenturyLink - but not as high as Verizon. However, the net margin for both companies of 3.2% and 4.1%, respectively, is only slightly higher than CenturyLink. Again, making an adjustment for the nonrecurring integration costs at CenturyLink creates a case for the company having a stronger earnings picture.
I believe CenturyLink is in the midst of transforming itself into a premier data services provider. As such, it is racking up substantial integration costs without suffering a severely adverse impact on margins. This bodes well for the expectation that successful integration of acquisitions will result in substantial cost savings and rising earnings in the future.
While Verizon and AT&T compete against each other for wireless voice and data to consumers, CenturyLink is capitalizing on an entirely different approach. Serving enterprises with data services on a global scale presents a different story for CenturyLink. Investors should embrace the exciting nature of that story.
Disclosure: I have no positions in any stocks mentioned, and no plans to initiate any positions within the next 72 hours.