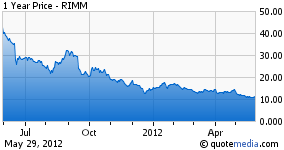 On Tuesday, Research In Motion (RIMM) gave a business update to investors and the headlines were in the fact that the company is bringing in JPMorgan and RBC Capital to examine the company's fundamental business along with its finances. The company stated:
These advisors have been tasked to help us with the strategic review we referenced on our year-end financial results conference call and to evaluate the relative merits and feasibility of various financial strategies, including opportunities to leverage the BlackBerry platform through partnerships, licensing opportunities and strategic business model alternatives.
The problem lies within the fact that when Apple (NASDAQ:AAPL), Google (NASDAQ:GOOG) and Nokia (NYSE:NOK) have developed stronger and more desirable products, RIMM needs to redefine its brand in order to drive profitability and sales growth. Along with reporting that the company is going to examine its business model, it also reported that first-quarter sales are weak due to a "competitive environment" and the company will likely report a loss in the first quarter of 2012 (when a $.43 profit was expected). This news sent the stock down as much as 9% in after hours trading because it signals further weakness within the once prosperous company.
In October of 2012 the Blackberry 10 is projected to be released and the company's CEO Thorsten Heins is banking on it being revolutionary enough to bring the company off the brink of failure. The company is touting that it has increased its cash reserves to $2.1 billion. The problem is that the money is useless and will likely pay for losses if the company is not able to drive incremental sales through new products that compete directly with AAPL and GOOG in the highly competitive and fast moving smart phone market. RIMM needs the BB10 now - not in October because by then AAPL and/or GOOG will have a new product line that has the capability to make the BB10 mainstream before it is even released.
Financially, the company is underperforming those that it competes with on key metrics. The proof is in the numbers:
Profit Margin:
RIMM: 6.31%
GOOG: 27.09%
AAPL: 27.87%
Return on Equity:
RIMM: 12.23%
GOOG: 19.59%
AAPL: 47.10%
Quarterly Revenue Growth:
RIMM: -24.60%
GOOG: 24.10%
AAPL: 58.90%
These metrics indicate that RIMM is underperforming in operating efficiently (profit margin), using capital well (ROE) and delivering growth in revenue (QRG). This illustrates that unless RIMM is able to find its way in the highly competitive smart phone market of 2012 and beyond, the company is heading for disaster. To jump into a position in RIMM is to bet that an ailing company that has failed to show promise will turn itself around through one product release. The possibility is there, but the risk is not worth the potential reward knowing that AAPL and GOOG have proven themselves to be the leaders in the sector. All of the JPMorgan bankers in the world cannot confront the issue of obsolescence. Only innovative minds can turn RIMM around and the proof is not present that innovation is present at RIMM.
(Click to enlarge)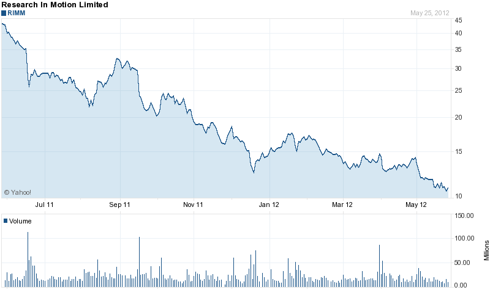 (Yahoo!Finance)
(All financial metrics referenced above are obtained from Yahoo Finance, CNBC Analytics, S&P Capital IQ and Thomas Reuters.)
Disclosure: I have no positions in any stocks mentioned, and no plans to initiate any positions within the next 72 hours.