Airline traffic growth in Canada could be in a jam in the coming months as a U.S. recession draws nearer, says UBS analyst Fadi Chamoun.
Mr. Chamoun is "adopting a recession outlook" for the U.S. given evidence of the further negative impact from the floundering U.S. housing market combined with plummeting investor confidence.
Although he doesn't expect Canada to also fall into recession, he said the Canadian economy will experience a slowdown in step with the overall global economy. And with GDP growth expected to slow, so too is airline traffic, Mr. Chamoun added.
He noted a positive correlation between airline traffic and GDP growth, which during times of recession results in global passenger traffic contracting at a rate that is two times faster than GDP.
In a note to clients the analyst said:
Canadian carriers have enjoyed a very strong economic cycle and an advantageous duopoly in the past two years.

Although our estimates have been lower than consensus, we believe that a 5% planned increase in domestic capacity in 2008 coupled with a projected slowdown in demand warrant the adoption of an even more cautious view on earnings.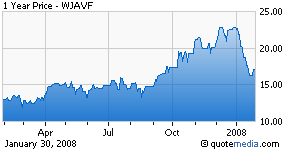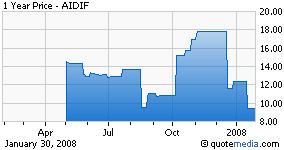 He lowered his earnings expectations for both WestJet Airlines Ltd. (OTC:WJAVF) and Air Canada (AIDIF.PK), and maintains his "neutral" rating on both airlines.
WestJet is now forecast to report EPS in 2008 of $1.36, down from C$1.51, and Mr. Chamoun's price target on the stock slides from C$25 to C$19. The analyst's Air Canada EPS forecast in 2008 moves from C$1.35 to C$0.52, while his Air Canada price target falls from C$14 to C$10.