"Growth in use of Facebook through our mobile products, where our ability to monetize is unproven, as a substitute for use on personal computers may negatively affect our revenue and financial results..."
-- From the "Risk Factors" section of the amended S-1 registration statement for Facebook (NASDAQ:FB), filed May 16th
"To date, we have not been able to generate revenue from our advertising products delivered to mobile devices as effectively as we have for our advertising products served on traditional computers."
-- From the "Risk Factors" section of the Pandora Media (NYSE:P) 10-K, filed March 19th
"The decrease in the average cost-per-click paid by our advertisers was driven by various factors..[including] the changes in platform mix due to traffic growth in mobile devices, where the average cost-per-click is typically lower compared to desktop computers and tablets..."
-- From the Google (NASDAQ:GOOG) 10-K, filed April 25th
The movement to mobile devices -- such as smartphones and tablets, notably the iPad from Apple (NASDAQ:AAPL) -- is severely impacting the profitability of companies that derive their revenues from Internet advertising. The quotes above from SEC filings of three of the giants of online advertising show that the mobile transition is becoming a significant headwind for revenue and profit growth in the sector.
The lower resolution and simpler design of many mobile browsers is one issue, but the most obvious -- and most important -- is simply screen size. Look at the difference between Google searches for the keyword "seeking alpha":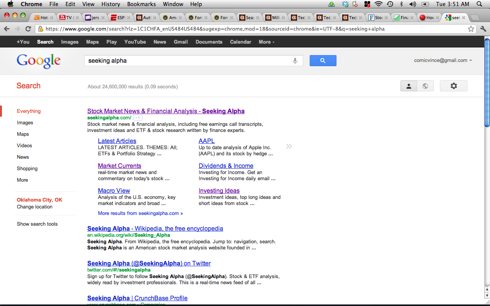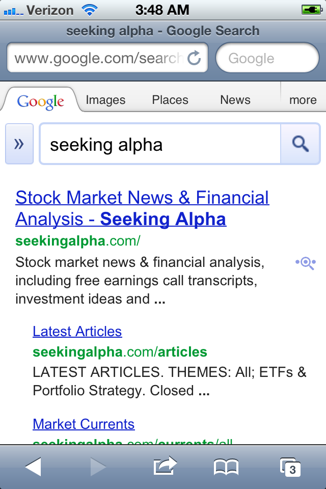 It doesn't take an advertising expert to see the vastly smaller real estate available on the mobile browser. The empty space on the desktop search -- often used by Google to place sponsored ads -- simply does not exist on the iPhone. Making matters worse for Google, it sends an estimated 75% of its iPhone search revenue to Apple, dragging its revenue per mobile user even lower relative to its legacy desktop search.
The increase in mobile usage has been sharp, and continues to accelerate into 2012. Pandora saw mobile listening rise from 5% of total usage in fiscal 2009 (ending January 31st) to 24% in FY10 to 51% in FY11, and, finally, 65 percent in fiscal 2012. CEO Joe Kennedy noted on the Q1 conference call last week that the number was now closer to roughly 70 percent, "with a modest upward trend." For Facebook, over half of its users accessed their accounts through less-profitable mobile devices in March 2012, according to its S-1. The company "anticipate[s] that the rate of growth in mobile usage will exceed the growth in usage through personal computers for the foreseeable future," according to the same filing.
In the short term, this trend should impact earnings at the three firms. In the first quarter, Pandora generated 55% of its advertising revenue from mobile, yet saw 70% of its listening hours in the segment. As such, desktop users are nearly twice as valuable on a revenue basis as mobile users. Facebook has only just begun instituting mobile advertising; the app has, as of March 2012, not created "any meaningful revenue." And Google fell after first quarter earnings despite beating Wall Street estimates, in large part because cost-per-click [CPC] rates fell 12% year-over-year, driven by increased mobile usage.
It's hard to see these trends changing any time soon. The growth of tablets should alleviate some of the pricing pressure, as the larger screens relative to smartphones do allow for more advertising flexibility. But the movement from laptops and desktops to smartphones and tablets is a long-term sea change in the business. Earnings at all three companies should see significant short-term pressure as mobile-aided user growth is offset by lower, mobile-induced revenue per user.
In the long term, it seems likely that online advertisers will adapt -- eventually. Google CEO Larry Page was optimistic on the company's first quarter conference call that mobile advertising would, in the long run, prove even more profitable than its traditional online counterpart:
And we're very, very excited about the potential [in mobile], and also Click-to-Call and other things that we do. So I think, for example, it's a lot easier to call someone from your mobile than it is from your computer right now. And so if that's how you're relying for transactions, actually mobile CPC should be higher for that. So I think you just haven't seen the focus on it and we're moving more and more focused on to that, both on our sales side and our customers are moving focus onto that, but I'm very, very bullish on that.
For Google, this may be true. Given its entrenched dominance in search, and its ability to innovate, investors should be have some degree of confidence that the company will establish the margins and profits in mobile that it has enjoyed in its legacy search products.
But, even with Google, investors should be cautious, caution that should be extended to the entire sector. As I noted last year, the dot-com bust didn't come from the failure of the Internet itself, but from the over-optimism surrounding the growth and profit potential of business models connected to the Web. Web adoption and usage proceeded relatively close to projections at the time; but advertising (and e-commerce) spending fell far below projections. (As just one example, in February 2000, Forrester Research projected $184.5 billion in US e-commerce by 2004. Online spending didn't reach that level until 2011.)
With the explosion of mobile usage, it's easy to see a similar trend happening. (The parallels were emphasized by Facebook's prospectus, which led upfront with a chart of its daily and monthly active users, reminiscent of the "eyeball" metrics used to hype dot-com stocks a decade earlier.) Mobile sites are back to using "pop-up ads" -- a massive failure in the desktop world, remember -- and other clumsy, intrusive ways to generate revenue. The current advertising models -- already generating far lower revenue per user -- are simply not going to work for the long-term. There is little doubt that the industry, over time, will develop less intrusive, more creative, and more profitable methods; however, as with online advertising 1.0, to coin a phrase, it will take longer, and generate less near-term profit, than the optimists predict. Larry Page can tout the benefits of localized mobile advertising and "click-to-call" and the like; but his sales force must sell it to less tech-savvy, more cautious advertisers, and see those features adopted by consumers, who always move far more slowly than Silicon Valley thinks they will -- or should.
For Google, the impact of mobile advertising has likely already been felt. As SA's Steven Bauer noted this week, Google's EPS is still below 2007 levels (as is its stock price.) The fears of consistently lower CPC rates no doubt have contributed to its seemingly low valuation -- about 10x forward earnings when backing out the company's substantial net cash. As such, the movement to mobile appears priced in, with lower near-term growth leading to the company's lower multiple (and, in fact, a PEG below 1, a commonly-cited bullish indicator.)
For Pandora, and Facebook, the mobile shift seems far more perilous, given their sky-high valuations. (Facebook still trades around 17x revenues, even after Tuesday's nearly 10% drop to $28.84.) Facebook already had to convince investors it was capable of translating its phenomenal user growth into similarly strong revenue growth; with the headwind of mobile, a segment where the company literally made no money before 2012, the company has yet another significant hurdle to overcome. Indeed, the amendment to the S-1 highlighting lower revenue per user trends caused by mobile adoption contributed to some of the bearish sentiment preceding the company's IPO. The sentiment obviously still persists, and understandably so. Despite its rapid user growth, it's hard to argue that Facebook is a radically imaginative or technically proficient company. It has created a basic product that is competent and useful, that benefited from its timing, its rollout, and Myspace's inability to control spam and subsequent failure as a serious competitor. In mobile, Facebook is going to essentially have to re-invent the wheel, and it's not at all clear that they will be successful in doing so. And despite the 24% drop from its opening price, FB must still create significant mobile revenue to come close to justifying its current valuation.
Pandora faces similar hurdles. While last week's fiscal first quarter earnings drew an enthusiastic response, and a 12.3% rise in the share price, its business model remains questionable -- with mobile adoption only adding to the skepticism. (Tuesday's 10% drop showed that skepticism is still out in force, as P's post-earnings jump was almost completely wiped out.)
Right now, Pandora appears to be paraphrasing the old business joke by "losing money on every song, but making it up in volume." Yes, revenue grew 58% year-over-year in the most recent quarter; but content acquisition costs -- ie, royalties paid for streaming rights -- nearly doubled. As a result, on a non-GAAP basis, net loss more than tripled.
With the company's royalty costs fixed through 2015, a 79% growth in the company's sales force (according to the Q1 conference call), and lower revenue per user coming from the so-called "modest upward" trend" toward mobile usage, how Pandora will be profitable in the short term remains a mystery. Yet the company guided for breakeven performance through the final three quarters of fiscal 2013, a target that seems at first glance unlikely to be reached. Even Maxim Group's John Tinker, who has a "Buy" rating on the stock (and a $17 price target), noted after Q1 that "a time lag between translation of growth in listener hours to ARPU may affect earnings in the near term."
But perhaps the best summation of the company's problems came from CFO John Cakebread on the conference call. Giving guidance for fiscal year 2013, Cakebread noted [emphasis mine]:
For fiscal 2013 [we] expect negative cash flow from operations, resulting primarily from increased listener hours and resulting content spend.
So while analysts and commentators were celebrating the massive increase in listener hours, the company was pointing out that very same increase as the key driver for the reversal from (modestly) positive OCF in FY12 to negative OCF in fiscal 2013.
But that is the effect of mobile adoption on key Internet companies right now. Both Facebook and Pandora are losing money on their mobile businesses; Google appears to be making money, but at a substantially lower rate than it does on desktops now, and at a far lower rate than it did five years ago. For all the type about Web 2.0 and the explosion of mobile and social Internet usage, in the near term these trends are bearish for Internet companies. And, in the long term, there is still no clear path to increased profitability.
Disclosure: I have no positions in any stocks mentioned, and no plans to initiate any positions within the next 72 hours.