Impax Laboratories (NASDAQ:IPXL) is a technology-based specialty pharmaceutical company, with controlled-release and other in-house development and formulation expertise. The company has a balanced business model that consists of a successful generic business targeting high-value Abbreviated New Drug Applications (NASDAQ:ANDA) and a brand strategy with the potential to drive higher long-term growth.
Click to enlarge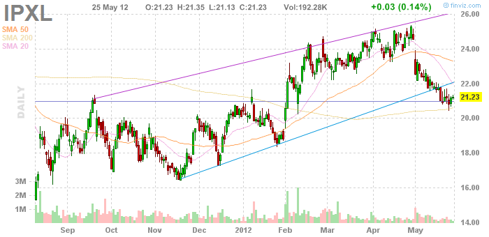 I see at least 4 reasons to buy the company currently
1. October 21st PDUFA date for Rytary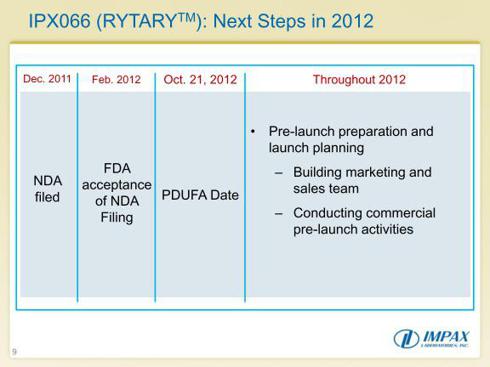 The company currently has one late-stage branded pharmaceutical product candidate, IPX066, for which an NDA for the treatment of idiopathic Parkinson's disease (PD) was accepted for filing by the FDA in February 2012. The PDUFA for a decision by the FDA is October 2012.
The IPX066 NDA was submitted as a 505(b)(2) application and includes data from three controlled Phase III studies and two open label extensions of IPX066 in early and advanced PD. In these studies, IPX066 has been studied in about 900 PD subjects. IPX066 is an investigational extended release capsule formulation of CD-LD that is intended to maintain consistent plasma concentration of levodopa for a longer duration versus immediate release levodopa, which may have an impact on fluctuations in clinical response. IPX066 is being developed in collaboration with GlaxoSmithKline (NYSE:GSK) for territories outside the U.S. and Taiwan under the terms of an agreement reached in 2010.
2. IPX159 Phase IIb results expected first-half 2013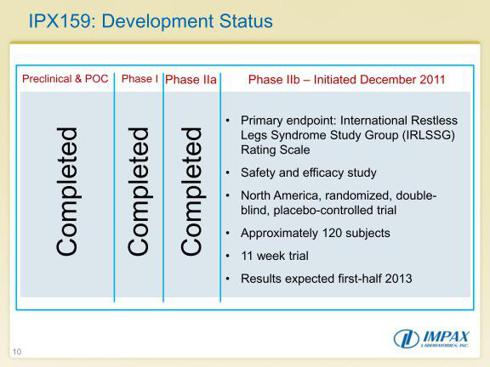 The company has a second branded pharmaceutical program, IPX159, which is currently in a Phase IIb clinical study in patients with moderate to severe Restless Legs Syndrome (RLS), which was initiated in December 2011. IPX159 is an oral controlled-release formulation of a small molecule that has an established pharmacological and safety profile for non-RLS use outside the U.S. and may represent a novel mechanism of action in RLS. The company has previously completed a proof of concept study with the compound for IPX159 in RLS.
3. Strong financials
Adjusted net income increased to $35.1 million, or $0.52 per diluted share in first quarter 2012, compared to $13.9 million, or $0.21 per diluted share, in the prior year period. Cash and short-term investments were $343.3 million as of March 31, 2012, as compared to $346.4 million as of December 31, 2011.
4. Strong growth prospects in generic business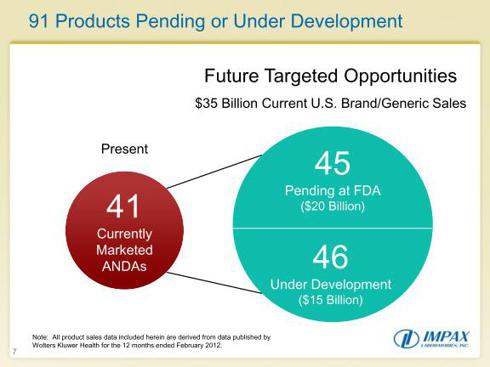 The company plans to continue to expand its Global Division through targeted ANDAs and a first-to-file and first-to-market strategy. The company's products and product candidates are generally difficult to formulate and manufacture, providing certain barriers to entry for potential competitors. In addition to its product pipeline of 45 pending applications at FDA, the company is continuing to evaluate and pursue external growth initiatives including acquisitions and partnerships.
Conclusion
I believe the stock will have a run-up to the October PDUFA date. The stock has a Point&Figure chart price objective of $27.5. I believe this price target is achievable after a positive FDA decision.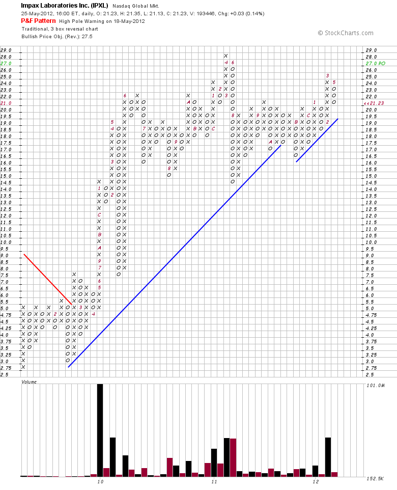 Disclosure: I have no positions in any stocks mentioned, but may initiate a long position in IPXL over the next 72 hours.